Man, 76, suspected of molesting teen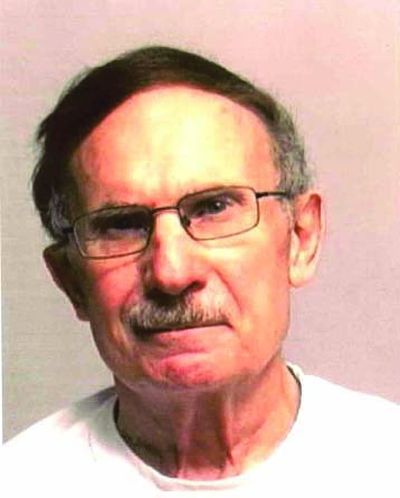 A 76-year-old man arrested Friday on suspicion of third-degree child molestation could have more victims, police said.
Harold "Hal" N. Moos told a 15-year-old girl that he worked with a modeling firm in Las Vegas and could market photographs of her, according to a search warrant filed in Spokane County District Court last month.
The girl had been working for him at Book Traders, 907 W. Garland Ave., through an internship during fall 2008.
She told police Moos offered her $50 in December if she'd let him massage her. She agreed, but Moos touched her inappropriately before she demanded he take her home, according to the search warrant.
The girl also said Moos paid her $100 to let him take photos of her wearing lingerie and swimsuits, according to police. Investigators raided Moos' home at 1814 S. Upper Terrace on Feb. 13, and he was booked into jail Friday, where he remains on $10,000 bond.
Anyone with information on other possible victims is asked to call Spokane police Detective Douglas Orr at (509) 625-4235.
Police say man impersonated agent
A man impersonating a Drug Enforcement Administration agent robbed two people trying to complete a cell phone sale advertised on Craigslist before being arrested Thursday night, Spokane police said.
Steven E. Escallier, 40, told police he thought the victims were drug dealers when he ordered one to "hand over his dope" after seeing the two arrive in a parking lot near Crestline and Empire in separate cars.
Escallier told one he was under arrest and searched him while talking "as if he was communicating with other officers over a radio," according to a news release.
One victim called police on his cell phone, and Escallier was arrested a few blocks away, police said.
He remains in Spokane County Jail on charges of first-degree robbery and impersonating an officer.
BOISE
Senate kills Avista assistance proposal
Avista Corp.'s proposed Idaho legislation to allow assistance programs for struggling low-income utility customers was killed in the Idaho Senate by one vote this week, but the bill may be reworked and come back.
The Senate voted 17-18 on the bill after Sen. Brent Hill, R-Rexburg, said, "Idaho utilities want you to pay the other guys' bills," and called the measure "redistribution of wealth."
Sponsor Sen. Curt McKenzie, R-Nampa, said utilities already adjust their rates to cover costs for unpaid bills; the new measure would allow them to reach out to struggling customers before they get to that point.
Avista runs a similar program in Washington and Oregon, but Idaho's law banning discrimination in utility rates prevents the company from offering that type of assistance program in Idaho.
Neil Colwell, lobbyist for Avista, said Friday, "We are investigating the possibility of bringing another bill that addresses some of the issues raised during the debate."
Elections reform bill clears House
A bill consolidating all of Idaho's elections and assigning county clerks to run them all passed the Idaho House on Friday on a 54-17 vote and now moves to the Senate.
The bill requires all elections to be on two dates in May and November, but school districts could hold bond and levy votes in March and August if they pay the full cost.
All North Idaho representatives voted in favor except Reps. George Sayler, D-Coeur d'Alene, and Shirley Ringo, D-Moscow. Sayler cited the bill's increased costs to school districts after it would takes effect in 2011.
"We've been told … 2011 is the edge of a cliff," Sayler told the House. "I fear … making it more difficult for our already strapped school districts to provide the funding that they need."
Rep. Dennis Lake, R-Blackfoot, the bill's lead sponsor, said, "I can only say one thing: It's their choice how much it costs them. They can run the bonds or the levies on the May or November dates, and it doesn't cost them a dime."
Backers said the change would ease voter confusion over Idaho's fragmented election system.
PORTLAND
Feds told to write dam removal plan
The federal agency in charge of saving salmon in the Columbia River Basin from extinction should have a plan in place to remove dams on the lower Snake River if necessary, a federal judge said Friday.
U.S. District Court Judge James A. Redden, who heard arguments in a long-running dispute over how to balance energy and utility needs in the Columbia Basin with salmon and steelhead, said he has not eliminated the possibility that the hydroelectric dams could come down to ensure restoration and survival of imperiled salmon and steelhead in the Columbia River Basin.
"I don't know that breaching of the dams is the solution," he said. "I hope it's never done, but that's the last fallback."
Environmentalists have argued that salmon populations cannot recover without removing some dams, especially the migration bottleneck to Idaho created by four dams on the lower Snake River.
Redden told the NOAA Fisheries Service that their plan for balancing endangered salmon runs against electricity production on 14 federal Columbia Basin hydroelectric dams still needs work, particularly in the area of habitat improvement.
Federal agencies have acknowledged that the dams themselves threaten the survival of fish, but relied on extensive habitat restoration, modifications to dams' spillways, and changes in salmon hatchery operations without major changes to the amount of water going through turbines.
From staff and wire reports
---