News > Nation/World
Auctioned Gandhi items to return to India
Indian buyer settles controversial sale
Sun., March 8, 2009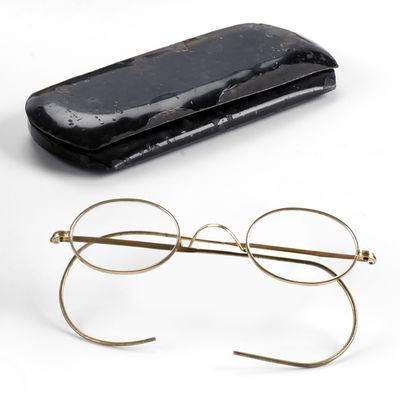 NEW DELHI – Mahatma Gandhi, father of India and beacon of nonviolence, eschewed personal property.
Yet a proposed auction of his goods in New York on Thursday sparked a furor in India and nearly caused an international incident.
In the end, an Indian liquor and airline tycoon named Vijay Mallya stepped forward and forked over $1.8 million to bring home a pair of round glasses, sandals, a bowl, plate and pocket watch, all of which belonged to Gandhi at one time. Mallya said he would donate the items to the Indian government, which had claimed that no one had the right to profit from Gandhi and that all his goods belonged in India.
Gandhi's great-grandson, Tushar Gandhi, who launched a campaign against the auction as soon as he found out about it in February, welcomed Mallya's move. He said any of Gandhi's possessions belonged in India, especially since he had so few.
"These are symbols of an icon," he said by phone from Mumbai before the auction. "They are meant to be on public display, so a larger number of people could get inspired by them. They belong to the people of India."
The debate over Gandhi's possessions – something he likely would have abhorred – is not just about memorabilia. Instead, it's about Gandhi, and the place his ideals hold now.
Life in modern India is extremely complex. Class divisions are sharper than ever. The poor live in slums, even as the economy grows. When a fund was set up to recover the auctioned items, only $7,035.48 was raised.
"I think Gandhi is quite relevant," said S.K. Bhatnagar, the librarian at the National Gandhi Museum, where the library has on average 20 visitors a day. "But nobody's practicing what he preaches."
But regardless of the ways that India may fall short of Gandhi's vision, Gandhi is still Indian. And India has grown touchy about others claiming him, despite his inspiration for the world.
James Otis, 45, a Los Angeles-based collector, filmmaker and pacifist who put up for auction the Gandhi items he'd bought over 10 years, said he has changed his life because of Gandhi. He said he had hoped to raise awareness of Gandhi, and had hoped to force the Indian government to make a grand, Gandhi-like gesture, raising the amount of its budget devoted to health care for the poor, in return for the items.
But things got complicated. Indian government officials met with Otis on Wednesday morning in New York and threatened to jail him. The Justice Department intervened, and Antiquorum Auctioneers persisted with the auction, even as Otis tried to bow out, saying he did not want to hurt anyone and that he planned to go on a hunger strike for 23 days.
Before Otis could pull the plug, Mallya made the winning bid. Tushar Gandhi said the goods will likely end up at the National Gandhi Museum, the capital's repository for all things Gandhi.
Yet few ever come inside the museum, which is like a mausoleum. In a quiet room upstairs, Gandhi's possessions are kept under glass in the exhibit "Relics of MG."
There are already three pocket watches, a pair of glasses, six pairs of sandals, a folding ivory stick, a flashlight, a pencil, a handmade pincushion, two of Gandhi's teeth, his dentures, an ivory toothpick and ear cleaner, tooth powder, a mug and bowl he used in jail, law books and other Gandhi mementos.
In another wing is the blood-stained handspun cloth Gandhi wore when he was shot, the pocket watch he held as he died and one of the bullets that killed him. It is peaceful here, melancholy, a window on another time.
There is nothing here that feels alive. But soon, in an irony befitting this complicated nation, a delivery will bring more belongings of the man who wanted none.
Local journalism is essential.
Give directly to The Spokesman-Review's Northwest Passages community forums series -- which helps to offset the costs of several reporter and editor positions at the newspaper -- by using the easy options below. Gifts processed in this system are not tax deductible, but are predominately used to help meet the local financial requirements needed to receive national matching-grant funds.
Subscribe to the Coronavirus newsletter
Get the day's latest Coronavirus news delivered to your inbox by subscribing to our newsletter.
---
Subscribe and log in to the Spokesman-Review to read and comment on this story