News > Nation/World
Obama stresses school reform
Outlines strategy to raise standards
Wed., March 11, 2009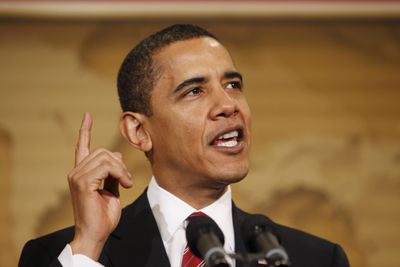 WASHINGTON – President Obama on Tuesday sharply criticized America's public school system and outlined a strategy to reward good teachers and fire bad ones, establish uniform academic achievement standards and increase spending on the first and final stages of a person's education.
In a speech to the U.S. Hispanic Chamber of Commerce, Obama called on teachers unions, state education officials and parents to change a "relative decline of American education" that "is untenable for our economy, unsustainable for our democracy and unacceptable for our children."
"For decades, Washington has been trapped in the same stale debates that have paralyzed progress and perpetuated our educational decline," Obama said. "Too many supporters of my party have resisted the idea of rewarding excellence in teaching with extra pay, even though it can make a difference in the classroom. Too many in the Republican Party have opposed new investments in early education, despite compelling evidence of its importance."
Obama's speech, his first devoted to education since he became president, had a tone of urgency at a time when the public education system is scheduled to receive about $100 billion of new federal money under the recently passed stimulus plan. The money might give Obama and his education secretary, Arne Duncan, more power to change a public education system traditionally guided more at the state and local levels than by the federal government.
Although many of the ideas he outlined have been proposed before or are in the works, Obama used the speech to offer a sense of his priorities, linking many of them to the success of the U.S. economy. He encouraged experimentation in the public school system, including lifting the limits on the number of charter schools allowed in some states and considering longer school days to bring U.S. classroom hours in line with some Asian countries where students are scoring higher on standardized tests.
The president signaled a willingness to take on some traditional Democratic constituencies, including teachers unions, which in the past have been skeptical of some merit pay proposals. Senior administration officials, who declined to be named because they were describing the speech before it was delivered, said Obama would include the unions in discussions about any incentive plans.
He said he intends to treat "teachers like the professionals they are while also holding them more accountable." Good teachers will be given pay raises, he said, and "be asked to accept more responsibility for lifting up their schools."
But Obama also said that school systems must be "taking steps to move bad teachers out of the classroom."
"Let me be clear: If a teacher is given a chance but still does not improve, there is no excuse for that person to continue teaching," Obama said. "I reject a system that rewards failure and protects a person from its consequences."
Obama's call for states to adopt uniform academic achievement standards is likely to anger many Republicans, who generally favor giving local school systems the ability to design curriculum and set testing standards.
Local journalism is essential.
Give directly to The Spokesman-Review's Northwest Passages community forums series -- which helps to offset the costs of several reporter and editor positions at the newspaper -- by using the easy options below. Gifts processed in this system are not tax deductible, but are predominately used to help meet the local financial requirements needed to receive national matching-grant funds.
Subscribe now to get breaking news alerts in your email inbox
Get breaking news delivered to your inbox as it happens.
---