News > Spokane
In brief: Man dies in fall off Parkade garage
Thu., March 12, 2009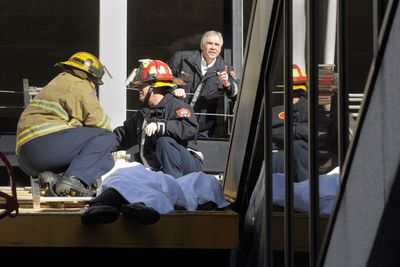 A man died Wednesday afternoon after falling several stories from the Parkade parking garage onto a downtown skywalk.
The man, who was not been identified, fell about 4:30 p.m. onto the skywalk, which runs parallel to the 100 block of North Howard Street. He was dead when emergency crews arrived at the scene, said Assistant Chief Brian Schaeffer, of the Spokane Fire Department.
Spokane police were investigating. They didn't know Wednesday whether the fall was deliberate or accidental.
Court backs state on special ed funding
The state Court of Appeals upheld a lower court's decision denying a request by a consortium of Washington school districts to declare the system of funding special education unconstitutional.
The School Districts' Alliance for Adequate Funding of Special Education sued the state in 2004, declaring consistent failure to fully fund special education programs.
In an opinion published Tuesday, the higher court upheld the original ruling in favor of the state.
Among the 12 districts named in the lawsuit were Spokane Public Schools and the Riverside School District. An additional 70 school districts also support the alliance.
"While the decision is disappointing, the Alliance is committed to honoring the rights and dignity of all students," Nancy Stowell, Spokane superintendent, said in a press release.
"On behalf of all the parents and children who attend our schools, we will continue to raise the issue of inadequate funding," she said.
In Spokane – the state's second-largest school system – more than $37 million is budgeted this year for state-required special education programs.
Read the Court of Appeals opinion.
Couple sentenced for meth crimes
A husband and wife long involved in meth dealing and related crimes in the Spokane area have received lengthy federal prison terms in U.S. District Court.
Kasey A. Willard, whose history of drug-related convictions goes back to 1998, was sentenced Tuesday to 14 years in prison for methamphetamine trafficking by Chief U.S. District Court Judge Robert Whaley.
The charge was filed after Willard met with a confidential informant and an undercover Drug Enforcement Administration agent two years ago and agreed to sell one pound of meth for $9,500, court documents say.
After she was shown the drug and made a $5,000 down payment in a Spokane Valley parking lot Aug. 24, 2007, Willard was arrested by DEA agents, who seized the cash.
Willard, 35, pleaded guilty in U.S. District Court to distributing meth and a second count of attempting to possess with the intent to distribute 50 grams or more of the drug.
Her husband, Daniel Todd Case, was sentenced to 70 months in prison by Whaley last week after pleading guilty to one count of conspiracy to distribute 50 grams or more of meth.
"They have been significant, longtime players in the Spokane and Eastern Washington meth-scene as shown by their lengthy criminal records," Special Assistant U.S. Attorney Thomas Hopkins said Wednesday.
Evidence, animal shelter measure failing
A measure to build a new police evidence room and an expanded animal shelter was still failing to get enough votes Wednesday after a second ballot count.
While voters were accepting the measure by a slight majority, 23,548 to 22,994, it needs a 60 percent supermajority to pass.
A $288 million construction bond for Spokane Public Schools pushed ahead 32,079 to 19,186, with 62 percent voter approval. The measure also needs a 60 percent supermajority to pass. The district's levy was also ahead, 33,625 to 17,821.
Maintenance and operations levies also appear to be passing for the Mead, Cheney, Nine Mile Falls, Deer Park, Riverside and Liberty school districts.
A capital projects levy in the Reardan-Edwall School District was also narrowly passing, 693 to 626.
There were about 4,000 ballots left to count in Spokane County, according to election officials.
OLYMPIA
Senate OKs bill limiting puppy mills
The Senate has approved a bill cracking down on dog breeders who operate inhumane puppy mills.
Under the bill, which passed on a 35-11 vote, dog breeders and owners would be barred from owning more than 50 dogs over six months old that are not neutered or spayed. The measure now goes to the House for consideration.
From staff and wire reports
Local journalism is essential.
Give directly to The Spokesman-Review's Northwest Passages community forums series -- which helps to offset the costs of several reporter and editor positions at the newspaper -- by using the easy options below. Gifts processed in this system are not tax deductible, but are predominately used to help meet the local financial requirements needed to receive national matching-grant funds.
Subscribe to the Coronavirus newsletter
Get the day's latest Coronavirus news delivered to your inbox by subscribing to our newsletter.
---