News > Nation/World
Teen kills 15 in Germany before taking his own life
Thu., March 12, 2009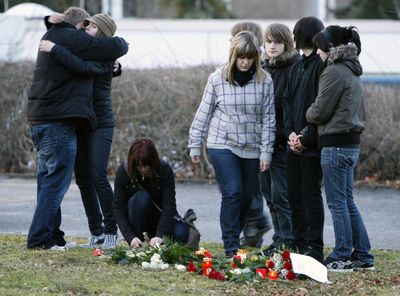 WINNENDEN, Germany – The 17-year-old had no criminal record and authorities say he was barely noticed in school until he returned Wednesday with a handgun and a purpose.
Entering the high school where he graduated last year, he burst into morning classes and opened fire, taking students and teachers by complete surprise.
"Children were sitting at their tables, with pencils still in their hands, their heads fallen over on the table," said regional police director Ralf Michelfelder, describing the grisly scene that his officers found. "Most of them had shots in their head – it must have all happened in seconds."
Police identified the gunman only as Tim K. But the name on the mailbox at his parent's home was Kretschmer and local media identified him as Tim Kretschmer.
The suspect went to three classrooms, killing 9 students and three teachers before fleeing the building when police arrived on the scene.
There was no immediate indication of motive, but the gunman's victims were primarily female: eight of nine students killed were girls, and all three teachers were women. Three men were killed later as the suspect fled.
Friend Fabienne Boehm, 12, said she recently met the shooter and that he had claimed fellow students at the high school had mocked him and teachers there ignored him.
Three weeks ago, she said he showed her a note. "He wrote to his parents that he's suffering and he can't go on," she told the AP outside a memorial service at a town church late Wednesday.
The dark-haired teen, shown wearing glasses in pictures on German television, apparently took the weapon from his father's collection of 15 firearms along with a "multitude of ammunition," police said.
After fleeing the school, the suspect ran into downtown Winnenden, a town of 28,000, where he shot two people walking by a psychiatric clinic, killing one and injuring the other, police said.
The gunman then hijacked a car and forced the driver to head south while threatening his life from the back seat.
He entered a car dealership, where he shot and killed his final victims – a salesman and a man shopping for a car – and then went back outside.
He opened fire on police swarming the area. They shot back and hit the suspect, who fell to the ground, Michelfelder said.
But he got back up, reloaded his weapon, and fled into what turned out to be a dead-end street. Police found him there dead, having apparently shot himself in the head.
Local journalism is essential.
Give directly to The Spokesman-Review's Northwest Passages community forums series -- which helps to offset the costs of several reporter and editor positions at the newspaper -- by using the easy options below. Gifts processed in this system are not tax deductible, but are predominately used to help meet the local financial requirements needed to receive national matching-grant funds.
Subscribe to the Coronavirus newsletter
Get the day's latest Coronavirus news delivered to your inbox by subscribing to our newsletter.
---
Subscribe and log in to the Spokesman-Review to read and comment on this story