News > Spokane
Suspended officer found not guilty in shooting
Jay Olsen back on payroll, will get back wages
Fri., March 13, 2009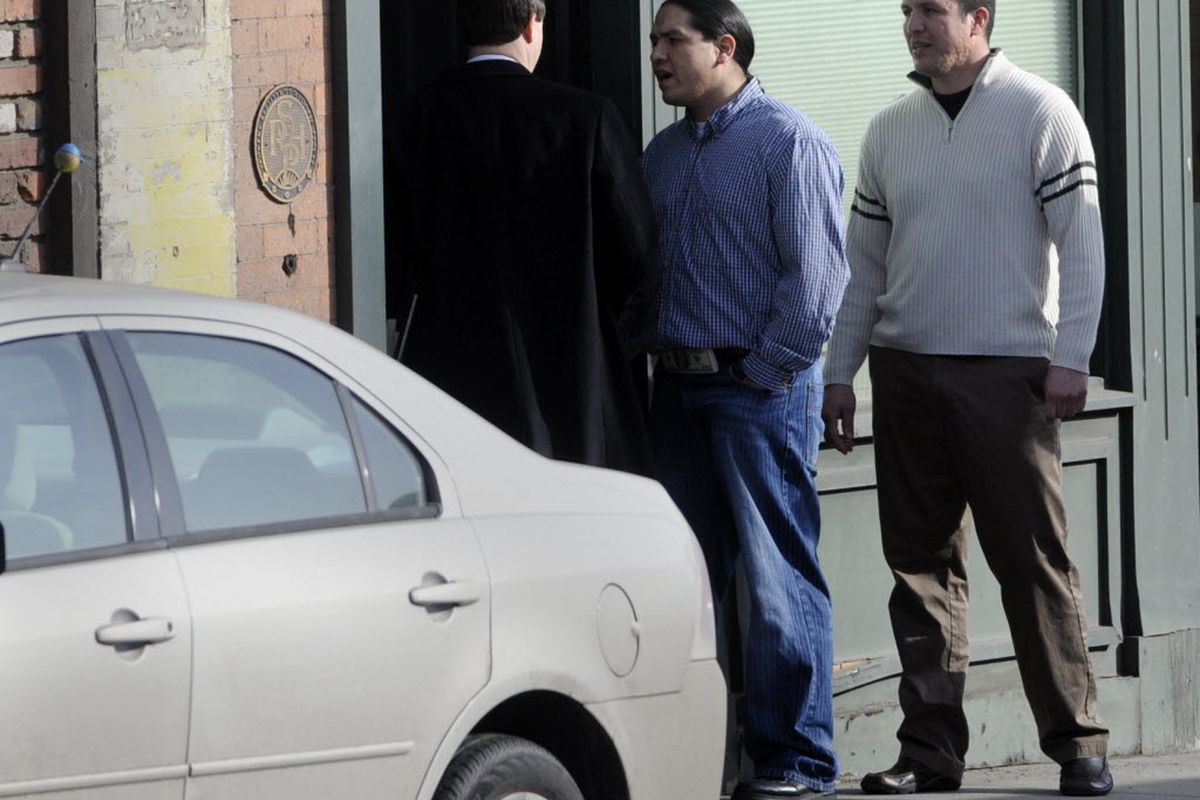 Shonto Pete, center, the man shot by Spokane Police officer James "Jay" Olsen, exchanges heated words with Robert Cossey, Olsen's attorney after a hearing Friday where the jury determined that Olsen acted in self-defense. Pete and the unidentified man at right, followed Olsen and his legal team to Cossey's office on Monroe St. after the hearing to express his outrage about the decision. (Jesse Tinsley / The Spokesman-Review)
Suspended Spokane police officer Jay Olsen was acquitted of first-degree assault and reckless endangerment for shooting Shonto Pete in the head and firing four other bullets in Peaceful Valley on Feb. 26, 2007. An eight-man, four-woman jury delivered its verdict Friday afternoon in the courtroom of Spokane County Superior Court Judge Jerome Leveque. Because the jury determined the shooting was in self-defense, Olsen's lawyer is entitled to seek payment of his legal fees from state taxpayers. Olsen will be paid all his back pay according to civil service rules, said city spokeswoman Marlene Feist. Olsen had been on unpaid layoff status since his April 2007 arrest, but following Friday's verdict he was placed on paid administrative leave pending the outcome of an internal affairs investigation. Olsen's friends and family, including his police sergeant brother, 40-year old Eric Olsen, began to cry as the verdict was read. Pete and his family walked out in disgust. Several law enforcement officers, including Spokane Police Officer Ronald G. Tille, gave victory arm pumps after the verdict. "You're coming home," they said to Olsen, who was breathing hard and trembling as he hugged his friends. Extra security was called for a buffer between Olsen and Pete in an effort to avoid a confrontation. "I'd hate it if Shonto Pete tried to hurt Jay. I'd like to prevent that," said uniformed SWAT Team member Terry Preuninger after he'd shaken Olsen's hand. Olsen refused to talk to journalists assembled in the courthouse hallway, staying in the courtroom and deferring to his attorney, Rob Cossey. "This trial was very intense. If (Olsen) had been convicted, he'd be facing a lot of years in prison," Cossey said. Asked if Olsen would likely be returning to his job as a swing-shift patrol officer in the Spokane Police Department, Cossey said he doubts it. "He committed significant violations of department policy. I don't think he's getting his job back," Cossey said. Those violations included getting drunk while off-duty in a local bar with a concealed weapon strapped to his waist, and chasing Pete but not calling 911 or police dispatch during the confrontation. Spokane County Prosecutor Larry Steinmetz, who had accused Olsen during the trial of deliberately trying to kill Pete, said he was surprised by the verdict. Steinmetz declined to talk to jurors afterwards, as did Cossey. Jurors also refused to talk to the press. Pete assailed the jury for its verdict. "Apparently you can shoot someone in the head and get away with it. You can act as reckless as you want if you're a cop. It's totally unfair that he was acquitted," he said. "It would have been different if he weren't Native American. My brother didn't get justice," said Pete's sister, Crystal Craft. "This was a coverup," said Pete's mother, Diana Cote, a poet and former photojournalist from Montana. "The judge wouldn't let them hear my son was found not guilty of stealing Olsen's truck, and they weren't allowed to hear that he called a lawyer" instead of law enforcement after the shooting, Cote said. "It's really bad for the city… I don't feel safe here," Cote added. She left town immediately after the verdict. Uniformed sheriff's deputies escorted Olsen and his supporters out a side emergency entrance to avoid Pete and his family in the main hallway. Pete chased them down the street to Cossey's office on North Monroe, exchanging words with Olsen's attorney. The high-profile trial had overtones of racism and disparate treatment. Pete, 29, was shot by a white cop who Pete testified swore at him when he asked for a ride home after the bars closed and began to follow him in a truck while Pete fled on foot. Both men were drunk, according to court testimony. Olsen and his friend Renee Main, who'd been drinking with Olsen at Dempsey's, a downtown bar, said Pete stole Olsen's truck and they gave chase in her car. Steinmetz told the jury in his closing statements that there was no proof of that. A Spokane jury acquitted Pete of the theft charge in October 2007. Pete was interviewed by detectives at the hospital shortly after the shooting, when he was drunk and under the influence of morphine as doctors removed a hollow-point bullet from his scalp. Cossey rebuffed a request by police detectives to interview Olsen the night of the shooting because Olsen was drunk. Olsen wasn't interviewed until two days later, with Cossey by his side, after he'd consulted his police guild representative. Shortly after he'd shot Pete, Olsen made four calls to Main, two calls to attorney Mel Champagne and one call to the police guild officer who'd be representing his interests in an officer-involved shooting investigation. Steinmetz stressed repeatedly that Olsen never called 911, police dispatch, or any responding police officers before or after he'd shot Pete. Olsen testified that he avoided the first officer to respond to Peaceful Valley, Police Sgt. Joel Fertakis, because Fertakis had given him lukewarm performance reviews and had made anti-gay remarks. Pete criticized Olsen's so-called "gay card" – his dramatic admission during the trial that he's a closeted gay man who feared retaliation in a police department hostile to homosexuals. Pete called the revelation "pathetic." "I could care less if he's gay. He still shouldn't be able to shoot people in the head," Pete said. Another wild card in the trial was the controversial testimony of Marvin D. Tucker, a police dispatch supervisor who appeared for the defense team. Tucker claimed he'd answered a call from the Peaceful Valley neighbor who called 911 after a bleeding Pete appeared on his porch asking for help. Tucker testified he didn't ask his name, but said the "shooting victim" told him he'd gotten shot after stealing a truck. The 911 tape Tucker referred to was erased and was never produced in discovery, although detectives investigating the case had asked for all recordings of the incident. Jeff Holy, a retired police officer and a lawyer in Cossey's office, said he heard about Tucker's claim after Pete's October 2007 trial and contacted Tucker late last year. "I couldn't believe the dispatcher comes up now… this guy needs to be investigated," Pete said.
Local journalism is essential.
Give directly to The Spokesman-Review's Northwest Passages community forums series -- which helps to offset the costs of several reporter and editor positions at the newspaper -- by using the easy options below. Gifts processed in this system are not tax deductible, but are predominately used to help meet the local financial requirements needed to receive national matching-grant funds.
Subscribe now to get breaking news alerts in your email inbox
Get breaking news delivered to your inbox as it happens.
---