News > Features
Author finds hope during tough times
Book explores methods of positive thinking
Sat., March 14, 2009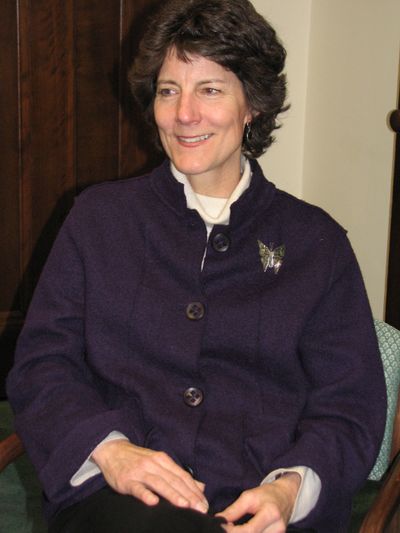 In the darkest depths of despair, it often takes courage to hope.
Yet without it, little is possible, says Spokane native Julie Neraas.
"For where there is hope, there is life. And where there is no hope, life is greatly diminished," she wrote in her just-released book, "Apprenticed to Hope: A Sourcebook for Challenging Times."
"In fact, to live without hope is to barely live at all. The capacity to hope is an indispensable human quality; even in times of crisis where confidence and trust have been broken, hope sustains us in our living."
At a time when hope might seem elusive to some – especially as the country reels from a recession, as people struggle to get by, as the world witnesses war, violence and threats to the environment – Neraas offers an invitation to readers to discover their own heritage of hope.
By reaching deep inside or to others and by becoming more conscious of the power of hope, people can become resilient and more open to the realm of possibility, she said.
"Hope is sometimes seen as a lightweight subject, a last-ditch virtue that we save for time of crises," Neraas said during a phone interview from her home in Minneapolis.
"But hope is present all the time. … I think of hope as a sense of a way forward, a feeling that things can work out and that we will somehow find the necessary resources to handle whatever life brings."
Neraas, a Presbyterian pastor, spiritual director and professor at Hamline University in St. Paul, Minn., is back in Spokane this weekend to visit family and friends and to read from her new book.
During a presentation this afternoon at the Episcopal Cathedral of St. John the Evangelist, Neraas will discuss the nature of hope and how it is differs from faith or optimism.
She'll also speak of hope as a "renewable resource" – how it is wide-eyed, realistic and adaptable and how it enables humans to envision something better while propelling them to move forward.
"When all the paths you have tried lead to dead ends, and you see nothing but closed doors, the energy of hope is the hatchet with which you break down doors," she wrote.
"This brand of hope is muscular; it actively scans the horizon for options, hypothesizes solutions, and considers possible ways forward. …
"With hope so much is possible. Without it, so little is."
Throughout the book, Neraas offers insights and lessons that can be applied to people's lives – not just during the difficult times when they suffer from loss or a lack of meaning, but also as they subsist each day.
"Apprenticed to Hope" is a mix of poetry, literature, theology and psychology. It's based on Neraas' experiences as a minister, spiritual director, professor and treatment center chaplain, but especially on her struggle with chronic illness.
Neraas said she has been an "apprentice" to hope since she was a child growing up in Spokane. Her understanding of hope matured during her undergraduate years at Whitworth University and also while working in diverse settings, including a prison in inner-city Philadelphia and a treatment center for people addicted to drugs and alcohol.
Hope was tested many times in those rugged places, where she worked with people who had hit rock bottom and didn't know where else to turn, Neraas said.
But the subject of hope became even more personal about 12 years ago, when she first experienced the symptoms of Chronic Fatigue, Fibromyalgia and Immune Dysfunction Syndrome (CFIDS).
An athlete who had played and taught tennis while juggling teaching, spiritual counseling and other duties, Neraas suddenly discovered that her body was falling apart. She became too weak to even walk. She suffered excruciating eye pain as well as aches in her head, jaw and chest. She experienced waves of fever, dizziness, exhaustion and all kinds of physical anguish.
It took several years and dozens of tests that included brain scans and spinal taps before she and her doctor concluded she had CFIDS.
"Illness grabbed me by the neck, thrust me into the fire and swung me around with dizzying force, year after year, dissolving old assumptions, rupturing old identities, exploring easy answers and complicating my relationship with hope," Neraas wrote in her book's prologue.
"When the body goes, so goes hope," she said during the phone interview. "When you feel bad, you don't want more hope; you want health. Hope has to give birth to something."
While it may not be poor health or a chronic disease, everyone has "their own beast," Neraas said. It could be the loss of a loved one or a job, a difficult relationship with a family member or friend, a struggle of some kind that makes it difficult to hope.
And that's where her book comes in. Neraas wrote it to encourage and inspire people to become more conscious and explore their own relationship with hope.
She wants them to ask themselves what has caused them to lose hope as well as remember the times when their hope has been strengthened or replenished. Most of all, she challenges readers to find "nourishment" for their hope.
Neraas, 54, is the daughter of Spokane resident Beverly Neraas and the late Donald Neraas, a lifetime member of Spokane's Central Lutheran Church and a renowned architect who was involved in the design of St. John's Cathedral and other local buildings.
"My father took such pride in Spokane," recalled Neraas, the eldest of four daughters. "It was a nurturing place to grow up."
She graduated from Ferris High School, where she played tennis and worked on the yearbook and newspaper. She received her bachelor's degree in literature from Whitworth.
Although she never expected to become an ordained minister, she earned a master's in divinity from Princeton Seminary. In 1979, she became the first female minister at Spokane's First Presbyterian Church, where she served for three years.
Neraas moved to Minneapolis about 25 years ago and has been teaching since 1991 at Hamline University, where one of her courses is titled "A Heritage of Hope."
She is also a frequent retreat leader and speaker who travels all over the country and whose interests include midlife questions of purpose, vocation and the common good.
"Hope is not just for times of crisis. It is present moment to moment as we look to the future," Neraas wrote.
"Hope sends a farmer into the fields, a student to school, an athlete to practice, an addict to AA. Hope is a mother putting on boxing gloves on behalf of her child's battle with serious illness . …
"Hope is the return we want most from any visit to a doctor. … It undergirds the decision to birth a child. Hope is the medical researcher experimenting, through trial and error, toward a treatment for cancer.
"Hope can be a quiet companion or an explosive force, propelling an individual or community to action."
Local journalism is essential.
Give directly to The Spokesman-Review's Northwest Passages community forums series -- which helps to offset the costs of several reporter and editor positions at the newspaper -- by using the easy options below. Gifts processed in this system are not tax deductible, but are predominately used to help meet the local financial requirements needed to receive national matching-grant funds.
Subscribe to the Coronavirus newsletter
Get the day's latest Coronavirus news delivered to your inbox by subscribing to our newsletter.
---