News > Nation/World
Trump sued as Tijuana condo deal sours
Buyers seek deposits totaling millions of dollars
Sat., March 14, 2009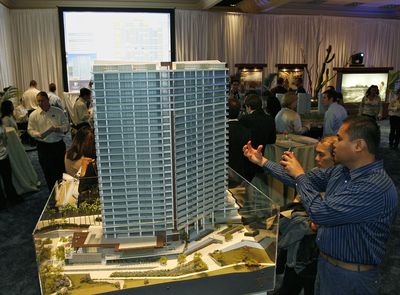 SAN DIEGO – Donald Trump was sued Friday by buyers who lost millions of dollars in deposits on a failed hotel-condo in the Mexican border city of Tijuana.
The 69 buyers purchased 71 units in Trump Ocean Resort Baja and paid deposits totaling between $18 million and $20 million, said Bart Ring, their attorney.
Buyers were told last month that the luxury oceanfront project was being scrapped and that there was no money left to refund deposits. In December, they were told the project had only $556,000 left after collecting $32.2 million in buyer deposits.
The 197-page complaint filed in Los Angeles Superior Court seeks unspecified damages against Trump, his children Ivanka and Donald Jr., and others including Los Angeles developer Irongate Capital Partners LLC.
The lawsuit accuses the New York real estate developer of fraud, negligence, unjust enrichment and violating federal disclosure laws.
Representatives of Trump Organization Inc. and Irongate did not immediately respond to requests for comment late Friday. In December, a Mexican developer, PB Impulsores, told buyers that Trump licensed his name and was not an investor.
The lawsuit says PB Impulsores is a "mere shell entity" for Irongate, created to avoid legal liabilities. The project was marketed as a partnership between Trump and Irongate – the same team behind Trump International Hotel & Tower Waikiki in Honolulu.
Trump Baja demanded about 30 percent down for units that sold from less than $300,000 to $3 million. The lawsuit lists plaintiffs who paid deposits between $53,835 and $470,725. Many put up more than $150,000.
Trump Baja went on sale when Southern California home prices were near their peak. All that remains of the project is a closed sales center and showroom, a paved parking lot and a big hole that cuts a wide swath across the property.
Local journalism is essential.
Give directly to The Spokesman-Review's Northwest Passages community forums series -- which helps to offset the costs of several reporter and editor positions at the newspaper -- by using the easy options below. Gifts processed in this system are not tax deductible, but are predominately used to help meet the local financial requirements needed to receive national matching-grant funds.
Subscribe now to get breaking news alerts in your email inbox
Get breaking news delivered to your inbox as it happens.
---