Sports > Outdoors
Hoh my! First steelhead a trophy
West Side angler lands fly-rod world record on Hoh River
Sun., March 15, 2009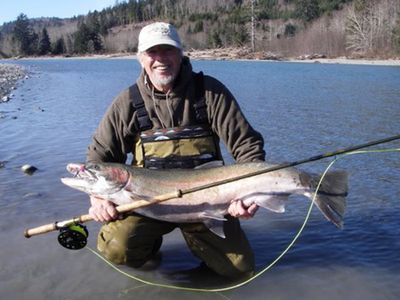 Peter Harrison is one of those people who does things in a big way: His first steelhead appears to be a world record.
The Port Townsend angler was fly-fishing in the Hoh River with his wife, Shirley Metz, on Feb. 20 when he caught the 29.5-pound winter steelhead using an 8 kg tippet.
If certified, the fish would break the International Game Fish Association's 24-year-old line-class world record for the largest steelhead/rainbow trout. It's also a contender for the largest steelhead taken on fly tackle.
The current IGFA record for a fish of that size tippet is 28 pounds, caught by Chuck Stephens on the Skeena River in British Columbia on Oct. 20, 1985.
"I have been fishing in Washington for 15 years and have caught hundreds of other fish, but this was definitely a steelhead of a lifetime," said Harrison, an author and illustrator of seabirds. He's also a partner with Zegrahm & Eco Expeditions, which was voted by National Geographic in 2009 as the best adventure travel company in the world.
"I have fished all around the world and have never caught a steelhead, so this was my first ever."
It was a beautiful, crisp morning, with a herd of elk grazing in a nearby pasture.
The Hoh was very low and clear, and Harrison was casting flies using his 15-foot Spey rod. After seeing one fish roll on the water's surface, he briefly hooked a steelhead that weighed around 10 or 15 pounds and cartwheeled through the air before getting away.
"It was one of those magical days that you always live for, and after losing that fish I thought I'd have to wait 10 more years before I caught another one," Harrison said.
"I decided to change my fly and used one of my own personal ones, which is what I call the EP (English Pete) No. 1 fly," Harrison said. "On the second cast through the same water, my rod just bent doubled over, and line was screaming out."
The fish quickly took 200 yards of line from his reel. Harrison battled the fish on a submerged bar in the middle of the river.
"It made a good half-dozen long, surging runs, and at one point I thought I had lost it," Harrison said. "I managed to work him back upriver and then it cartwheeled, and then I knew this thing was huge."
After a 45-minute battle, Harrison was able to bring the fish to the bank's edge, where he planned on taking some quick pictures and measurements before releasing it.
"I had every intention of releasing it once we documented it, but then I noticed it was bleeding quite heavily," Harrison said. "The fish didn't look like it was going to survive, and because it was the fish of a lifetime, I decided to keep it."
Several boats then appeared, heading downriver. In one was Dave Smith, a state Fish and Wildlife creel checker, who measured the fish and took sample scales.
Another boat arrived that had two spring scales, which said it weighed 31 and 32 pounds. The fish was 44 inches long with a girth of 231/2 inches.
"That is definitely the biggest fish I have ever heard caught by a sport fisherman," said Bill Freymond, a longtime state Fish and Wildlife Olympic Peninsula steelhead manager. "I can't remember what river it was, but I remember a 33-pounder caught in a (tribal) gill net."
After bringing in the massive steelhead, Harrison took it to Olympic Sporting Goods in Forks, where the scale said it weighed 311/2 pounds.
Many steelhead anglers are adamantly against keeping wild fish, looking to keep them in the gene pool for future runs.
"It was a dandy fish, and I know he was catching a lot of crap over keeping it since it was a wild fish, but there isn't a right answer," said Bob Gooding, owner of Olympic Sporting Goods.
"It is legal to keep one wild steelhead (per license year) around here. You have a choice to let it go or keep it. I don't know how you fault someone else for it because it is not your decision."
About 23 hours after Harrison caught the fish, he had it weighed on a state-accredited set of scales at Key City Fish Company in Port Townsend. There it weighed 29.5 pounds.
Harrison is awaiting confirmation from the IFGA on the possible world record for 8 kg tippet.
It could also be the largest steelhead caught on a fly rod for all tippet classes.
Local journalism is essential.
Give directly to The Spokesman-Review's Northwest Passages community forums series -- which helps to offset the costs of several reporter and editor positions at the newspaper -- by using the easy options below. Gifts processed in this system are not tax deductible, but are predominately used to help meet the local financial requirements needed to receive national matching-grant funds.
Subscribe to the sports newsletter
Get the day's top sports headlines and breaking news delivered to your inbox by subscribing here.
---