News > Spokane
Homeowner sues lenders
Lawsuit says they preyed on woman as she racked up debt she couldn't pay
Thu., March 19, 2009
Annette Tissue and her husband bought their home in 1947 for around $20,000.
That was the first mortgage on the little house on North Belt. Tissue's best recollection is that they paid it off around 1970.
Tissue took out the second mortgage in October 2004 – around $20,000 to pay off some debt she had accumulated in the years following her husband's death. The third home loan came five weeks later. The fourth one followed three months later, with another one three months after that – each bigger than the last, at higher interest.
Then came another, and another, and another.
By summer of 2007, lenders had refinanced 79-year-old Tissue's loan against her home seven times in three years; toward the end of that cycle, it took about 90 percent of her roughly $1,100 monthly income to cover her mortgage payment, and she was facing a foreclosure over the debt of more than $120,000.
Her home is assessed at $107,750, county records show.
In a lawsuit filed against CitiFinancial and two other lenders, Tissue's representatives allege it was a pattern of "unconscionable" predatory lending that violates federal laws, and they're seeking to have the loan rescinded or renegotiated.
"All it does is generate fees for the lenders and the brokers," said Alan McNeil, an attorney and professor with University Legal Assistance at Gonzaga University. "They were making more money on these loans than she was."
Tissue acknowledges making some big financial mistakes in the years after her husband's death in 1999. She had no financial experience and soon began racking up debt that exceeded her modest retirement income. But she – and her legal representatives with the GU program – says she relied on the advice of brokers and agents who took advantage of her lack of sophistication to put her into loans she couldn't possibly keep up with.
Currently, her loan has a monthly interest-only payment of about $700. The adjustable-rate mortgage, known as an ARM, is set to kick upward in 10 years.
"I don't know a damn thing about a one-arm loan or an ARM loan," said Tissue in an interview this week at her home. "I had no idea what an ARM loan was."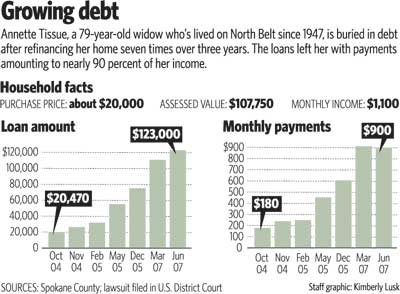 Tissue came close to losing her home in a foreclosure sale. The sale was set for late February by Countrywide Home Loans but was put on hold while her lawsuit is heard. Tissue's suit is pending in federal court, and McNeil said he's hoping they can negotiate more reasonable terms on the current loan without going to trial.
Tissue hopes she's able to stay in her home, which she bought with her husband as a 16-year-old bride. They raised three kids and watched their six grandchildren grow up there.
"I want to live out my life in my home," Tissue said. "That's all I ask."
The lawsuit alleges that the lenders engaged in behavior that was "willful and malicious and designed to harm" Tissue – including fraudulently misstating her income on loan applications.
"The formation of the contract and its consequences were oppressive, so one-sided that it is shocking to the conscience, harsh, and calloused because the Defendant, CitiFinancial, Inc., and agents lead Annette Tissue to believe, over and over again, that a refinance was the only viable option she had to repair her financial problems, gave her loans she could not afford and continued to contact her sometimes monthly encouraging her to refinance her home to 'improve' her financial position," according to the suit, filed in U.S. District Court in Spokane.
Mark Rodgers, a spokesman for CitiFinancial, said the company was reviewing the case but had no comment. CitiFinancial was responsible for six of the loans.
A representative for Quicken Loans, Elizabeth Jones, emphasized that the company actually brought down Tissue's interest rate and monthly payment, and said she expected the company to be dismissed from the suit soon.
"Quicken Loans helped alleviate her problems; we did not cause them," Jones said in a written statement. "Quicken Loans saved her a substantial amount of money and put her in a better position than when she first approached our company."
Representatives for Countrywide – whose only involvement was to purchase the current loan from Quicken – could not be reached for comment.
Tissue said she made spending mistakes and she sought out the initial loans to help her cover credit card and other debts, including some from gambling and some from debt incurred by family members using her credit cards.
"I did this on my own," she said. "But I didn't realize that every time I did it, it was going to be a big catastrophe."
McNeil and Adrienne Thommes, a GU law student working on the case, said how Tissue incurred the debt is beside the point. Mortgage brokers and agents were taking advantage of her desperation and lack of financial savvy to earn refinancing fees – rather than directing her toward better options such as credit counseling or bankruptcy.
"Everybody started exploiting her when they could," McNeil said. "What kind of bank would underwrite a $900-a-month payment from somebody making $1,100 a month?"
Tissue realized she was in deep trouble late last year. She approached a Spokane Valley company that offered to renegotiate her loan for a $500 fee. At first, she said, she was told it would cost $250.
"Then he called back and said the $250 ones were not available anymore," Tissue said.
She had just put a $500 check in the mail when she had her first meeting with Thommes at the GU legal assistance office, where she was promptly advised to cancel the check.
Even now – after seven refinancings and the initiation of a foreclosure – Tissue is being sought by lenders. During an interview this week, she looked through the day's mail and found a solicitation to have her mortgage refinanced under the new federal stimulus plan.
She doesn't even open the solicitations anymore. But it said on the envelope that she'd been approved.
Subscribe to the Coronavirus newsletter
Get the day's latest Coronavirus news delivered to your inbox by subscribing to our newsletter.
---
Subscribe and login to the Spokesman-Review to read and comment on this story