News > Features
Spears scores court spotlight
Thu., March 19, 2009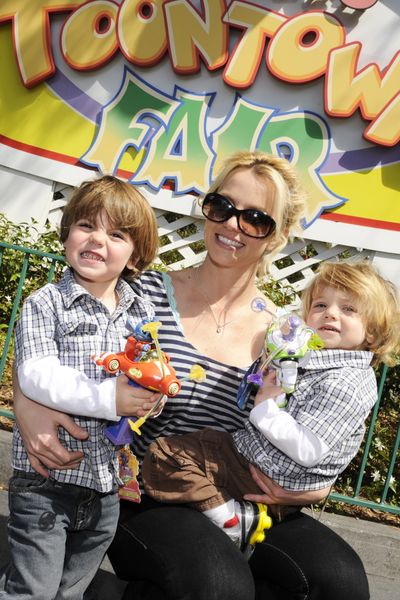 Try as we might, we just can't keep Britney Spears out of the spotlight.
On Wednesday, for example, a Los Angeles judge had to rule on a case brought by the pop singer involving a former boyfriend.
Superior Court Judge Aviva K. Bobb issued a restraining order against Spears' ex-boyfriend Adnan Ghalib. The order covers the singer, her parents and her two young sons, Sean Preston, 3, and Jayden James, 2.
In January, Spears' father, Jamie Spears, sought protection on his daughter's behalf against Ghalib, her former business manager, Sam Lutfi, and attorney Jon Eardley.
Court documents contend the trio has tried to undermine the 27-year-old singer's conservatorship, established after a series of high-profile incidents of erratic behavior.
The restraining orders are in effect until midnight on March 17, 2012.
At that point, presumably, someone will turn into a pumpkin.
Odd is a odd does
Actress Gwyneth Paltrow has joined, uh, everyone in questioning Joaquin Phoenix's reasons for quitting acting to become a rapper. "I think that there might be some other explanation or something going on," Paltrow told MTV U.K. "I'm not quite sure what, but I can't believe that he's really going to quit forever to become a rapper. It seems … odd."
Too young to … marry?
Levi Johnston says that he's too young to marry fellow 18-year-old Bristol Palin, daughter for former Republican Vice-presidential candidate Sarah Palin. Johnston told ABC's "Good Morning America" that he and Palin, who gave birth to a boy, Tripp, on Dec. 27, broke off their engagement after agreeing to take some time to grow up.
Life under the big sign
David Chase ("The Sopranos)" has signed with HBO to develop "Ribbon of Dreams," a miniseries about the birth of Hollywood. The series opens in 1913 and follows two men "who form an unlikely producing partnership and together become pioneers and then powers for a time in motion pictures." Guest stars will play such famous celebs as John Ford, John Wayne, Raoul Walsh, Bette Davis and Billy Wilder.
Samberg moving to Sunday
It'll be a homecoming of sort for Andy Samberg when the "Saturday Night Live" serves as host of the MTV Movie Awards on May 31. The new comic/movie star, 30, once worked as a writer for the awards show. "It will be a sweet and satisfying homecoming," he said. "I can't wait to act really important."
Quotable quote
"A lot of celebrities – I'm gonna tell you right now – they're not 5'11," they're not a size 2 to fit into these designer dresses. But the designers want exposure so they're willing to make the specific dress for that actor or actress to get them to look good on the cover." That's Tyson Beckford, host of "Make Me a Supermodel."
The birthday bunch
Actress Renee Taylor is 76. Actress Phyllis Newman is 76. Actress Ursula Andress is 73. Singer Clarence "Frogman" Henry is 72. Singer Ruth Pointer is 63. Actress Glenn Close is 62. Actor Bruce Willis is 54. Guitarist-keyboardist Gert Bettens is 39. Rapper Bun B (UGK) is 36. Actor Craig Lamar Traylor is 20.
Local journalism is essential.
Give directly to The Spokesman-Review's Northwest Passages community forums series -- which helps to offset the costs of several reporter and editor positions at the newspaper -- by using the easy options below. Gifts processed in this system are not tax deductible, but are predominately used to help meet the local financial requirements needed to receive national matching-grant funds.
Subscribe to the Coronavirus newsletter
Get the day's latest Coronavirus news delivered to your inbox by subscribing to our newsletter.
---