News > Idaho Voices
A place to be a kid
After-school hangout for local youth awaits its new $2.5 million facility
Sun., March 22, 2009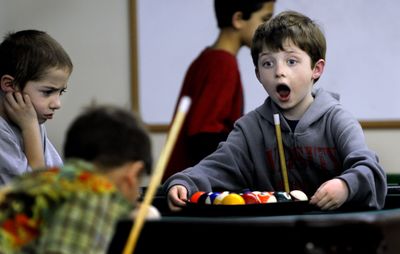 Ryan Davis, the executive director of Kootenai County Boys and Girls Club, said that when a child walks through the front door, "status, where they came from, dissolves" right then and there.
"In many cases, we're a home away from home for them," Davis said.
Presently that home is in the Post Falls Church of the Nazarene, but a new location has been secured with a 30-year ground lease payable to the city of Post Falls. This new location will be home to an 18,000-square-foot facility at a cost of $2.5 million.
The new facility will be centrally located – adjacent to the Post Falls Library and the Post Falls School District's administration building, with five schools nearby.
Davis said the Boys and Girls Club would like to start on the building this year, but that depends on funding. Right now the club has approximately $1.8 million in pledges. The capital campaign is for $2.9 million, allowing $400,000 for the first year's operating costs.
"We're constantly raising funds," Davis said. "The plan is to develop an endowment fund."
At the March 3 Post Falls City Council meeting, the council was asked for $250,000 for the project, from the capital facilities plan fund for indoor recreation. City administrator Eric Keck, who also is on the Boys and Girls Club board of directors, said the money in the fund comes from impact fees on new residential construction. Keck said the city has an agreement with the Post Falls School District to use its facilities, mainly the gymnasiums, but they need more space.
David Fair, director for Post Falls Parks and Recreation, said the department did wish to partner with Boys and Girls Club, but only for $100,000. Davis said that once Boys and Girls Club has reviewed the lease, the club will decide how to move forward.
"It's not taxpayer money," Davis said. "The only taxpayer money we use is if a taxpayer chooses to invest in the Boys and Girls Club."
Longtime supporter of Boys and Girls Clubs, Dick Bennett of Hayden, stepped up and donated $500,000 for the facility. In 2001 Bennett donated the same amount for a club in Clarkston, Wash. Davis said several investors have expressed interest. Investors often retain naming rights – for example Regence Blue Shield will have the wellness center named after it for its donation.
Davis said kids come to Boys and Girls club to have fun, but the organization's job is to change their lives. Last summer the Post Falls club saw 130 to 150 kids every day, and had to develop a waiting list. That's why a new facility is so important. Right now there are 475 members, an increase of more than 200 percent from 2007 to 2008.
Davis emphasized the mission of Boys and Girls Clubs, as a youth development agency, not a day care. Kids ages 6 to 18 are welcome.
"More and more people have limited options for the kids after school," he said.
When kids arrive after school, the first order of business is a snack, followed by the homework assistance program, which Davis calls the "power hour." The idea is to get their homework out of the way so they have time to spend with their family at home.
The club also provides drug and alcohol education programs, and visits from local dentists and doctors who do volunteer screening. The new facility also will have a cafe, which will also serve as an activity center, and a gymnasium. Post Falls Parks and Recreation would have access to the gym in evenings and on the weekend.
Davis was recruited to Post Falls from Nampa, Idaho, in 2006, to open the Boys and Girls Club in Post Falls. He said the capital campaign to build the new facility was already $600,000 when he arrived. Currently he has a program director and eight youth development professionals.
Staff is subject to background checks, and trained in dealing with kids who have special needs.
The Boys and Girls Clubs got its start in Hartford, Conn., in 1860 as a place for boys only to go after school. In 1990, girls were recognized and they became the Boys and Girls Club. There are 4,300 clubs nationwide, serving approximately 4.8 million boys and girls.
The new Post Falls facility will be named the Jordan Johnson Center, after Post Falls High School student Jordan Johnson, who died at age 15 of a heart attack in 2006. Johnson played football, and was an all-around stellar athlete and great example of a fine young man Davis said.
The project has been put out to bid.
Local journalism is essential.
Give directly to The Spokesman-Review's Northwest Passages community forums series -- which helps to offset the costs of several reporter and editor positions at the newspaper -- by using the easy options below. Gifts processed in this system are not tax deductible, but are predominately used to help meet the local financial requirements needed to receive national matching-grant funds.
Subscribe now to get breaking news alerts in your email inbox
Get breaking news delivered to your inbox as it happens.
---