Demetri Goodson's shot lifts Bulldogs over Western Kentucky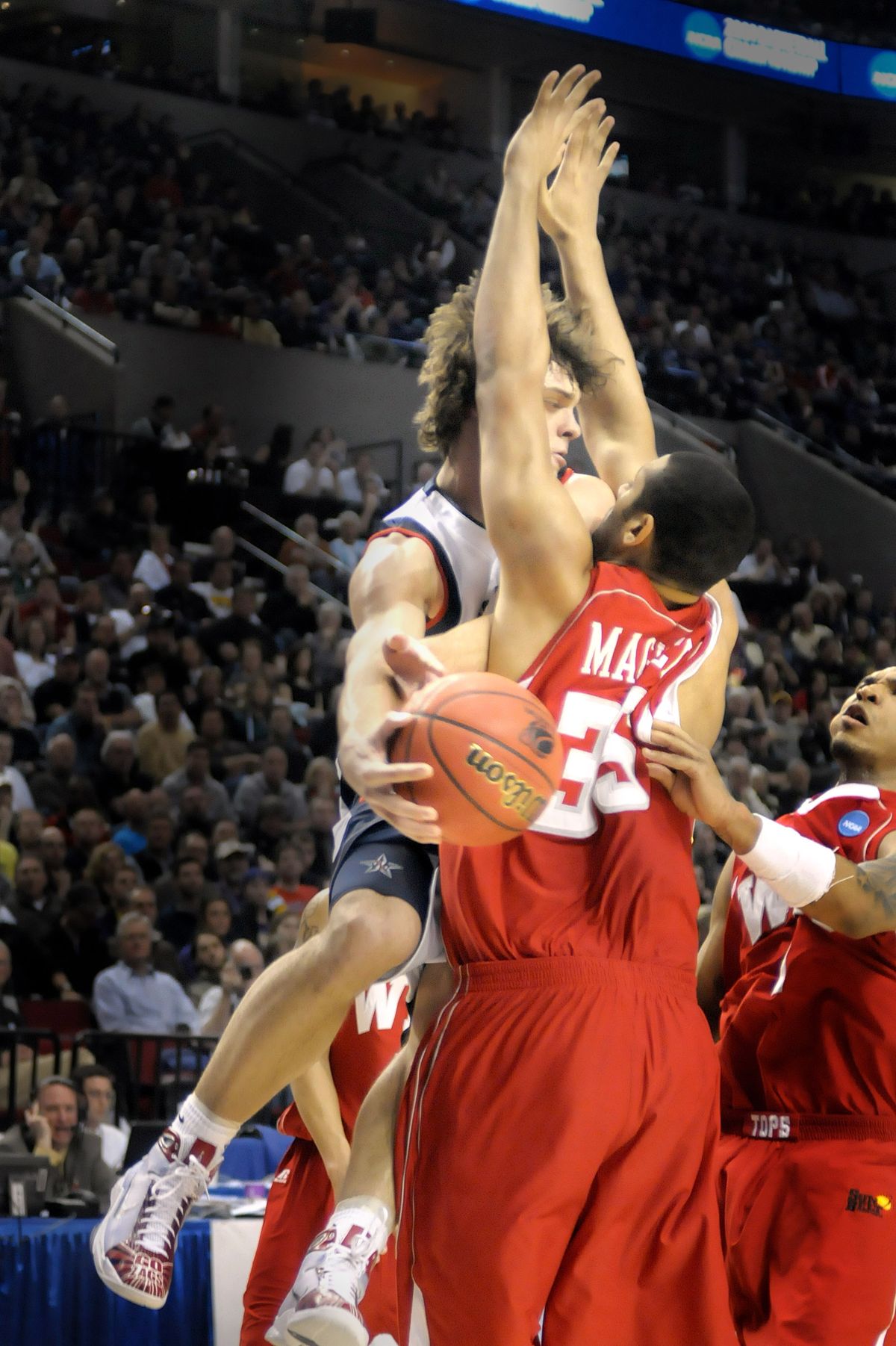 PORTLAND – Casey Calvary's legendary tip-in now has some company in Gonzaga's rich NCAA tournament lore.
Demetri 'Meech' Goodson, a freshman guard inserted into the game seconds earlier for defensive purposes, drove nearly the length of the court and hit a running bank shot from 8 feet out with 0.9 seconds left to lift Gonzaga to a pulsating 83-81 victory over Western Kentucky in front of a packed house of 18,794 Saturday at the Rose Garden.
Goodson's clutch shot rescued the fourth-seeded Bulldogs, who blew a nine-point lead in the final 2:04. When the ball settled into the net and Orlando Mendez-Valdez's desperation fling from 75 feet was off target, Gonzaga poured onto the floor to mob Goodson and celebrate its first trip to the Sweet 16 since 2006.
"It'll be 1 and 1A," said head coach Mark Few, categorizing Calvary's tip-in that knocked off Florida and sent Gonzaga into the Elite Eight in 1999 and Goodson's shot. Gonzaga will face top-seeded North Carolina on Friday in Memphis, Tenn.
It was Goodson's second shot and second field goal of the game, but it was one he's taken hundreds of times in practice with senior guard Jeremy Pargo. Goodson took the inbounds pass after WKU's Steffphon Pettigrew's putback had tied the score with 7.9 seconds left, capping a 9-0 burst by the 12th-seeded Hilltoppers.
"I got the ball and Pargo was on my right side," Goodson said. "He was like 'Meech, Meech, Meech.' For some reason I kind of shut him off, not trying to be selfish, but I just dribbled down trying to find someone open on the wing. Their big (guy) was sealing the side off and he moved out so I saw the lane and took it.
"You always dream of hitting a game-winner and to really do it in the NCAA tournament and advance my team to the Sweet 16, it still feels like I'm dreaming."
YouTube
Gonzaga (28-5) needed every ounce of theatrics to hold off the hot-shooting Hilltoppers, who rode the combined 49 points, 10 3-pointers and 10 assists of stellar guards Orlando Mendez-Valdez and A.J. Slaughter.
"Just an incredible basketball game. Two big-time programs going at it," WKU coach Ken McDonald said. "It just got down to where the Zags got one more shot than we did. That ended up being the game."
The Hilltoppers (25-9) shot 51.6 percent – easily the highest against Gonzaga this season – and 48 percent on 3-pointers – fourth best against GU. Mendez-Valdez made six 3s in the first half and at one point had outscored GU 17-16 by himself.
WKU led by as many as six in the first half, but the Bulldogs, behind big second-half efforts by Matt Bouldin and Pargo, quickly reclaimed the lead. They stretched the lead to seven, only to see the Hilltoppers rally back in front 60-59 on Jeremy Evans' layup with 11:10 left.
GU surged back on top and appeared to be in command at 74-66 with 5 minutes left and again at 81-72 after Josh Heytvelt's jump hook with 2:14 remaining.
But Slaughter's jumper, Mendez-Valdez's 3-pointer and Pettigrew's dunk after a Bouldin turnover pulled WKU within 81-79. Bouldin missed a jump shot and WKU called timeout with 24.8 seconds remaining.
Few and his staff debated how it wanted to set up its defensive alignment and decided to put Goodson in for Heytvelt to better defend WKU's perimeter threats.
"Meech was doing the best job of guarding those perimeters," Few said. "Sure enough, we gave up an offensive rebound."
Pettigrew tipped in Slaughter's errant jumper and the score was tied at 79, but not for long. Goodson calmly raced down floor and delivered his first winner since elementary school.
"It was back in like fifth grade," he said.
"Did you make the shot?" Few asked.
"Yeah, I made it," Goodson said.
Bouldin paced Gonzaga with 20 points, 13 in the second half. He also had eight rebounds and six assists, despite suffering a hyperextended knee in the second half. Pargo finished with 18 points, 11 in the second half. Micah Downs chipped in 12 points and seven boards. Austin Daye, battling game-long foul problems, and Heytvelt each scored 10.
The Bulldogs made 50 percent of their shots and 9 of 21 3s (42.9 percent), but they couldn't pull away because they couldn't get enough defensive stops.
Open or covered, WKU kept draining shots. Mendez-Valdez and Slaughter received just enough support from Pettigrew, Evans and Sergio Kerusch to keep things interesting to the end.
"Those guards could shoot the heck out of it," Downs said. "It was their night. They made the game close and they gave us trouble."
Mendez-Valdez, who was 7 of 10 on 3s, finished with 25 points. Slaughter had 24 points. But they were denied a second straight trip to the Sweet 16 by Goodson's heroics.
"It's devastating," Mendez-Valdez said. "If we would have lost by 10 or 12, it wouldn't be as bad. I didn't get too emotional until I got back to the locker room."
The emotions were at the opposite end of the spectrum in GU's dressing room.
"I was yelling for the ball," Pargo said of the deciding play. "He told me he heard me, too, after the game. But after he made the shot, I didn't care if he heard me or not."
---