News > Features
It just runs in the family
For many, Bloomsday training has become a family affair
Mon., March 23, 2009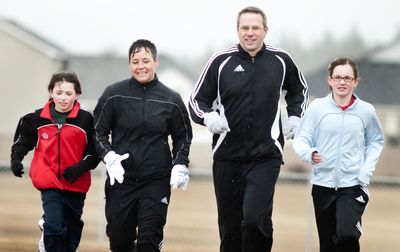 Between now and the first Sunday in May, the Dingus family will be on the move. In addition to work, school, community service, soccer practice and other obligations, the Spokane Valley family will make room in their busy schedules to train for one of their favorite events of the year: the annual Lilac Bloomsday Run.
The race is a spring ritual for Tom and Wendy Dingus, who have participated in the event almost every year for the last two decades (Tom since 1987 and Wendy since 1990). So when their daughters were born, it was inevitable that they, too, would be part of the tradition.
For the last two years, 11-year-old Olivia and 8-year-old Claire have joined their mom and dad along the 7.46-mile course. Although Tom used to finish the race in about an hour, he now forsakes speed in order to jog with his daughters. Wendy also has helped them prepare for the event by volunteering with the Fit for Bloomsday training program at Chester Elementary, where the girls are in the third and sixth grades.
"I don't think we're obsessed with fitness, but our kids know that it's important and it's something we value," said Tom Dingus, who took up running thanks to Bloomsday. "It's also a shared memory of doing something together."
In order to stay healthy and exercise on a regular basis, kids often need fun and active role models, experts say. For most children, these role models are their parents.
Many kids and young people who now participate in Bloomsday and other fitness events grew up watching their mothers and fathers exercise and play sports. Some even took part as infants and toddlers – pushed in strollers or Baby Joggers, hauled around in bike trailers or pulled on cross-country ski pulks. Many of these young people also have memories of cheering their parents on during sporting events like Bloomsday and Hoopfest.
Dingus, 45, used to register and run the course twice – to get the benefit of extra miles for marathon training and also to get a second T-shirt for his daughters. Long before they started participating in Bloomsday, Olivia and Claire already owned Bloomsday finisher shirts, including the ones from the years they were born.
"When they see us doing it, it becomes a way of life," said Teri Cox of Spokane. "My kids grew up knowing that mom and dad do Bloomsday and that they would do it, too."
Last year, Cox had her entire family on the course for the first time. She and her husband, Tim Cox, along with their two older sons – 12-year-old Terry and 10-year-old Evan, ran the whole thing. Their youngest, 6-year-old Leo, walked with his soccer coach. This year, Leo plans to jog alongside his mom, while the rest of the family will start in the "yellow" section and run as fast as they can to improve their times.
It's not always easy for parents to slow down and start in the back with their kids, but the experience can be rewarding as they witness their children participate, Tom Dingus said. "You see more when you're going at their pace," he said. "When you run with the family, you can actually stop for freezer pops, Gatorade and other treats."
Before long, the kids will speed up and run faster than you, Teri Cox said. "Sure, I'd like to run it at my pace and do my best but there will come a time someday when I can do that again," she said. "Right now, I want to run with my son."
By training together as a family, kids and adults alike also become more accountable to one another and are more likely to keep exercising, some experts say. Having a goal such as Bloomsday also keeps the entire family motivated and focused on health.
Like adults, kids need regular physical activity to stay healthy and strong. According to the American Heart Association, exercise helps children to control their weight, reduce the risk of diabetes and other diseases and improve their self-esteem. Other research also suggests that kids who are physically active also score higher on tests, sleep better at night, experience less stress and feel better about themselves. The American Heart Association recommends that children and adolescents participate in at least 60 minutes of moderate to vigorous physical activity every day.
Running and other sports also do more for children than simply get them in shape, parents say. They also learn responsibility, respect, resilience and other valuable lessons.
"It gives them confidence – to cross a finish line and to have them watch you cross the finish line," said Teri Cox. "It teaches them to dig deep, do their best and push themselves to their limits. That builds a lot of character and it crosses over to other life lessons besides sports."
The Cox family doesn't follow a strict regimen when it comes to training, but they do their best to remain active by spending time outdoors, playing soccer and limiting the time they spend in front of a television. They also don't own video games.
Kids nowadays are so inundated with technology that it's easy for them to stay indoors and become sedentary, said Teri Cox. She acknowledged that some people are able to get exercise through TV programs and games such as Wii Fit, but for her family, the best motivation is to play outside and experience nature, regardless of the weather.
It also helps to spend time with other families who share their love of the outdoors and physical activity, she said.
By training for Bloomsday together, families create memories and tradition, said Tom Dingus. Every year, his family always looks forward to going downtown to pick up their race numbers and hanging out at the trade show. Last year, every member of the Cox family made a point to wave to the giant vulture at the top of Doomsday Hill. They plan to do that every year as well as meet each other at the last lamppost on the Monroe Street Bridge after the race.
"The fact that we're all doing it together is awesome," Teri Cox said. "My hope is that they will do their best and carry these life lessons with them as they grow older. … We'll also have these great memories of our time together."
Virginia de Leon is a Spokane-based freelance writer. Reach her at
virginia_de_leon@yahoo.com
. You can also comment on this story and other topics pertaining to families and parenting by checking out The Spokesman-Review's parenting blog, "Are We There Yet?"
www.spokesman.com/
blogs/parents
Local journalism is essential.
Give directly to The Spokesman-Review's Northwest Passages community forums series -- which helps to offset the costs of several reporter and editor positions at the newspaper -- by using the easy options below. Gifts processed in this system are not tax deductible, but are predominately used to help meet the local financial requirements needed to receive national matching-grant funds.
Subscribe to the Coronavirus newsletter
Get the day's latest Coronavirus news delivered to your inbox by subscribing to our newsletter.
---