News > Features
Array of online workouts could squeeze exercise DVDs
Tue., March 24, 2009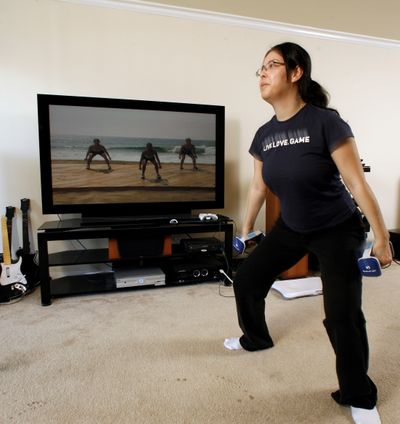 Trina Schwimmer's workout video collection is like a mini fitness museum: Denise Austin, Karen Voight, Mari Winsor, Crunch Fitness.
But Schwimmer's collection has been collecting dust as the 32-year-old Marina del Rey, Calif., resident trades in purchasing a DVD each month for streaming fitness videos from Netflix to her television.
"It's really allowed me to have more fun with my workouts," said Schwimmer, who was recently laid off and is working on her own business while she looks for a job.
She has in her queue workouts from "The Biggest Loser's" Jillian Michaels and the New York City Ballet.
The Web is doing to fitness DVDs what the Kindle may do to books as people seek cheaper, more varied workouts that they can access with the click of a mouse and do somewhere other than their living room.
Fitness enthusiasts can watch workouts online, download them to their iPods, stream them from Netflix to their television and even create their own workout videos. A search of the words "fitness video" on YouTube produces more than 160,000 results.
"With YouTube, it's so easy," says Brandon Jubar, 41, of El Paso, Texas.
Jubar estimates he has purchased 20 videos over the years, including "Billy Blanks Tae Bo" and "Hip Hop Abs."
"These (YouTube) videos are certainly not as slick and polished as the videos I used to buy," he says, "but the quality is good and there is no fluff in any of them."
Sales figures are hard to come buy because no one source tracks all the sales, The multimillion fitness DVD industry is growing, says Jill Ross of the consumer catalog Collage Video, which sells exercise videos and workout equipment.
That's partly because the economy has people working out at home, and because of the popularity of television shows like "The Biggest Loser," says Ross, who sees between 500 and 600 new titles each year.
But many fitness video producers are already preparing for a possible hit. Fitness video producer Linda LaRue's "Crunchless Abs" videos are available for download on www.ExerciseTV.tv, and several fitness video producers are looking at purchasing the bandwidth so the digital downloads can happen on their own Web sites, she said.
For many who use online fitness resources, it comes down to wanting more workouts without buying several different DVDs.
Jessica Sharp, 29, who runs a public relations firm in Philadelphia, says she was tired of doing the same Rodney Yee routines over and over on her DVDs. She does the free, one-hour yoga class on YogaToday.com, which has a new class each day.
She also subscribes to a Yoga audio podcast on iTunes, so she can work out when she is traveling.
Meryl Blau, 34, a member of MAKE IT FIT ( www.youcanmakeitfit.com) – which has more than 100 streaming fitness videos, downloadable podcasts and printable workouts – wanted to have a wider selection of routines and do them in places other than her living room.
"It was a change in the way I think about when and how my workouts are done, but the computer gives me flexibility that you just don't get from a television," says Blau, a mother of one who teaches at the University of Miami.
Still, while more people are turning to the Web for workouts, the DVD format won't become obsolete anytime soon, say fitness experts. Ross said she still has customers who purchase VHS tapes.
Most of the downloadable workouts are short and specific, says Michele Olson, a professor of exercise science at Auburn University-Montgomery, who stars in "10 Minute Solution: Kettlebell Ultimate Fat Burner."
She said in an e-mail that well-produced exercise videos include a tutorial, instructions that are well-matched with good sound and visual quality, and different levels of the workout movements.
Some people may also find that working out in front of a computer or while holding their phone cumbersome.
"It's not like watching a TV show or a movie," says LaRue. "You have to watch and do."
Plus, there are always going to be people who don't adopt new technology, says research director David Lockwood of research firm Mintel International, pointing out that millions of U.S. households weren't ready for the switch to digital TV. And while DVR may make DVDs extinct, it could take a couple of decades, he said.
James Kunitz of DV Creations, which produces 150 fitness and dance instructional DVDs a year, believes as more people become comfortable with downloading, they will go online for their workouts.
His paid site, which is for Core Rhythms' fans, has free streaming video of the Latin ballroom dance workout. He is planning to offer downloadable content later this year.
"We're uploading content each week, so we can keep people's interest," Kunitz says. "That's what it's all about."
As for Jubar, he says he has lost close to 30 pounds using online resources. He mainly uses Craig Ballantyne of Turbulence Training.
"You can buy a collection of his stuff," he says. "I don't see the need to. Everything I need from him is right there on YouTube."
Local journalism is essential.
Give directly to The Spokesman-Review's Northwest Passages community forums series -- which helps to offset the costs of several reporter and editor positions at the newspaper -- by using the easy options below. Gifts processed in this system are not tax deductible, but are predominately used to help meet the local financial requirements needed to receive national matching-grant funds.
Subscribe to the Coronavirus newsletter
Get the day's latest Coronavirus news delivered to your inbox by subscribing to our newsletter.
---