News > Features
Don't let the season scare you
Sun., March 29, 2009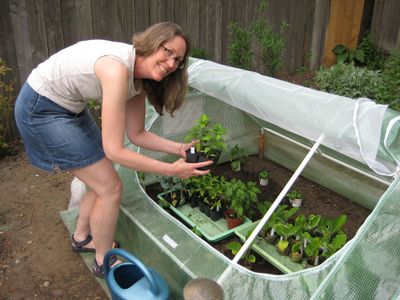 Inland Northwest gardeners are challenged annually by a short growing season that can include cold, wet springs, freak snowstorms in June and late frosts.
Fortunately, there are many techniques we can use to grow productive vegetable gardens and even extend the season a little bit.
A cold frame is a bottomless box – made from materials like old window sashes, plexiglass, heavy-duty clear plastic or twin-wall greenhouse panels – that is set onto the soil for starting seeds or protecting seedlings from cold temperatures. It can also be used to grow lettuce greens in the early spring or during the fall.
The cold frame should be located in a protected area that gets plenty of sun. Be sure to monitor the inside temperature and prop open the lid on particularly sunny days so the plants won't get fried.
A hot bed is a cold frame that has a heat source provided by electric heating cables or fresh manure.
If you're using a heating cable, dig a hole underneath the cold frame that is about one foot deep. Line the bottom of the hole with 2 inches of sand and zigzag the cable on top of it.
Cover the cable with another 2 inches of sand and place hardware cloth on top of that, to protect the cable. Finish filling the hole with soil, plug in the cable and you're good to go.
If you're using fresh manure, there's a little more effort involved but no electricity required.
Dig a 2-foot-deep hole under the cold frame, fill all but the top 8 to 10 inches with fresh manure, and finish filling the hole with soil. As the manure decomposes, it will warm up the soil and the inside of the cold frame.
There are minigreenhouses available through local garden centers and mail-order catalogs that don't take up much space and provide plenty of protection for growing seedlings until it's safe to transplant them into the garden.
I have a 6- by 8-foot greenhouse that I use for this purpose. To cut down on watering chores, I've attached a plastic rain gutter to the front edge of each planting bench and covered the benches with capillary mats.
I saturate the capillary mats with water, place the planted pots on top of them and fill the rain gutters with water. Because of the water-wicking qualities of the mats, they will pull water out of the gutters as needed.
If you place hoops of sturdy wire or flexible sprinkler pipe over your garden beds, you can use floating row cover, plastic sheeting or shade cloth to extend the growing season.
Floating row cover is a lightweight fabric that allows light, air and moisture to penetrate while providing seedlings with a few extra degrees of frost protection in early spring or fall. Known by many gardeners under the trade name of Reemay, it also serves as a barrier to keep harmful insects off plants, thus eliminating the need for insecticides.
Tunnels made of clear plastic sheeting placed over the hoops will provide a lot of warmth for seedlings early in the season. Don't forget to leave the ends of the tunnels open during the day so the plants don't get too hot inside.
Lettuce and other salad greens are cool-season crops that tend to bolt to seed and become bitter when the hot weather arrives. One way to get around this is to drape some shade cloth over the bed to give them some relief from the hot sun and high temperatures and extend their season.
Other products that protect and keep seedlings warm include hot caps and bell-shaped glass cloches placed over the plants, and Walls O' Water, which are typically used for growing tomatoes.
As you can see, it is possible to fool Mother Nature after all by putting some season extenders to use in your garden.
Local journalism is essential.
Give directly to The Spokesman-Review's Northwest Passages community forums series -- which helps to offset the costs of several reporter and editor positions at the newspaper -- by using the easy options below. Gifts processed in this system are not tax deductible, but are predominately used to help meet the local financial requirements needed to receive national matching-grant funds.
Subscribe to the Coronavirus newsletter
Get the day's latest Coronavirus news delivered to your inbox by subscribing to our newsletter.
---