News > Features
'No girls'
Man caves come in different shapes, sizes, but with one rule:
Sun., March 29, 2009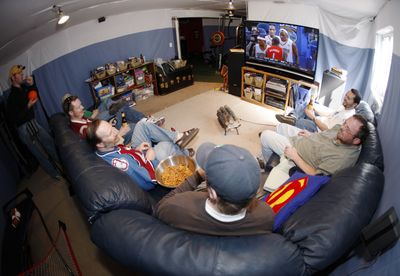 Is it a refuge? A clubhouse?
What is this thing, this man cave? Is it dangerous?
This is what the women folk may want to know. For some men, it's all too clear: The man cave is sanctuary.
"When we're married, we have to give up a lot of territory, then when we have kids, we give up more territory," says Joe Stone, 40, a minister in Thornton, Colo.
"We have this tiny area of territory that we'll defend to the death."
That's the cave. It's often in the basement but sometimes in the garage among the garden tools.
And it's trendy. Turn on the television: DIY Network airs "Man Caves," hosted by Jason Cameron and ex-NFL player Tony "The Goose" Siragusa, and HGTV will launch "Man Land" in June.
"It goes back to the tree house, the clubhouse, the 'no girls allowed,' " says Monica Pedersen, a designer on HGTV's "Designed to Sell."
"I think it's their adult version of that, and I don't blame them for that."
Reach out to friends, asking to speak with their friends who have a man cave, and wait for the responses to roll in:
From Columbia, S.C.: "I have one of those! TV with cable. Refrigerator. Pingpong table. Hockey equipment. We haven't had a car in that garage in years."
From Dubuque, Iowa: The man cave is where "my decorations or sports memorabilia actually get to be on display where no one else sees it, since it doesn't go with the rest of the house's 'décor.' "
From Anchorage, Alaska: "It's where I go to unwind (to watch movies). It's mostly subterranean; no light gets in or gets out. It's the 'war room' – we pay our taxes from down there."
From Overland Park, Kan.: "We built a sports basement a few years ago that is the ultimate 'man cave,' especially during football season. It is outfitted with a big screen, full bar, fireplace, pool table, pingpong table, book shelves, Wii and autographed footballs.
"A buddy of mine has nicknamed it 'Nirvana.' My 17-year old-son has friends over nearly every weekend and they immediately head for the basement."
Then there was the young man at the Arvada, Colo., liquor store who said his cave is the Barcalounger in his garage. He doesn't have a wife, but he does have roommates. The need for his own domain was the same.
"The man cave is a place where they don't have any … social demands on them," says Mark L. Held, a clinical psychologist in Greenwood Village, Colo.
The cave is where men are free from relating to people, from the "honey-do" list, from talking about their day with their wives.
It's neither immature nor pathological, Held says, for a man to need this time alone – killing tanks on Wii or watching a ball game – and it can serve a marriage well.
Men who need time alone in their caves "are people who don't find talking to other people as energizing," Held says. "They see it as a demand, as draining."
Wives need not feel rejected if their husbands spend a few minutes in the cave every day, he adds, although there's a big difference between minutes and hours. Cave dwelling may be a sign of depression, Held says.
"You have to come out of the cave," he says. "You can't live in it."
Caves range from the bare-bones variety that includes a sofa and a TV, to the high-end one that boasts flat-screens and framed art.
Stone, the minister, is a staunch believer in "less is more." A well-heeled man cave misses the point of getting back to basics to lessen the stress load, he contends.
"They shine too much," he says. "There's too much welcome in there."
Stone speaks of "defensive perimeters" to maintain his sanctuary. (He also plays a lot of the interactive war game "Call of Duty" in there.)
"You have to learn the relative balance of filth," he explains. "If it's too dirty it will affect your relationship with your kids and your wife."
Stone keeps cereal bowls, a few empty beer bottles and some clothes lying around his basement cave – nothing too offensive. He also tries to clean it weekly "so I don't get sick."
He says his wife, Laura Stone, 38, has come to terms with the unkempt room.
"She navigates through it," he says. "I keep a trail open for her."
Stone laughs at himself and what he believes is some primordial need.
"There is something, definitely, to this," he says. "After a long day of hunting and gathering, we want to go back to the safety of our cave.
"If I could have a campfire in my basement, a spit and a good dog, I would be content for the rest of my life – as long as the fire would also power my TV, my gaming computer, my surround sound and my ESPN Game Zone."
Local journalism is essential.
Give directly to The Spokesman-Review's Northwest Passages community forums series -- which helps to offset the costs of several reporter and editor positions at the newspaper -- by using the easy options below. Gifts processed in this system are not tax deductible, but are predominately used to help meet the local financial requirements needed to receive national matching-grant funds.
Subscribe to the Coronavirus newsletter
Get the day's latest Coronavirus news delivered to your inbox by subscribing to our newsletter.
---