News > Features
Carolla seeking secret of the pod
Tue., March 31, 2009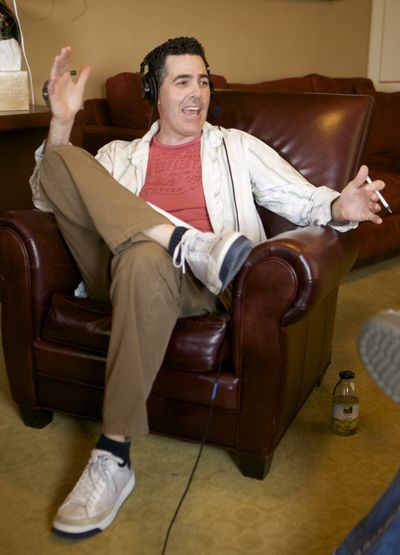 Sitting inside his palatial Hollywood Hills mansion, Adam Carolla and his talk show host pal Jimmy Kimmel chat candidly – in a frenetic, almost stream-of-consciousness way.
The former cohosts of Comedy Central's "The Man Show" are comfortably slouched on brown leather chairs inside Carolla's office. A totally casual affair, it seems – except that each is wearing a bulky headset.
The headsets are, in fact, recording the uncensored conversation for Carolla's daily podcast, an endeavor the 44-year-old radio and TV personality launched last month after his popular syndicated morning radio show was canceled when CBS switched the format of KLSX from talk to pop music.
"They didn't cancel KLSX and my show because we weren't popular," says Carolla. "I didn't feel an ounce of 'I'll show you! I'll go and do a podcast, and you guys will rue the day!' I understood they paid us a lot of money, and if they just play Justin Timberlake and Rihanna, they'll save themselves a few bucks. That's the climate we're living in these days."
Since launching Feb. 25, "The Adam Carolla Podcast" has frequently been the No. 1 podcast on iTunes, which ranks its offerings according to popularity. The show has consistently charted ahead of such staples as NPR's "This American Life," HBO's "Real Time with Bill Maher," "The Ricky Gervais Podcast" and President Barack Obama's weekly address.
Carolla was surprised as anyone else by the sudden success of his minimalist venture.
"Last week, we had over 3 million hits, and I don't know exactly how those work, but we have a system that measures your hits, and I've seen them steadily going up," says Carolla.
Each episode features just one celebrity guest, and thus far has attracted the likes of Tom Arnold, "The Soup" host Joel McHale, "Family Guy" creator Seth MacFarlane and comedians such as David Alan Grier, Dana Gould and Aisha Tyler.
"We haven't missed a day yet," boasts Carolla. "It's like dating. If you like me, I'll like you back. I'll keep growing the show based on other people's commitment to it. If people find the show, like the show and want more of the show, then I'll oblige. If they taper off and don't show an interest anymore, then I'm not going to show an interest in it anymore."
Carolla, who is currently working on a CBS comedy pilot, is still mulling how to monetize the production, which he estimates cost him $3,000 a month to produce. He would prefer to charge a subscription fee than woo advertisers, so that he can continue to liberally rant and use whatever explicit language he deems necessary. For now, there's no turning back.
"This feels really good, and it would feel really hard to go back and do terrestrial radio or even satellite radio," says Carolla. "I don't think satellite is in any position to hire new talent these days, and terrestrial radio would feel very limiting after this. My wish, hope and goal is to grow this, so that we have our own show and our own community."
The birthday bunch
Actor William Daniels is 82. Actor Richard Chamberlain is 75. Actress Shirley Jones is 75. Country singer-songwriter John D. Loudermilk is 75. Musician Herb Alpert is 74. Actor Christopher Walken is 66. Comedian Gabe Kaplan is 64. Actress Rhea Perlman is 61. Actor Ed Marinaro is 59. Guitarist Angus Young of AC/DC is 54. Actor Ewan McGregor is 38.
Local journalism is essential.
Give directly to The Spokesman-Review's Northwest Passages community forums series -- which helps to offset the costs of several reporter and editor positions at the newspaper -- by using the easy options below. Gifts processed in this system are not tax deductible, but are predominately used to help meet the local financial requirements needed to receive national matching-grant funds.
Subscribe to the Coronavirus newsletter
Get the day's latest Coronavirus news delivered to your inbox by subscribing to our newsletter.
---