Sterk vows to quickly find new coach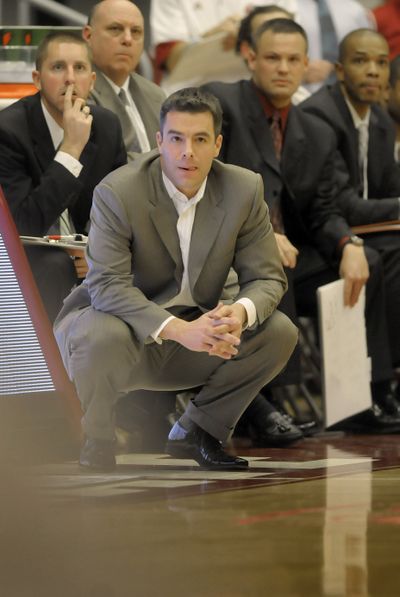 PULLMAN – With Tony Bennett's surprising announcement Monday that he was leaving Washington State, the immediate concern of athletic director Jim Sterk is the future.
As in replacing a guy who won 69 men's basketball games in three years and took WSU to the postseason in all three.
"We're going to try to do it as quickly as we can," Sterk said in a Monday evening teleconference.
Sterk made it clear it is imperative for Washington State to act fast, citing the retention of current players and those who have signed letters of intent for next season.
"That's why the quicker we act the better off we are, so there's no lingering doubts about what's going on," Sterk said, adding that Bennett spoke with returning players, the recruits and their parents before leaving for Virginia. "Our intent is that everyone will stay."
One player who was assessing his options was freshman shooting guard Klay Thompson, WSU's leading returning scorer.
"I'm just trying to see what my future is," Thompson said. "I'm just really confused right now. I'm really shocked. I don't know what to do. We'll see."
Though he was out of town with his family, Sterk moved quickly to start the replacement process, contacting Portland State athletic director Toree Chisolm about its head coach, Ken Bone.
"He's one that we've asked permission to contact," said Sterk, who worked at Seattle Pacific when Bone was a coach there.
Sterk also mentioned former Gonzaga assistant and University of San Diego head coach Billy Grier as "certainly someone we would look at," saying he planned to contact Grier.
"We're starting to make calls and contacting institution of coaches we want to speak to," Sterk said.
Besides Bone, other names that have surfaced in media reports include Saint Mary's head coach Randy Bennett and Gonzaga assistant and former Eastern Washington and Utah head coach Ray Giacoletti.
Unlike the football coaching search that resulted in Paul Wulff's hiring in 2007, Sterk said there would be no search committee. He and WSU president Elson J. Floyd would make the final decision.
"This is going to be short and quick," Sterk said, adding he hopes to make the hire within seven days and by no later than two weeks.
Besides finding someone who reflected the school's core values, Sterk said, WSU wants someone with "experience as a head coach, that knows their system and believes in their system and probably similar defensively to what we are doing."
"(Division I) head coaching experience would be a necessity in this," he added. "This is a very, very competitive conference. We need to have that experience in order to compete."
Sterk said he has a list of candidates in his "day planner," and that West Coast ties would be helpful, but he would not exclude someone from outside the area.
If Washington State players had their choice, the Cougars would stay even closer, as in within the program. Three freshmen who helped the Cougars to a 17-16 record expressed a preference for assistant coach Matt Woodley.
"If we had anything to say about it, I would like Coach Woodley to be the head coach, or somebody looked at to be hired as the head coach," said Marcus Capers, whose comments were echoed by Thompson. "If he could get the head coaching job I would like that."
"I want to play for (Matt) Woodley," said DeAngelo Casto, who joined Thompson on the Pac-10's All-Freshman team this season. "That would be an easy transition for us."
But Sterk said that though the assistants – Woodley, Ben Johnson, Ron Sanchez, who sources say has been offered a position as Virginia's video coordinator by Bennett, and operations director Mike Heideman – were still under contract and might be retained by a new coach, they would not be considered for the head coaching position. He will be meeting with the staff today.
Whoever Sterk hires, he hopes to keep the compensation near the level it reached with Bennett, whose pay rose from $600,000 to $1 million over the three years.
"I don't expect us to go backwards, but I think we'll be paying competitively, what the person's experience and market value (deserves)," Sterk said. "We'll be fair with that."
Besides, Sterk said, Bennett left the program in much better shape then "six years ago when I first talked with Dick and Tony about coming to Washington State. I'm thankful for what they have done and what type of people they have brought in; the players they have brought in.
"And I'm excited about the future of Cougars basketball."
---