Sports
Tony takes flight
Bennett stuns WSU by accepting head coach position at Virginia
Tue., March 31, 2009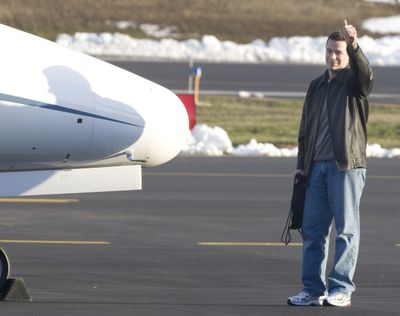 PULLMAN – Washington State University men's basketball coach Tony Bennett surprised his players, his assistants and the school administration Monday by accepting an offer to become the head coach at the University of Virginia.
"I was so shocked," freshman guard Klay Thompson said of Bennett's announcement to the team and staff Monday afternoon.
Bennett, who just finished his third season as WSU head coach, spent last Wednesday speaking with his assistants and others about the challenges next season would bring.
But Cavaliers athletic director Craig Littlepage contacted his WSU counterpart, Jim Sterk, on Thursday morning, made contact with Bennett that day and, by Monday afternoon, Bennett had decided to leave his first head coaching position.
"Disappointed," Sterk answered Monday evening in a teleconference when asked his feelings about Bennett's decision.
Sterk and WSU president Elson S. Floyd met with Bennett on Saturday morning after he returned from a quick trip to Virginia. At that time no job had been offered.
It was later that afternoon, but Sterk said Bennett told him then he wasn't sure. They talked again Sunday morning, Sterk said, and at that point Bennett and wife, Laurel, had decided to stay.
At 1:45 Monday afternoon, Sterk said, he received a call from Bennett saying he was going to take the Virginia job.
Bennett told returning players and coaches about his plans at a 2 p.m. meeting in Beasley Coliseum.
A source close to the situation told The Spokesman-Review the decision was a tough one, but after discussing and praying about it, the coach and his wife decided it was the right move for their family and future.
"I'm disappointed. I'm really disappointed," Thompson said. "Shoot, I don't know. But it's life. I'll adjust. As far as my future, I don't know what I'm going to do. I'll see who they're going to bring in."
Thompson said the meeting at Beasley was emotional and that Bennett was apologetic.
"In the end it's a business decision for Coach Bennett and he has to look out for his family and what he thinks is best," freshman guard Marcus Capers said. "I'm not mad on that part, but he told my mom he was going to stay here so I'm a little hurt by that. Other than that, I'm cool with the whole situation."
Though Bennett refused comment, saying in a text he was respecting UVA's wishes, sources close to the situation told The Spokesman-Review that recent WSU budget concerns may have played a part in his decision.
The school was contemplating dropping charter flights for the basketball team next season – an addition to the program when Bennett's contract was reworked after last year, along with improvements to Beasley Coliseum – and had eliminated a planned trip to the Final Four this season for Bennett and his staff.
Bennett offered late in the season to rework his contract, which called for a salary of more that $1 million this season, including bonuses and outside compensation. He talked with Sterk and others about donating $100,000 back to the program to ensure the continuation of the charters and other ancillary items.
"It's tough to sweeten his personal (compensation) when he's telling you he's giving $100,000 back," Sterk said.
Bennett's contract calls for a $400,000 buyout to Washington State if he left prior to April 30, 2009, and Sterk said Virginia would be paying that sum. Bennett also received a $100,000 contract-mandated retention bonus March 15.
"Yesterday when I spoke with him, he said they had offered a great package, brand new arena, ACC and all that, but it wasn't necessarily the money," Sterk said trying to explain Bennett's decision.
But like most connected to the program, Sterk couldn't come up with a reason why Bennett decided to leave now.
"I think you would have to ask him that," he said. "I don't have an answer for that."
In Pullman last week, Bennett talked about next season.
"It's (going to be) the school of hard knocks," he said then of a team that will have just one returning senior. "You're going to be thrown in the fire and you're not going to have the upperclassmen bail you out so to speak. … It really will be a year (where you ask), will they be able to hang together and hang tough?"
Bennett came to Pullman with his father, Dick, on March 29, 2003. He took over as head coach in 2006, leading the Cougars to a 26-8 record and the second round of the NCAA tournament. The next season, WSU finished 26-9 and advanced to the Sweet 16, where it lost 68-47 to ACC power North Carolina.
This season the Cougars, with three freshmen playing major roles, finished 17-16 and lost in the first round of the National Invitation Tournament at Saint Mary's.
Bennett's 69-33 won-loss record gives him the highest winning percentage (67.6) in WSU history for coaches of more than one season. His 69 wins ties him with Kevin Eastman for sixth on WSU's all-time list.
Virginia has yet to officially schedule a press conference announcing its new coach, but one is expected either today or Wednesday.
Local journalism is essential.
Give directly to The Spokesman-Review's Northwest Passages community forums series -- which helps to offset the costs of several reporter and editor positions at the newspaper -- by using the easy options below. Gifts processed in this system are not tax deductible, but are predominately used to help meet the local financial requirements needed to receive national matching-grant funds.
Subscribe to the sports newsletter
Get the day's top sports headlines and breaking news delivered to your inbox by subscribing here.
---