News > Business
Here's the Dirt: Ace Hardware among new Wandermere Village tenants
Fri., May 1, 2009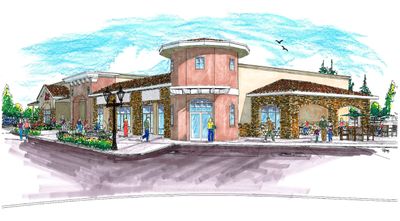 A new Ace Hardware store and four attached retail spaces will be the latest additions to the growing Wandermere Village retail center along U.S. Highway 395 just north of Spokane.
Construction of the $1.3 million, 19,200-square-foot complex is expected to be completed this fall. In addition to the hardware store, one of the spaces will be a restaurant with outdoor patio. The other tenant stores have not been determined.
Development coordinator Jason Strain said interest from retail business owners is picking up. "We're still doing more deals than we're losing tenants," he said.
The 7.5-acre development site is just north of Wandermere Mall, which houses an Albertson's supermarket and a Rite Aid drug store. The mall is at the northeast corner of Highway 395 and East Hastings Road.
Other Wandermere Village tenants include Shari's, Camino Real (a Mexican restaurant), Grease Monkey, Wah Hing (a Chinese restaurant) and the 14-screen Village Centre Cinema. A Fred Meyer retail store sits at the southeast corner of the intersection.
Wandermere Investments is the owner and Vandervert Construction Inc. the builder. Spokane developer Dick Vandervert is the managing partner of Wandermere Investments and president of Vandervert Construction.
Russell Page Architects of Spokane designed the new complex.
Mead retail mall
Work is about 80 percent done on an L-shaped, 19,600-square-foot retail mall in the Mead area.
The mall is at 14011 N. Newport Highway, just south of East Mt. Spokane Park Drive. Yoke's Fresh Market sits just to the east.
The owner, Little Spokane Partners LLC, should be ready to lease the spaces within the month, and stores could start opening this summer, said Russ Page, the architect. Vandervert Construction is the builder.
The $1.1 million development includes nine spaces, each spanning 1,500 to 2,000 square feet.
A full-time wine bar …
This week's Dirt column has two new wine bars to celebrate. The first is LeftBank Wine Bar, on the main floor of the American Legion Building, 108 N. Washington St., in downtown Spokane.
The winery takes over the space formerly used by Conti's Cafe and Tea House.
Owners Aaron and Katrina Kelly said LeftBank's hours will be from 7 a.m. to " when things slow down," Aaron Kelly said. They'll be closed on Sunday.
They'll continue selling Craven's coffee in the morning. Later in the day they'll offer panini sandwiches, bruschetta, antipasto and a dessert menu.
The wine selection will start with about 60 choices, with an emphasis on regional varieties. "There are a lot of good Walla Walla wines we'll try to bring to the market," Kelly said.
… and a part-time one
Steve Trabun and Russ Feist, whose day jobs are with Avista Corp., have added wine sellers to their résumés.
Their new downtown Spokane winery, Barili Cellars, opens today at 608 W. Second Ave. Their wives, Dana Trabun and Marlene Feist, are co-owners.
The opening taste party this evening runs from 5 to 8 p.m. Barili will be open for the annual spring barrel tasting May 8-10. After that, Barili will open only on first Fridays of the month and by appointment.
The building will serve both as a wine bar and a basement production area, Trabun said.
Barili – Italian for barrels – will have three limited production releases: a 2008 Viognier, a 2008 chardonnay, and a 2007 cabernet sauvignon/syrah blend.
For information, go to www.barilicellars.com.
Waddell & Reed moving
Investment advisers Waddell & Reed will move one of its two Spokane Valley offices to the second floor of the Banner Bank building, 111 N. Post St., in downtown Spokane.
The firm is vacating its current office at 8817 E. Mission Ave. No plans to fill that office have been announced.
Manager Jason Renskers said the move will be done by June 1. The company has another Valley location at 104 S. Freya St. and one in Coeur d'Alene.
G&B Real Estate took the main role in filling 4,000 square feet in the Banner Bank building. All eight workers from Waddell & Reed's Mission Avenue office will move downtown. "It puts us closer to our competitors, and it's going to put us into the revitalized downtown area," Renskers said.
Here's the Dirt reports on new developments and business openings, closings or movement in the Inland Northwest. E-mail
business@spokesman.com
or call (509) 459-5528.
Local journalism is essential.
Give directly to The Spokesman-Review's Northwest Passages community forums series -- which helps to offset the costs of several reporter and editor positions at the newspaper -- by using the easy options below. Gifts processed in this system are not tax deductible, but are predominately used to help meet the local financial requirements needed to receive national matching-grant funds.
Subscribe to the Coronavirus newsletter
Get the day's latest Coronavirus news delivered to your inbox by subscribing to our newsletter.
---
Subscribe and log in to the Spokesman-Review to read and comment on this story