News > Idaho
Blackwell Island marina expansion proposed
Polluted sediment would be excavated during Hagadone project
Fri., May 1, 2009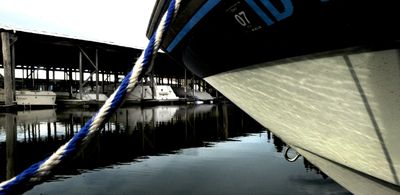 With bigger boats mooring on Lake Coeur d'Alene, Hagadone Hospitality wants to retrofit a 1940s marina to provide a sheltered space for luxury yachts and other pleasure craft.
A deeper harbor and two dozen 60-foot-long boat slips are part of the proposed makeover at the Marina Yacht Club on Blackwell Island, near the lake's confluence with the Spokane River. The new marina design calls for a total of 420 boat slips of varying lengths, plus space for 128 personal watercraft.
Large yachts are taking the place of vacation cabins on Lake Coeur d'Alene, said John Barlow, Hagadone Hospitality's secretary. People moor them at marinas and live in them.
"Many people can't afford what's become a million-dollar piece of ground," he said. "This is a summer home."
About 46,000 cubic yards of sediment polluted with heavy metals would be excavated during the work, which would deepen the channel by eight feet. Earlier plans for the marina expansion were put on hold in 2006, when the U.S. Army Corps of Engineers required more testing of underwater soils.
Barlow said Hagadone Hospitality followed state and federal protocols to test the soils and create a disposal plan for the metals-tainted sediments. Eighty-five soil samples were taken. Lead, arsenic, cadmium, copper and zinc at levels harmful to fish and aquatic life were detected in some samples.
The marina renovation would remove polluted soils and spruce up the marina, which was built more than 70 years ago by a former owner, according to Barlow. Some structures came from a defunct sawmill that once operated on Blackwell Island.
"It would be nice to clean it up. The question is, how do you do it safely?" said Wes Hanson, vice president of the Kootenai Environmental Alliance's board of directors.
The alliance has questions about Hagadone Hospitality's plans to dispose of contaminated soils on Blackwell Island. Even though some of the material would go into a lined pit, members of the nonprofit group worry about the potential for flooding, Hanson said.
The proposal to renovate the marina to add more than 100 slips – some at 60 feet long – also raises questions, Hanson said. The confluence is already at a chokepoint for recreational boating traffic, he said.
"These boats are big hummers," Hanson said. "Sixty feet is 20 feet longer than my house. I'm not sure that Lake Coeur d'Alene needs them."
The metals that would be excavated from the channel are from Idaho's Silver Valley. Over the past century, metals from mining activity washed down the Coeur d'Alene River, settling at the bottom of the lake and the Spokane River.
In its permit application, Hagadone Hospitality proposed putting lead- and arsenic-laced soils into a lined pit on Blackwell Island, which would be sealed by an asphalt parking lot. The top of the site would be elevated to protect it from a 100-year flood event, according to the application, which was submitted to the Corps of Engineers, Idaho Department of Lands and the Idaho Water Resources Department.
Other soils contain cadmium, copper, silver and zinc, which is toxic to fish. That soil is targeted for an unlined pit, which would be capped with clean soil.
Disposing of the soil at Blackwell Island was preferred by the overseeing agencies, Barlow said. The protocols require tainted soils to be contained in an environment that's already polluted, he said. David Barrow, chief of the Corps of Engineers' regulatory division, declined to comment about Barlow's concerns. As the agencies review the application, they'll assess whether the marina proposal follows the protocols, he said.
Barlow said the Marina Yacht Club lies at a sheltered spot, out of strong southwesterly winds. Many of the yacht owners who dock at other Hagadone marinas want larger slips in calmer water, he said.
Mary Damiano said one experience with a large yacht near Arrow Point soured her on boating in Lake Coeur d'Alene. The deep hull from the slow-moving yacht created a tremendous wake.
"This was a wall of water so massive that it almost capsized us," Damiano said. "It knocked everyone to the floor, including my husband, who is 6-foot-4."
About a year after the July 2004 incident, after 30 years of boating, Damiano said, she and her husband sold their 18-foot craft.
"Those boats have no business on the lake," she said. "They're too big to be cruising around if small boats are out there."
Local journalism is essential.
Give directly to The Spokesman-Review's Northwest Passages community forums series -- which helps to offset the costs of several reporter and editor positions at the newspaper -- by using the easy options below. Gifts processed in this system are not tax deductible, but are predominately used to help meet the local financial requirements needed to receive national matching-grant funds.
Subscribe to the Coronavirus newsletter
Get the day's latest Coronavirus news delivered to your inbox by subscribing to our newsletter.
---
Subscribe and log in to the Spokesman-Review to read and comment on this story