Sports
In brief: Bulls force Game 7 with 3-OT thriller
Fri., May 1, 2009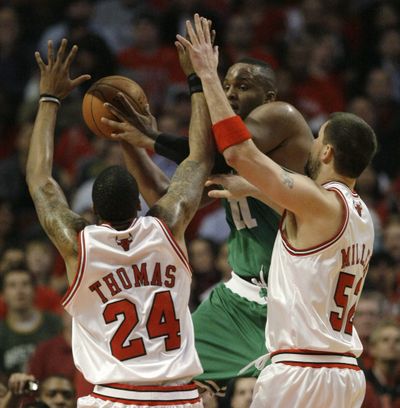 One more thriller, and now, the Chicago Bulls and Boston Celtics will play a decisive seventh game.
Derrick Rose scored 28 points and blocked Rajon Rondo's potential winner, John Salmons scored 35, and the Bulls beat the defending champions 128-127 in triple overtime Thursday night in Chicago to tie this first-round series at three games apiece.
Ray Allen scored a career playoff-high 51 points for the Celtics, but the series will go back to Boston for Game 7 Saturday after another classic battle in a series that had already seen its share of drama.
•Magic move past Sixers: Despite missing suspended star Dwight Howard, Orlando advanced to the second round of the Eastern Conference playoffs, beating the Philadelphia 76ers 114-89 in Game 6 at Philadelphia.
Playing without Howard and injured guard Courtney Lee, the Magic thumped the Sixers from the start. Howard, who was suspended one game by the NBA for his elbow on Sixers center Samuel Dalembert in Game 5, will return when the Magic play the winner of the Boston-Chicago series.
Lee had surgery on his fractured sinus and could miss the remainder of the playoffs for Orlando.
•Rockets advance past Blazers: For the first time in 12 years, the Houston Rockets advanced in the NBA playoffs.
Ron Artest scored 27 points, Yao Ming had 17 points and 10 rebounds and Houston reached the second round for the first time since 1997, beating the Portland Trail Blazers 92-76 in Game 6 at Houston.
Aaron Brooks scored 13 points and Shane Batter tied a career playoff-high with nine rebounds as the Rockets won for the first time in their last seven first-round series. They lost Game 6 the last two seasons, both to Utah.
•Draft window to get smaller: College players will have to decide quicker whether they plan to stay in the NBA draft.
A new rule approved by the NCAA's Board of Directors requires early entrants to withdraw from the draft by May 8. Current rules allow players to make that decision by June 15.
Hockey
Canucks take Game 1
Sami Salo scored on a 3-on-1 rush with 1:13 left, and the Canucks beat the Chicago Blackhawks 5-3 at Vancouver, British Columbia, in the series opener after blowing a three-goal lead in the third period.
After Nikolai Khabibulin made a sliding save on Steve Bernier's one-timer, the trailing Salo was all alone to tap in the rebound.
Patrick Kane scored twice for Chicago, and David Bolland tied it with 5:29 left.
Ryan Johnson scored into an empty net with 15.5 seconds left to wrap up the victory.
•Coyotes still in control: The president of the Phoenix Coyotes denied a report that the NHL has taken control of the cash-strapped hockey club.
Glendale city manager Ed Beasley told the Arizona Republic that the league is running the team and has promised to reimburse the city for parking fees and security costs at Jobing.com Arena, which is located in Glendale.
•Russia tops Sweden in OT: Dmitri Kalinin scored with 56 seconds left in overtime to lift Russia to a 6-5 victory over Sweden to open the second round of the hockey world championship in Bern, Switzerland.
Golf
Woods leads Quail Hollow
Tiger Woods matched the course record with a 30 on the front nine, where he closed with three straight birdies to finish off a 7-under-par 65 at the Quail Hollow Championship in Charlotte, N.C. Phil Mickelson followed in the afternoon by chipping in for eagle and making a remarkable par save from under a video board for a 5-under 67 that put him in a tie for second.
Steve Marino and Robert Allenby also opened with 67s.
Football
Brown, Torretta lead class
Heisman Trophy winners Tim Brown and Gino Torretta, along with two-time All-American Chris Spielman, are among the 16 players elected to the College Football Hall of Fame.
Others selected for induction by the National Football Foundation are: Penn State's Curt Warner; New Mexico State's Pervis Atkins; Arizona's Chuck Cecil; Auburn's Ed Dyas; West Virginia's Major Harris; BYU's Gordon Hudson; Alabama's Woodrow Lowe; Stanford's Ken Margerum; Texas' Steve McMichael; Iowa's Larry Station; Georgia Tech's Pat Swilling; and Nebraska's Grant Wistrom.
•Bengals extend Graham: Cincinnati has signed kicker Shayne Graham to a one-year contract.
The Bengals said that Graham exercised his option to sign for one year at a salary equal to the average of the top five place-kickers in the NFL in 2008.
•Broncos release Young: The Denver Broncos' crowded backfield has become a bit clearer with the release of third-year tailback Selvin Young.
•Chiefs sign center: The Kansas City Chiefs signed unrestricted free-agent center Eric Ghiaciuc.
Miscellany
Swine flu precautions
The swine flu epidemic has forced the cancellation or postponement of sporting events across the country, affecting everything from prep contests in Texas and Alabama to a college baseball road trip in Delaware.
•F1 makes adjustments: Formula One's governing body raised a voluntary budget cap to $59 million, banned refueling during races and opened the starting grid to an additional three teams from 2010.
The World Motor Sport Council said the teams that sign up for the cost-cutting cap will be given more technical freedom, including movable wings, engines without a rev limit and unlimited out-of-season testing. There will also be no restrictions on wind tunnel testing.
•Hollywood Park cancels races: Hollywood Park canceled races in Inglewood, Calif., because there weren't enough horses.
It was a one-time cancellation because the eight-race card could not be filled, track officials said. Typically, a minimum of six horses per race is needed to fill the card, but the track didn't get that amount.
Local journalism is essential.
Give directly to The Spokesman-Review's Northwest Passages community forums series -- which helps to offset the costs of several reporter and editor positions at the newspaper -- by using the easy options below. Gifts processed in this system are not tax deductible, but are predominately used to help meet the local financial requirements needed to receive national matching-grant funds.
Subscribe to the sports newsletter
Get the day's top sports headlines and breaking news delivered to your inbox by subscribing here.
---
Subscribe and log in to the Spokesman-Review to read and comment on this story