News > Nation/World
Car hits crowd gathered to celebrate Dutch queen
Fri., May 1, 2009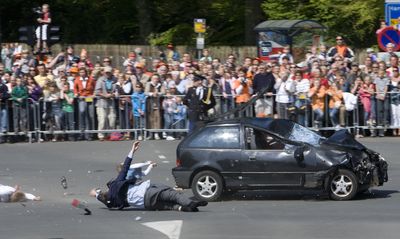 APELDOORN, Netherlands – A Dutch driver careened through police barriers and plowed into a crowd of merrymakers cheering their popular queen Thursday, in a premeditated assault on the royal family that killed five bystanders and injured 12, authorities said.
The speeding car, already dented apparently from catapulting bystanders into the air, passed within a few yards of the open-topped bus carrying Queen Beatrix and her family down a parade route, then smashed into a stone monument.
Prosecutors said the driver, badly injured and still in his crumpled car, acknowledged targeting the queen and her family.
The motive for the attack was unclear. Dutch media, citing neighbors, said the assailant recently was fired from his job and was to be evicted from his home. Police identified him as a 38-year-old Dutch man with no history of mental illness or police record, but they would not release his name.
A shaken Queen Beatrix extended her sympathies to the victims in a brief nationally televised address. "What began as a great day has ended in a terrible tragedy that has shocked us all deeply," she said.
The driver apparently tried to intercept the bus as it turned a corner to a road leading to the gates of the Het Loo palace.
Though the sequence of events was still murky, he apparently crashed his small black car through two sets of police barriers, smashing his windshield and damaging the front of the vehicle even before slamming into the monument.
The final few seconds were captured on video and film by news teams following the royal family in a press bus.
Reporters saw people thrown high in the air from the impact or tumbling down the street, their broken limbs askew. First aid crews and police officers ran to the victims and applied revival techniques.
Local journalism is essential.
Give directly to The Spokesman-Review's Northwest Passages community forums series -- which helps to offset the costs of several reporter and editor positions at the newspaper -- by using the easy options below. Gifts processed in this system are not tax deductible, but are predominately used to help meet the local financial requirements needed to receive national matching-grant funds.
Subscribe to the Coronavirus newsletter
Get the day's latest Coronavirus news delivered to your inbox by subscribing to our newsletter.
---
Subscribe and log in to the Spokesman-Review to read and comment on this story