News > Nation/World
Detainee admits aiding al-Qaida
Fri., May 1, 2009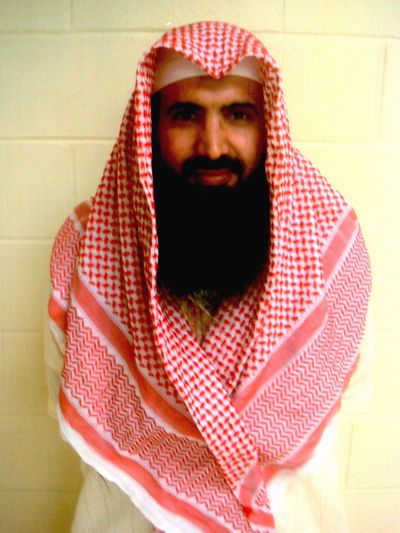 CHICAGO – In a case the Obama administration was keenly interested in, a former Bradley University student pleaded guilty in federal court Thursday to conspiring with, and providing support for, al-Qaida operatives in the months before and after the terrorist attacks on Sept. 11, 2001.
Ali al-Marri, 43, spoke softly as U.S. District Judge Michael Mihm in Peoria, Ill., read aloud a timeline of criminal activity that included meetings with two key architects of the terrorist attacks, participating in terrorist training camps in Pakistan and researching chemical agents purportedly for an attack on U.S. soil.
"Ali al-Marri today admitted that he came here, to Peoria, Ill., as an al-Qaida operative the day before the Sept. 11 attacks to plan and prepare for future acts of terrorism within the United States," said Jeffrey Lang, acting U.S. attorney.
What exactly al-Marri, a Qatar native, was planning before his arrest in December 2001 on charges of credit card fraud and lying to the FBI remains unclear. But Lang hinted after the 90-minute hearing that prosecutors could use that information during al-Marri's sentencing hearing in July.
In 2003, the Bush administration labeled al-Marri an enemy combatant and detained him in a Navy brig in South Carolina without charge. After al-Marri was indicted, the Obama administration in February ordered him turned over to civilian authorities to face criminal charges.
Earlier this year, the Supreme Court agreed to hear al-Marri's case and decide an important legal question: Can the government arrest a civilian in the United States and hold him in military custody, without filing charges or giving him a trial?
In authorizing the plea deal, the Obama administration was seeking to put behind it a legally troublesome terrorism case that was a holdover from the Bush administration.
"Good riddance. The sooner the better," said one career Justice Department official.
That official and others said the case was already becoming a quagmire for prosecutors – and for Attorney General Eric Holder and his boss, President Barack Obama – given all of the complicated issues, including how to bring into court all of the classified evidence to be used against al-Marri.
Local journalism is essential.
Give directly to The Spokesman-Review's Northwest Passages community forums series -- which helps to offset the costs of several reporter and editor positions at the newspaper -- by using the easy options below. Gifts processed in this system are not tax deductible, but are predominately used to help meet the local financial requirements needed to receive national matching-grant funds.
Subscribe to the Coronavirus newsletter
Get the day's latest Coronavirus news delivered to your inbox by subscribing to our newsletter.
---
Subscribe and log in to the Spokesman-Review to read and comment on this story