News > Nation/World
Drug arrests top 60,000 in Mexico crackdown
Fri., May 1, 2009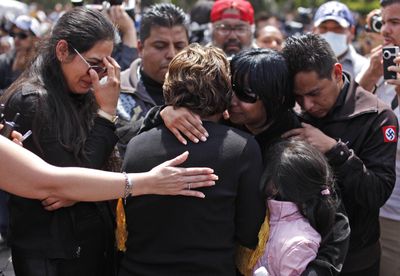 MEXICO CITY – Mexican authorities have arrested more than 60,000 people in connection with drug trafficking over the past two years, according to government statistics from a nationwide crackdown that has also led to dramatic increases in violence and charges of human rights abuse.
The detention figures, obtained by the Washington Post, represent the first public accounting of the government's offensive against Mexico's powerful drug cartels. President Felipe Calderon declared war against the traffickers shortly after taking office in December 2006, giving the military unprecedented law enforcement duties.
Drug trafficking in Mexico employs an estimated 150,000 people, according to U.S. officials, so 60,000 arrests could represent progress in the fight against the cartels.
But the Mexican attorney general's office said it was unable to disclose how many of the detainees remain in custody or whether they had been charged with crimes related to drug trafficking. In Mexico, it is not unusual for suspects to be arrested, paraded before television cameras but later quietly released without being charged with a crime.
The statistics reveal the expanding reach of the Mexican military in the drug war. From December 2006 to March this year, according to the Defense Ministry, the army had arrested 12,251 people, nearly one-quarter of the drug-related arrests reported by the government. Since 2007, monthly detentions by the military rose 129 percent, the figures show. The military said it had arrested only those who were caught in the act of committing a crime.
"I've never seen numbers that come close to this," said Roderic Ai Camp, an expert on the Mexican military at Claremont McKenna College in California.
During the Calderon administration, hundreds of active-duty and retired military officers have taken command positions in police agencies throughout the country. The army and police perform joint operations in several zones where trafficking and violence have been greatest. In the border city of Ciudad Juarez, for example, all public security is under the military's control.
In a report released this week, Human Rights Watch alleges that the military has "committed serious human rights violations" while fighting the drug war, "including enforced disappearances, killings, torture, rape and arbitrary detentions."
Local journalism is essential.
Give directly to The Spokesman-Review's Northwest Passages community forums series -- which helps to offset the costs of several reporter and editor positions at the newspaper -- by using the easy options below. Gifts processed in this system are not tax deductible, but are predominately used to help meet the local financial requirements needed to receive national matching-grant funds.
Subscribe to the Coronavirus newsletter
Get the day's latest Coronavirus news delivered to your inbox by subscribing to our newsletter.
---
Subscribe and log in to the Spokesman-Review to read and comment on this story