News > Features
'Ghosts of Girlfriends' offers McConaughey in usual role
Fri., May 1, 2009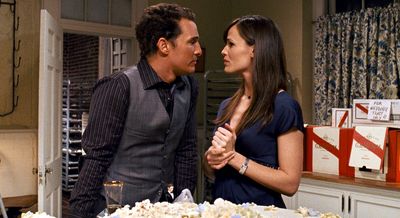 You will be shocked – shocked! – to learn that in "Ghosts of Girlfriends Past," Matthew McConaughey plays an arrogant womanizer who coasts on his looks and charm but eventually realizes that love does matter after all.
Call it laziness, call it finding your niche. You've seen McConaughey in this kind of role before, usually with Kate Hudson as his co-star. (Jennifer Garner stands in as the voice of reason this time.)
You've also seen "Ghosts of Girlfriends Past" before, in countless variations of Charles Dickens' "A Christmas Carol." The plot finds McConaughey, as playboy photographer Connor Mead, reluctantly revisiting the myriad women he's wronged with the ghosts of girlfriends past, present and future as his guides.
You can count the jokes that work on one hand; the rest is pratfalls and predictability.
When we first meet Connor in his Manhattan photo studio, he's propositioning his lingerie-clad models; later, he'll break up with three women simultaneously by video conference while his latest conquest (R&B singer Christina Milian) waits on the couch.
How he scores with his cheesy pickup lines is baffling; perhaps he blinds them into submission with the impossible whiteness of his teeth.
Which brings us to one of the film's chief flaws: All the women, except Garner's character, are malleable tramps willing not only to jump into bed with Connor (or do it in an airplane bathroom or on top of a car), they're also stupid enough to fall in love with him. It's never particularly funny because it takes such an insultingly limited and cliched view of what constitutes female sexual independence.
Connor doesn't have much more respect for his younger brother's fiancee (Lacey Chabert as a squeaky control-freak) or her three bridesmaids, two of whom he's already slept with. Forced to return to his childhood home of Newport, R.I., to see brother Paul (Breckin Meyer) get married, he uses the opportunity to try to bed more women (including the bride's mother, played by a sexy, underused Anne Archer).
But he also finds himself experiencing unexpected, unfinished feelings for childhood friend and former flame Jenny (Garner in a thankless straight-woman role) who seems too smart and accomplished to let someone vapid like Connor still tug at her.
So when he meets up with the ghost of his Uncle Wayne (Michael Douglas) – an old-school player who taught Connor everything he knows about scamming, but now insists his own life was empty without love – he resists but eventually succumbs when old memories are stirred.
There's only one way such an obvious romantic comedy can end: That's right, with a last-minute, mad dash to the airport.
Local journalism is essential.
Give directly to The Spokesman-Review's Northwest Passages community forums series -- which helps to offset the costs of several reporter and editor positions at the newspaper -- by using the easy options below. Gifts processed in this system are not tax deductible, but are predominately used to help meet the local financial requirements needed to receive national matching-grant funds.
Subscribe to the Coronavirus newsletter
Get the day's latest Coronavirus news delivered to your inbox by subscribing to our newsletter.
---
Subscribe and log in to the Spokesman-Review to read and comment on this story