News > Features
Taking the huge out of Hugh
Fri., May 1, 2009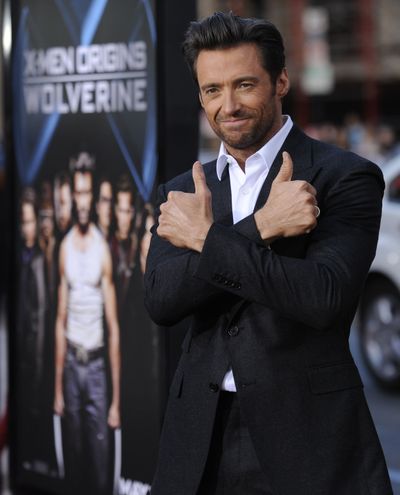 Hugh Jackman relied on his Wolverine alter ego to pack on muscle for the "X-Men" role, then turned to the Oscars to slim back down.
The 40-year-old actor trained for a year to achieve his Marvel comics character's look.
"My goal was to make him look like an animal," a much leaner Jackman said recently. "I wanted people to be unnerved when they saw him."
Among the first to be unnerved? "Australia" director Baz Luhrmann, who was directing Jackman and Nicole Kidman in the epic love story when his leading man started bulking up.
"Baz said, 'Mate, whatever you're eating, can you slow down a bit because I'm going to struggle to edit this together,' " Jackman recalls.
Luhrmann had issues with Jackman's size again when they collaborated on the opening song-and-dance number for the Academy Awards telecast.
Luckily, Jackman discovered the ideal weight-loss plan: "Singing and dancing is the greatest diet in the history of the planet," he said. "Well, that and performing in front of a billion people."
Tyra on his mind
A Georgia man who told police he and Tyra Banks "had a thing together" was convicted Thursday of stalking the supermodel-turned-TV host.
But Brady Green, 39, won't do any jail time. A Manhattan judge told Green's lawyer to help his client get psychiatric counseling and a job in "a location where he can thrive."
Green, who said he was moved by Banks' shows on homelessness and racism and wanted to contact her, insisted he never threatened Banks or meant to scare her.
For his next production …
Sarah Jessica Parker ("Sex and the City") and Matthew Broderick ("The Producers") will be taking on new roles: parents of twin girls.
Parker, 44, and Broderick, 47, "are happily anticipating the birth of their twin daughters later this summer with the generous help of a surrogate," according to their publicists.
The couple, who have a 6-year-old son, mark their 12th wedding anniversary next month.
Crying over spilt milk
Sean Penn and Robin Wright apparently tried to make it work, but it appears their marriage might be over for good.
The acting couple are separating after 13 years of marriage, with Penn requesting joint custody of their 18-year-old daughter and 15-year-old son.
The Penns filed for divorce in December 2007 but dismissed their petition several months later.
Quoteworthy
Black Eyed Peas frontman will.i.am, on his big-screen debut in in "X-Men Origins: Wolverine": "I know it's going to be dope, I just don't know if I'm going to be that dope."
The birthday bunch
Singer Judy Collins is 70. Singer Rita Coolidge is 64. Actor Dann Florek ("Law and Order: SVU") is 58. Singer-songwriter Ray Parker Jr. is 55. Actress Maia Morgenstern ("The Passion of the Christ") is 47. Actor Charlie Schlatter ("Diagnosis Murder") is 43. Country singer Tim McGraw is 42. Actor Darius McCrary ("Family Matters") is 33.
Local journalism is essential.
Give directly to The Spokesman-Review's Northwest Passages community forums series -- which helps to offset the costs of several reporter and editor positions at the newspaper -- by using the easy options below. Gifts processed in this system are not tax deductible, but are predominately used to help meet the local financial requirements needed to receive national matching-grant funds.
Subscribe to the Coronavirus newsletter
Get the day's latest Coronavirus news delivered to your inbox by subscribing to our newsletter.
---
Subscribe and log in to the Spokesman-Review to read and comment on this story