Sports
April rained HRs aplenty
Sat., May 2, 2009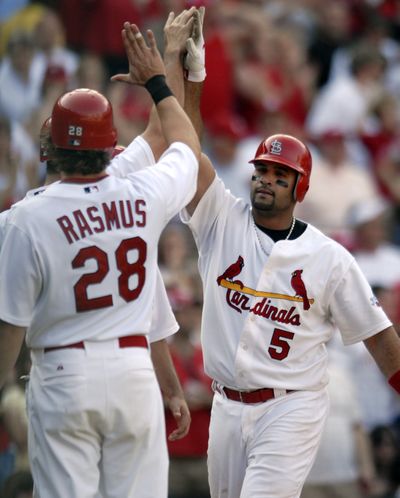 It rained home runs across the major leagues in April, especially grand slams.
Offense rebounded to its highest level in three seasons and sluggers hit grand slams at a pace that would shatter the season record if it keeps up.
"In baseball, people are going to want to know why numbers change," Detroit Tigers center fielder Curtis Granderson said. "One year, it was a steroids thing. But now that's cleared up."
Batters hit .263 in April, up four percentage points from last year and the highest average through April 30 since 2006, according to the Elias Sports Bureau. Pitchers' 4.56 ERA was the highest since a 4.63 three years ago.
During an April in which the weather was unusually warm in the Northeast and Midwest during the second half of the month, there were 679 homers, an average of 2.10 per game. That's up from the 1.79 average through April last year and the highest since the 2.31 average in 2006.
"There are some good, young arms that are coming into the league, but there are also some arms that are a little banged up and maybe not throwing like they can," Los Angeles Angels manager Mike Scioscia said. "Early in the season, pitchers might not be, you know, quite as crisp coming out of spring training."
There have been 27 grand slams, up from 19 through April last year. Two slams were hit by the St. Louis Cardinals' Albert Pujols.
Slams are on pace to total 203 this season, shattering the record of 176 established in 2000.
Clearing the bases
Alex Rodriguez took another step toward rejoining the New York Yankees following hip surgery, batting seven times in an extended spring training game at Bradenton, Fla., against Pittsburgh Pirates minor leaguers. … Boston Red Sox right-hander Daisuke Matsuzaka is scheduled to make his first minor league rehab start on Tuesday at St. Petersburg, Fla. Matsuzaka has been on the 15-day disabled list since April 15 with a mild right shoulder strain. … Texas placed outfielder Josh Hamilton on the 15-day disabled list because of a strained left rib cage muscle.
Local journalism is essential.
Give directly to The Spokesman-Review's Northwest Passages community forums series -- which helps to offset the costs of several reporter and editor positions at the newspaper -- by using the easy options below. Gifts processed in this system are not tax deductible, but are predominately used to help meet the local financial requirements needed to receive national matching-grant funds.
Subscribe to the sports newsletter
Get the day's top sports headlines and breaking news delivered to your inbox by subscribing here.
---