News > Nation/World
Britain names new poet laureate
Scot is first woman to hold position
Sat., May 2, 2009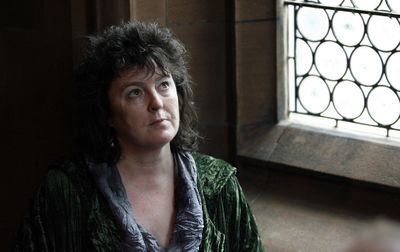 LONDON – For the first time since the post was created in 1668, Britain has selected a woman as its poet laureate.
Long-acclaimed Scottish-born poet Carol Ann Duffy, who has written on topics ranging from Shakespeare to Elvis Presley, becomes the official royal poet of the realm.
Duffy, 53, a gay single mother, who won the Dylan Thomas prize for poetry in 1989, is known for tackling down-to-earth subjects like street crime, prostitution and housework.
Her poetry has been hailed by fellow writers as original, imaginative and often bitingly satirical or plain humorous.
Duffy, selected to a 10-year term, follows a long line of illustrious literary names since 1668 when Charles II appointed John Dryden, creating the official title of poet laureate for life. Since then, the post has been filled by such figures as William Wordsworth, Lord Alfred Tennyson, Robert Bridges and, lately, Ted Hughes and Andrew Motion, who served for the newly reduced term of 10 years rather than life.
Duffy told BBC Woman's Hour interviewer Jenni Murray on Friday that her acceptance was not spontaneous.
"I did think long and hard about accepting – it's been talked about for months – and I think my decision was purely because there hasn't been a woman, and I kind of look on this (as) a recognition of the great women poets we now have writing, so I've decided to accept it for that reason."
There's nothing akin to blue-blood aristocracy in Duffy's background. She was born in the low-income district of Glasgow in Scotland known as the Gorbals, and brought up in the central England town of Stafford, where her father worked for the local electricity board.
School teachers instilled in her a love of poetry, she told the BBC. And she grew up with music at home and ritual chanting and singing in her Catholic convent schooling.
The appointment is approved by the monarch and the prime minister, Gordon Brown, who hailed her as a "truly brilliant modern poet."
The job is more of an honor than it is remunerative – Duffy's stipend is about $8,600 a year and "a butt of sack," or a barrel of Spanish wine.
Duffy plans to donate her salary to fund a prize to encourage young poets.
Local journalism is essential.
Give directly to The Spokesman-Review's Northwest Passages community forums series -- which helps to offset the costs of several reporter and editor positions at the newspaper -- by using the easy options below. Gifts processed in this system are not tax deductible, but are predominately used to help meet the local financial requirements needed to receive national matching-grant funds.
Subscribe to the Coronavirus newsletter
Get the day's latest Coronavirus news delivered to your inbox by subscribing to our newsletter.
---