News > Nation/World
Cubans show communist pride on workers' day
Celebration signals nation not ready to alter government
Sat., May 2, 2009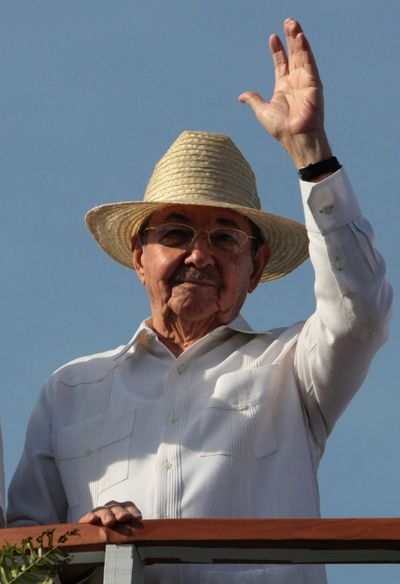 HAVANA – Throngs of people who gathered in front of the government headquarters for the annual May Day celebration sent a clear orchestrated message Friday: The Cuban government isn't planning to go away anytime soon.
Cuban leader Raul Castro, in a guayabera and straw hat, did not speak – he let the event do the talking for him. The unspoken message was that no matter the hype about increased talks with Washington, the hemisphere's last communist government has no immediate plans for change.
"Let us raise our flags and voices so that – from one pole to the other on this planet, from one continent to another – the unwavering decision of these extraordinary and combative people to build socialism under the direction of the Communist Party of Cuba, of Raul and Fidel, will resound," said Cuban government labor union leader Salvador Valdes, the only official speaker at the International Workers' Day parade.
But as Valdes, other top officials and 2,000 international guests assembled with tens of thousands of people at the Plaza of the Revolution, a photo taken from the crowd roared perhaps even louder: A beaming young woman in dark sunglasses went to the Cuban May Day parade waving an enormous U.S. flag.
Cubans on the island, widely considered supporters of President Barack Obama, applaud his recent decision to let U.S. residents visit and send cash to relatives on the island as often as they wish.
Friday's May Day celebration took place amid weeks of speculation that Washington and Havana could begin to bury their 50-year-old hatchet. When Obama lifted long-standing restrictions that kept people from visiting relatives on the island, he let Castro know that if he expected more moves like that one, Cuba had to make the next move.
Both Castros have rejected that notion.
"Never should the adversary be under the illusion that Cuba will surrender," former dictator Fidel Castro wrote in his regular newspaper column, "Reflections," published Friday.
"Today they are willing to forgive us if we resign ourselves to return to the fold, as slaves who after experiencing freedom once again accept the whip and the yoke," he said. "… There are still some who believe that peoples can be manipulated like puppets."
At a meeting of nonaligned nations Wednesday in Havana, Raul Castro said Obama's move was too small.
"Cuba is not the one that needs to make gestures," he said.
Local journalism is essential.
Give directly to The Spokesman-Review's Northwest Passages community forums series -- which helps to offset the costs of several reporter and editor positions at the newspaper -- by using the easy options below. Gifts processed in this system are not tax deductible, but are predominately used to help meet the local financial requirements needed to receive national matching-grant funds.
Subscribe to the Coronavirus newsletter
Get the day's latest Coronavirus news delivered to your inbox by subscribing to our newsletter.
---