News > Nation/World
Experts divided over severity of swine flu
Sat., May 2, 2009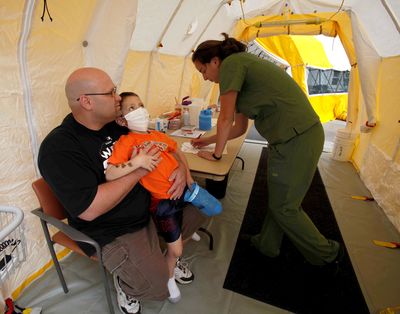 WASHINGTON – More than a month into the swine flu outbreak that has now affected 13 countries, medical experts are wondering aloud whether the contagious disease will ever become the pandemic that everyone fears.
With more than 160 infections now confirmed in 23 states, the H1N1 virus continues to spread via person-to-person transmission.
The overwhelming majority of new cases, however, have been mild and haven't required hospitalization. Only one death – of a Mexican toddler – has occurred on U.S. soil.
As the disease migrates farther from its Mexican origins, it hasn't yet packed the fatal punch that the world is bracing for.
That could change at any time because flu viruses are unpredictable and can mutate into a more dangerous strain in a short period of time.
The multitude of evidence, thus far, however, suggests that the swine flu virus won't follow the path of the 1918 flu pandemic that killed millions worldwide.
In fact, most experts still agree that President Barack Obama had it right when he said the outbreak is a cause for concern, but not alarm.
"I've said from the very beginning that I thought this might not play out so severely," said Matthew Boulton, an epidemiology professor at the University of Michigan School of Public Health.
In the aftermath of the anthrax attacks in 2001 and the more recent avian flu scares, Boulton said the nation's public health and security infrastructure "might be primed a bit for overresponse," to potential health threats.
Boulton said it's "highly improbable" that the U.S. swine flu death toll will approach the estimated 36,000 Americans who die each year of seasonal flu.
It was early reports of Mexican fatalities that prompted concern about the current virus. But those deaths may only represent a very small percent of people who were actually infected with the disease, Boulton said.
Many more infections in Mexico may have gone unreported because patients had only mild symptoms that required no medical attention. Higher poverty rates and poor access to medical care may also have inflated the death toll, Boulton said.
Local journalism is essential.
Give directly to The Spokesman-Review's Northwest Passages community forums series -- which helps to offset the costs of several reporter and editor positions at the newspaper -- by using the easy options below. Gifts processed in this system are not tax deductible, but are predominately used to help meet the local financial requirements needed to receive national matching-grant funds.
Subscribe to the Coronavirus newsletter
Get the day's latest Coronavirus news delivered to your inbox by subscribing to our newsletter.
---