News > Nation/World
Forest Service closing caves to stop bat fungus
'White-nose' has killed 500,000 flying mammals
Sat., May 2, 2009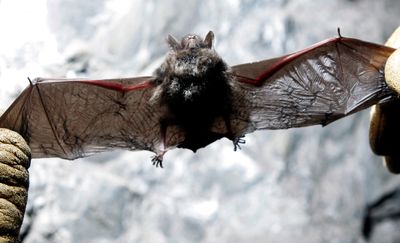 CHARLESTON, W.Va. – The U.S. Forest Service is closing thousands of caves and former mines in national forests in 33 states in an effort to control a fungus that has already killed an estimated 500,000 bats.
Bats have been dying at alarming rates from what scientists call "white-nose syndrome," so-named because it appears as a white powder on the face and wings of hibernating bats.
The problem was first spotted in New York and within two years has spread to caves in West Virginia and Virginia. There's no evidence the fungus is harmful to people.
Researchers believe the fungus is spread from bat to bat, but they have not ruled out the possibility that humans tromping from cave to cave might help to transmit it on their shoes and equipment, said Dennis Krusac, a biologist with the service's Southern region.
"We don't have the answers at this point," he said. "If we have answers in a year or sooner, we can open them back up."
Forest Service biologist Becky Ewing said an emergency order was issued last week for caves in 20 states from Minnesota to Maine. A second order covering the Forest Service's 13-state Southern region should be issued later this month.
The sites will be closed for up to a year, she said.
The orders follow a March request by the U.S. Fish and Wildlife Service for people to voluntarily stay out of caves in 17 states.
Biologists are concerned the fungus could wipe out endangered Indiana, Virginia and Ozark big-eared and gray bats.
Bats play a key role in keeping insects such as mosquitoes under control. Between April and October, they usually eat their body weight in bugs per night. The loss of 500,000 bats means 2.4 million pounds of bugs aren't eaten in a year, Ewing said.
New York caver Peter Haberland said organized caving groups shouldn't object to the closures.
"For a period of a year, most people can deal with that," said Haberland, who serves on the Northeastern Cave Conservancy's board.
The Forest Service order says people caught in a cave or mine face up to six months in jail and fines of up to $10,000.
Local journalism is essential.
Give directly to The Spokesman-Review's Northwest Passages community forums series -- which helps to offset the costs of several reporter and editor positions at the newspaper -- by using the easy options below. Gifts processed in this system are not tax deductible, but are predominately used to help meet the local financial requirements needed to receive national matching-grant funds.
Subscribe to the Coronavirus newsletter
Get the day's latest Coronavirus news delivered to your inbox by subscribing to our newsletter.
---