News > Features
He'll sink or swim all on his own
Sat., May 2, 2009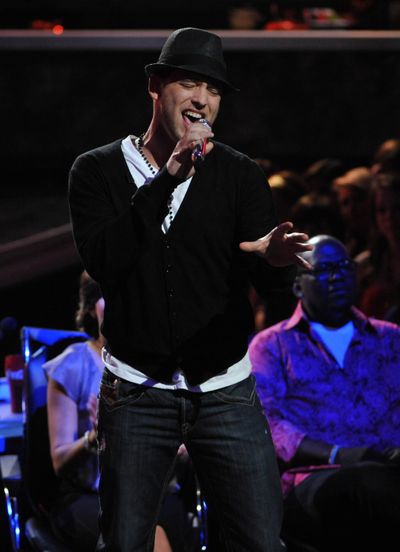 "American Idol" finalist Matt Giraud appreciates being compared to Justin Timberlake but intends to follow his own musical path.
"A white guy with soul, that's just how it works. … But I think I'm a lot different," Giraud said after being voted off the Fox TV singing contest this week.
While he admires Timberlake's approach, he said, "It's not where I want to go."
The 23-year-old piano player from Kalamazoo, Mich., said he wasn't disappointed that it was his jazz-flavored performance of "My Funny Valentine" on Wednesday that led to his downfall.
He could have showed off more, Giraud said, "but I wanted to pick something simple, and I'm glad I went out on that note."
Last month, Giraud became the first "Idol" contestant to get a judges' reprieve when the audience vote went against him.
"I can't wait to see my name on a trivia card," he joked, then turned serious.
"Being saved, I never felt so much love in the room before," he said. "I really didn't know that people felt that passionately about me."
'Mrs.' means a lot to her
The reigning Miss California has gone to Washington, D.C., to help launch a campaign opposing same-sex marriage.
Carrie Prejean, who was runner-up in last month's Miss USA pageant, said she'll be working with the National Organization for Marriage to "protect traditional marriages."
Her response to a question about same-sex marriage may have cost her the Miss USA title.
Crying over spilt milkshakes
Married singers Kelis and Nas have hit a sour note.
Kelis Rogers ("Milkshake"), who's expecting the couple's first child, filed for divorce Thursday citing "irreconcilable differences."
The couple were married in 2003 and separated in April.
Rock and a soft place
Christina Applegate, who graces the cover of People magazine's new "Most Beautiful" issue, says she's finally found her "perfect type" in her new beau, Dutch musician Martyn Lenoble.
The "Samantha Who?" star calls him an "angel" who loves her "from head to toe."
Applegate, 37, who had a double mastectomy last July, said Lenoble has been her "rock."
Punch in the gut
Elizabeth Edwards, wife of former Democratic presidential candidate John Edwards, writes in a new memoir that news of her husband's affair made her vomit.
"I cried and screamed, I went to the bathroom and threw up," Edwards, 59, who has terminal cancer, writes in "Resilience."
She said she wanted her husband to drop out of the race to protect the family from media scrutiny, but stood by his side anyway.
The birthday bunch
Singer Engelbert Humperdinck is 73. Singer Lesley Gore is 63. Country singer Larry Gatlin is 61. Singer Lou Gramm (Foreigner) is 59. Actress Christine Baranski is 57. Singer Angela Bofill is 55. Country singer Ty Herndon is 47. Actress Elizabeth Berridge is 47. Wrestler-actor Dwayne "The Rock" Johnson is 37. Actress Jenna Von Oy ("Blossom") is 32. Singer Lily Allen is 24. Actress Kay Panabaker is 19.
Local journalism is essential.
Give directly to The Spokesman-Review's Northwest Passages community forums series -- which helps to offset the costs of several reporter and editor positions at the newspaper -- by using the easy options below. Gifts processed in this system are not tax deductible, but are predominately used to help meet the local financial requirements needed to receive national matching-grant funds.
Subscribe to the Coronavirus newsletter
Get the day's latest Coronavirus news delivered to your inbox by subscribing to our newsletter.
---