Sports
Ken Spence had lifetime of adventures
Sat., May 2, 2009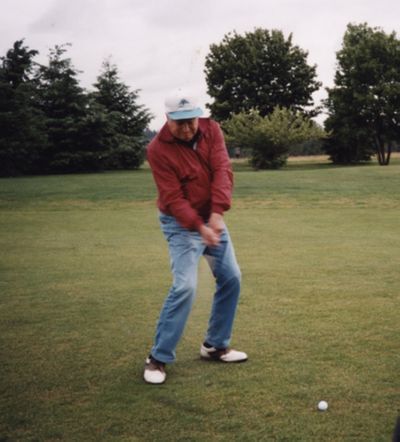 Ken Spence was never the type to let one particular adventure consume his life.
That's why there were more than just golf stories swapped during the memorial service held recently at Hangman Valley Golf Course in his honor.
Spence, a native Texan who migrated north and took over as the head professional at Hangman Valley when it first opened in 1969, died last week at the age of 81 following a long illness. Family and friends gathered in the clubhouse at the county-owned course on Wednesday to pay tribute and reminisce.
"It was absolutely wonderful," Mark Spence, one of Ken Spence's two surviving sons, said of the gathering. Mark worked as an assistant pro under his father at Hangman Valley for seven summers.
"There were all kinds of different stories you can tell, and things you can say about my dad and golf, but as soon as the golf season ended – because he had so many different interests – he was always headed in 18 different directions," Mark said.
"And the thing I'll always remember about him, personally, was his knowledge of nature."
The elder Spence, who grew up in the Houston area during the Great Depression, became involved with golf at an early age – not as a player, but as a scavenger, and savvy young businessmen.
According to his son, Spence spent much of his time as a youngster sneaking onto local golf courses and scouring the roughs and water hazards for lost golf balls, which he would then take out to the entrance to the course and sell for a dime apiece to golfers on their way in to play.
"You have to remember, these were tough times, and you did whatever it took to make whatever money you could," Mark said. "This was probably not looked too kindly upon by different head pros in the area, but he would collect a couple of hundred balls and then be out there on the road selling them when people showed up to play."
Years later, after telling his son about his earliest business ventures, Spence took him to a country club he used to scour for lost balls. It became apparent to Mark Spence that it was not an easy way to make a buck.
"He took me out and showed me this drainage ditch he used to crawl through," Mark said. "I mean, this was Houston, and we had alligators down there that could pick you up and drag you off. Yet, he would jump into the water, swim down that draining ditch to the golf course and find golf balls to sell."
Spence went on to become a highly accomplished golfer, winning several amateur tournaments in Texas and meeting some of the game's legends of the game along the way.
Among his acquaintances, according to his son, were Byron Nelson, Walter Hagen, trick-shot artist Joe Kirkwood and notorious golf hustler Alvin Clarence Thomas, who – because of a typographical error in a New York newspaper – became better known as "Titanic Thompson."
"He knew a lot of the guys who rocked the cradle of the (PGA) tour coming out of the war years," Mark said.
Before becoming a golf professional, Spence dabbled in several other businesses, including banking. It was during his romance with finance that he reportedly sent Nelson a note saying he was considering becoming a club pro at a local golf course.
Nelson's response, as the story goes, was to recommend that Spence stay in the banking industry, "Because, as a club pro, you won't get to play much golf."
Spence didn't take Nelson up on his advice, however, and eventually ended up in the Pacific Northwest, where he served as the head pro at a course in Bend, Ore., before moving to Clarkston Country Club and taking over similar duties from 1966 until 1969 when Hangman Valley opened.
After arriving in Spokane, Spence and his wife, Wanda Lou, got involved with training horses they raced at Playfair Race Course. Spence continued his affair with nature, which included mushrooms and snakes.
According to his son, Spence could identify any mushroom on the planet and could tell you what kind you could expect to find anywhere you traveled. But when it came to snakes, he took things to another level.
"Snakes, in his mind, were God's gift," Mark said. "He always said he could smell 'em, which used to make me laugh."
Until that winter day in the late 1970s when Spence and his son, who was in his 20s at the time, were back down in the Houston area walking down a narrow dirt path to the bayou to do some early-morning fishing.
As Mark Spence tells it, the sun had not yet come up, and the path was little more than a black ribbon as he walked ahead of his father in the semi-darkness.
"You know how southern people are – they always have to fish before God wakes up," Mark said.
As he was leading his father down that path that day, Mark was starting to think good things about their fish-catching prospects.
"I was all excited and leading the way," he said. "I was walking about 8, 9 feet in front of him when he said, 'Mark, why don't you hold up.' "
The younger Spence stopped, turned around and naturally asked, "Why?" to which his father answered, "Take a look around you."
Because of the limited lighting, Mark recalls glancing around and seeing nothing – until his father suggested he look straight ahead of him on the path, where a copperhead was coiled and ready to strike.
"He was looking straight at me," Mark said of the snake, "and there was no way my dad could have seen it from 15 for 20 feet away. He had to have actually smelled it.
"And from that day on, I made sure he always walked in front of me, wherever we were going."
Spence had been in ill health for several years before his death, having suffered a series of debilitating strokes that left him unable to play golf or pursue his other many interests.
But until four years ago, he had managed to play in the "Hacks' Tournament," an annual event the family puts on at Hangman Valley to honor Spence's two sons – David and Jonathon – who preceded their father in death because of heart problems.
"It was something we put on as a memorial to them, and now it can be memorial for my dad, as well," Mark said.
Local journalism is essential.
Give directly to The Spokesman-Review's Northwest Passages community forums series -- which helps to offset the costs of several reporter and editor positions at the newspaper -- by using the easy options below. Gifts processed in this system are not tax deductible, but are predominately used to help meet the local financial requirements needed to receive national matching-grant funds.
Subscribe to the sports newsletter
Get the day's top sports headlines and breaking news delivered to your inbox by subscribing here.
---