News > Washington Voices
Scrapbookers express heart, art, preserve the past
Sat., May 2, 2009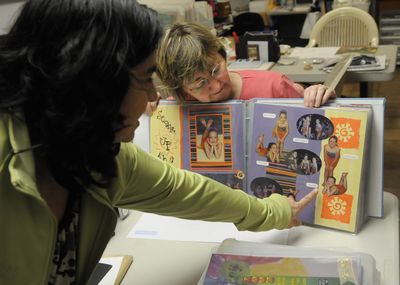 People have different opinions about what is or is not art.
Someone might look at an abstract painting and consider it nothing more than a mistake, while someone else might be in awe of the artist's ability to turn random colors and shapes into emotion. Whatever one's opinion, it is fair to say that creating is creating and when a creation is paired with passion, a work of art is born.
Scrapbooking teeters on the line of craft and art but to people who do it in the Spokane area, it is just another form of expression.
Adrianna Gmeiner began scrapbooking about five years ago when she was pregnant with her youngest child. "I've always been creative, and scrapbooking is the art form I chose to express myself through," she said. "It's a way to preserve memories in a beautiful way."
To some, scrapbooking might be seen as a "desperate housewife's hobby" because many scrapbookers are busy wives and mothers. Regardless, they are connecting with others through the activity and saving their memories.
"Scrapbooking is an opportunity for girlfriends to get together, take time for themselves, talk about life, share concerns, and make new friends. Besides, it is a lot of fun to play with paper, glue, scissors and crayons," said Sheryl Hammons, scrapbooking and stamping supplies consultant with Close to my Heart, a scrapbooking and stamping company. "I believe we all have a story to tell. Years from now who knows what this world is going to be like. We create family heirlooms."
When Hammons was young, her grandmother set her up with a flour-and-water paste and let her glue all kinds of things into her scrapbook. "She was always busy working on a sewing, crafts, gardening or baking project," Hammons said. "The highlight of the year was her entries in the local fairs."
Shannon Smoldt has been scrapbooking for more than eight years. Photos of her children are usually the focal point of her creations. "It's a wonderful way to celebrate relationships, and it's not just pictures and journaling, it's the quilting together of emotions," she said.
Crystal Ray, another consultant for Close to my Heart, is passionate about scrapbooking. "It's dimensional, with textures, wide-ranging colors, shadows, light and symmetry," she said. "The tools are as varied as the creator using them. I often find myself in a hardware or sporting goods store, looking for fishing supplies, small pieces of hardware or the thingamabob that will make a difference in the feeling of the page I'm working on.
"Or I will be walking in a parking lot and find pieces of debris that will finish off a page that needs a little something. The medium is endless and only limited by the size and the effect the piece might have on maintaining the quality of the pictures stored there."
Is scrapbooking art? Whatever the consensus, it's the preservation of the past and an individual's connection to it.
The Verve is a weekly feature celebrating the arts. If you know an artist, dancer, actor, musician, photographer, band or singer who could be featured, contact correspondent Jennifer LaRue by e-mail at
jlarue99@hotmail.com
.
Local journalism is essential.
Give directly to The Spokesman-Review's Northwest Passages community forums series -- which helps to offset the costs of several reporter and editor positions at the newspaper -- by using the easy options below. Gifts processed in this system are not tax deductible, but are predominately used to help meet the local financial requirements needed to receive national matching-grant funds.
Subscribe to the Coronavirus newsletter
Get the day's latest Coronavirus news delivered to your inbox by subscribing to our newsletter.
---