News > Washington Voices
Take garden break at plant sales, expo
Sat., May 2, 2009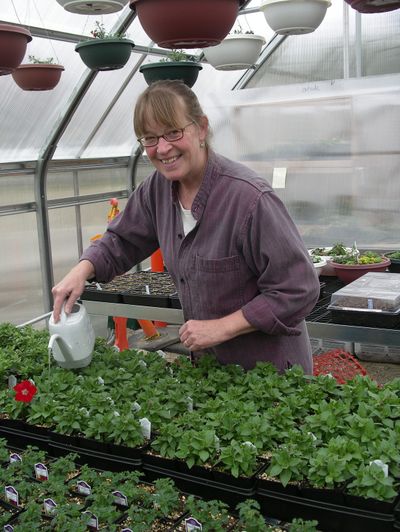 I don't know about you all out there, but I've been pretty busy getting the garden cleaned up now that it's warmed up. There were early weeds to pull, snow damaged shrubs and bushes to cut down, garden debris to shred and a few dozen plants to move before they came out of dormancy. I'm ready for a break.
Some of our local gardening friends seemed to know that and have some really cool events planned for next week.
On Wednesday, Blue Moon Nursery in Spokane's Latah Valley neighborhood is hosting a native plant fair. Blue Moon's Terese Palaia is bringing together three other local native plant businesses for an evening of presentations on the selection of native plants for landscapes and rural lands and specific discussions on shrubs, wildflowers and grasses. The nurseries attending the event are Plants of the Wild, Thorn Creek Native Seed Farm and Clearwater Seed. Hours are 6-7:30 pm. Blue Moon is at 1732 S. Inland Empire Way. Check www.bluemoonplants.com for directions.
The Valley YMCA Green Way Program will have its spring plant sale May 8-9 at their greenhouse next to the Valley YMCA, 2124 N. Discovery Place in Spokane Valley. They will be offering annuals, perennials, houseplants and vegetable starts grown by the students involved in the program. The Green Way program offers young people a wide variety of opportunities to learn about nature and growing plants. All proceeds will go back into the program. The sale will run 10 a.m.-5 p.m. May 8 and 11 a.m.-5 p.m. May 9. If there are plants left, the sale will continue May 15-16 and May 22-23.
May 9, will be a big day for local gardeners. It will be the 10th annual Garden Expo on the grounds of Spokane Community College. This year's event will bring over 250 garden plant and art vendors from all over the Northwest to Spokane. Everything from heirloom tomatoes and other vegetable starts to perennials to ferns to bonsai and exotic plants. The garden art will include metal sculpture, bird houses and wooden garden furniture, culinary herb specialties and lots of garden inspired Mother's Day gifts. You'd be a hero if you brought Mom down to shop for herself.
At a series of seminars, you can travel around the world in 40 gardens with the photography of Barbara Murray, learn the secrets of successful vegetable gardening with Master Gardener Susan Mulvihill, the best native perennials for a low water landscape from Diana Stuteman of Desert Jewels Nursery and end the afternoon by bringing all your gardening questions to Phyllis Stephens from KXLY-TV/Radio.
There will also be demonstrations of Ikebana flower arranging, home composting, growing lavender, rose care and growing blueberries. The Expo runs from 9 a.m.-5 p.m. on the campus of Spokane Community College, 1810 N. Greene St.
Pat Munts is a Master Gardener who has gardened the same acre in Spokane Valley for 30 years. She can be reached by e-mail at
pat@inlandnwgardening.com
Local journalism is essential.
Give directly to The Spokesman-Review's Northwest Passages community forums series -- which helps to offset the costs of several reporter and editor positions at the newspaper -- by using the easy options below. Gifts processed in this system are not tax deductible, but are predominately used to help meet the local financial requirements needed to receive national matching-grant funds.
Subscribe to the Coronavirus newsletter
Get the day's latest Coronavirus news delivered to your inbox by subscribing to our newsletter.
---