News > Spokane
Valley couple lose home, five dogs in morning fire
Sat., May 2, 2009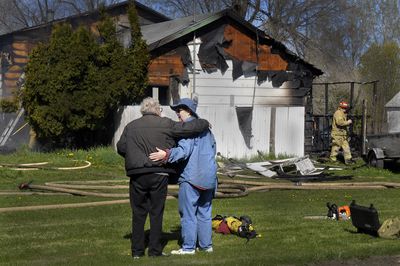 Herb and Jean Davenport watched decades of memories go up in smoke after a Friday morning fire destroyed the Spokane Valley home where they had lived for 34 years.
A neighbor called in the fire at 9 a.m. while the Davenports were at the vet with one of their four horses. It was fully involved when firefighters arrived, said Spokane Valley Fire spokesman Bill Clifford. The east end of the home, at 16725 E. Valleyway, was completely gutted and the rest heavily damaged.
The Davenports arrived and realized their five dogs were trapped inside. But their tears turned to joy when a cat thought to be inside the home was found hiding in the back yard. Jean Davenport cradled the long-haired cat, Rachael, in her arms, covering the frightened animal with a shirt to calm it.
"She was out in our feed room," Jean Davenport said. "I don't care about the belongings. The animals were helpless. They didn't have any way to get out."
The horses were unharmed, grazing quietly even as firefighters used hooks to tear into the home's walls and ceiling to make sure the flames were out.
The couple, married 42 years, expanded the home soon after moving in. "We had a contractor help with part of it, but we did most of it ourselves," said Herb Davenport. "We raised three kids here. We've raised their friends as well."
The couple moved to the Valley to be closer to Jean's job. She taught in the Central Valley School District for 32 years before retiring 10 years ago. She still works regularly as a substitute teacher in the district.
Herb Davenport, surveying the ruins, struggled to maintain his composure. "If I did let it get to me, I'd be a basket case," he said.
The cause of the fire was unknown Friday. Herb Davenport said a neighbor heard an explosion. "We have natural gas heat, so it's possible."
The home was insured and the Red Cross is assisting the family.
Local journalism is essential.
Give directly to The Spokesman-Review's Northwest Passages community forums series -- which helps to offset the costs of several reporter and editor positions at the newspaper -- by using the easy options below. Gifts processed in this system are not tax deductible, but are predominately used to help meet the local financial requirements needed to receive national matching-grant funds.
Subscribe to the Coronavirus newsletter
Get the day's latest Coronavirus news delivered to your inbox by subscribing to our newsletter.
---