Sports
Wade wills Miami to series-tying Game 6 victory
Sat., May 2, 2009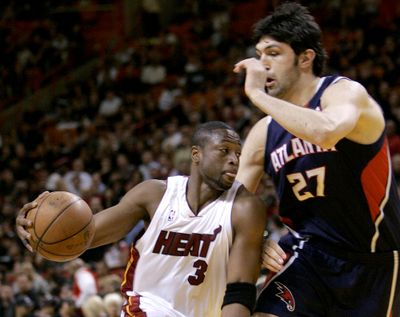 Dwyane Wade soared past Zaza Pachulia, throwing down a fierce dunk as the Atlanta forward sent him sprawling into a row of photographers.
Down. Definitely not out.
When the Miami Heat needed him most, Wade was at his best.
Wade scored 41 points, Michael Beasley busted out of a slump with 22 points and 15 rebounds, and the Heat stayed alive by routing the Hawks 98-72 in Game 6 of the Eastern Conference first-round series Friday night at Miami.
So a wild back-and-forth series – three routs for the Hawks, three routs for the Heat – will be decided Sunday in Atlanta in Game 7.
Mike Bibby scored all 20 of his points in the first half for Atlanta, which fell behind by 15 in the opening quarter, cut the deficit to nine by halftime, but never really challenged from there. Flip Murray and Joe Johnson added 13 apiece for the Hawks, who lost a first-round Game 7 last season against Boston.
•NBA won't upgrade Rondo foul: The NBA has decided not to take any additional action against Boston's Rajon Rondo for his skirmish with Chicago's Kirk Hinrich in Game 6.
The league said the first-quarter play would stand as a flagrant foul against Rondo. It could have upgraded the foul or even suspended the Celtics' point guard for Game 7 of the series today.
Hockey
Red Wings take opener
The last two Stanley Cup champions were evenly matched in their second-round series opener at Detroit. Then Detroit got the best of Anaheim.
Nicklas Lidstrom scored his second goal of the game with 49.1 seconds left, lifting the Red Wings to a 3-2 win over the Ducks in Game 1 of the Western Conference semifinal series.
Lidstrom started the winning play behind his own net, skated up the ice, shot and scored off his rebound.
•Bruins draw first blood: Marc Savard scored twice and Tim Thomas stopped 26 shots to lead the Boston Bruins past the Carolina Hurricanes 4-1 in Game 1 of the Eastern Conference semifinals at Boston.
Michael Ryder scored for the fourth game in a row, and David Krejci also scored for the top-seeded Bruins, who swept the Hurricanes during the regular season.
•Kelowna wins opener: Jamie Benn scored twice as the Kelowna Rockets defeated the Calgary Hitmen 3-1 to open the Western Hockey League Championship Series at Pengrowth Saddledome in Calgary, Alberta.
Calgary had won 12 consecutive games during the playoffs. Kelowna took a 2-1 lead midway through the third period on –Tyler Myers' power-play goal.
•U.S. team bests France: The United States feasted on the French defense, producing six scorers in a 6-2 victory to begin its second-round campaign at the ice hockey world championship at Bern, Switzerland.
The win set the stage for a game against Russia today, with the leadership of Group E and a likely top quarterfinal seeding on the line.
Football
Stafford makes debut
Matthew Stafford looked spectacular at times, fitting spirals in tight places and delivering pinpoint passes downfield.
It was easy to see why the Detroit Lions took him No. 1 in the NFL draft.
The strong-armed quarterback did, though, look like a rookie once in a while trying to impress his bosses at Allen Park, Mich.
He sailed some passes over receiver's heads and could've been picked off more than once.
The true test, of course, will come in about four months when he might be the starting quarterback for the NFL's first team coming off a 0-16 season.
•Vikings' top pick falls ill: Minnesota Vikings first-round draft pick Percy Harvin has been hospitalized with severe dehydration.
According to coach Brad Childress, the wide receiver was feeling ill Thursday and vomited on a flight from Florida to Atlanta.
•Peppers stays away: Disgruntled defensive end Julius Peppers was the only player missing from the start of the Carolina Panthers' three-day minicamp at Charlotte, N.C.
The stalemate extended for the four-time Pro Bowl selection, who wants to play elsewhere.
•Boldin arrives but sits: Wide receiver Anquan Boldin and defensive tackle Darnell Dockett showed up for the Arizona Cardinals' minicamp at Tempe, Ariz., but begged off of workouts because of "injuries."
Both players are upset with their contract status, and both said they had injured hamstrings, coach Ken Whisenhunt said.
Golf
Watson, Goosen take lead
Bubba Watson overpowered Quail Hollow and wound up with a perfect day – he tied a course record with a 30 on the front nine, shot 7-under-par 65 to share the lead, and doesn't have to play with Tiger Woods.
Retief Goosen, a two-time U.S. Open champion who thrives on fast greens, had another 68 to join Watson atop the leaderboard at the Quail Hollow Championship in Charlotte, N.C., with an 8-under 136.
Woods seized control with a 55-foot birdie putt on the ninth hole and had a two-shot lead for most of the back nine until a sloppy finish, making bogeys on two of the last three holes for a 72 that left him one shot behind.
Miscellany
Mayweather returns
Floyd Mayweather Jr. is back, ending his brief retirement from boxing. The undefeated five-division champion plans to announce today his return to the sport with a July fight against lightweight champion Juan Manuel Marquez, a person close to the fight confirmed Friday night.
•Gila appreciates Armstrong: Lance Armstrong draws a crowd anywhere he goes, and Tour of the Gila organizers couldn't be happier about it.
Returning from a broken collarbone, Armstrong has provided a major publicity boost for the New Mexico race, now in its 23rd year.
Armstrong placed third in the Gila's third stage, a time trial that started and finished in the mining village of Tyrone. He covered the hilly 16-mile course in 34 minutes, 22 seconds.
Local journalism is essential.
Give directly to The Spokesman-Review's Northwest Passages community forums series -- which helps to offset the costs of several reporter and editor positions at the newspaper -- by using the easy options below. Gifts processed in this system are not tax deductible, but are predominately used to help meet the local financial requirements needed to receive national matching-grant funds.
Subscribe to the sports newsletter
Get the day's top sports headlines and breaking news delivered to your inbox by subscribing here.
---