News > Awayfinder destinations
Eastern Washington wine industry has come into its own
More than 600 wineries now exist statewide
Sun., May 3, 2009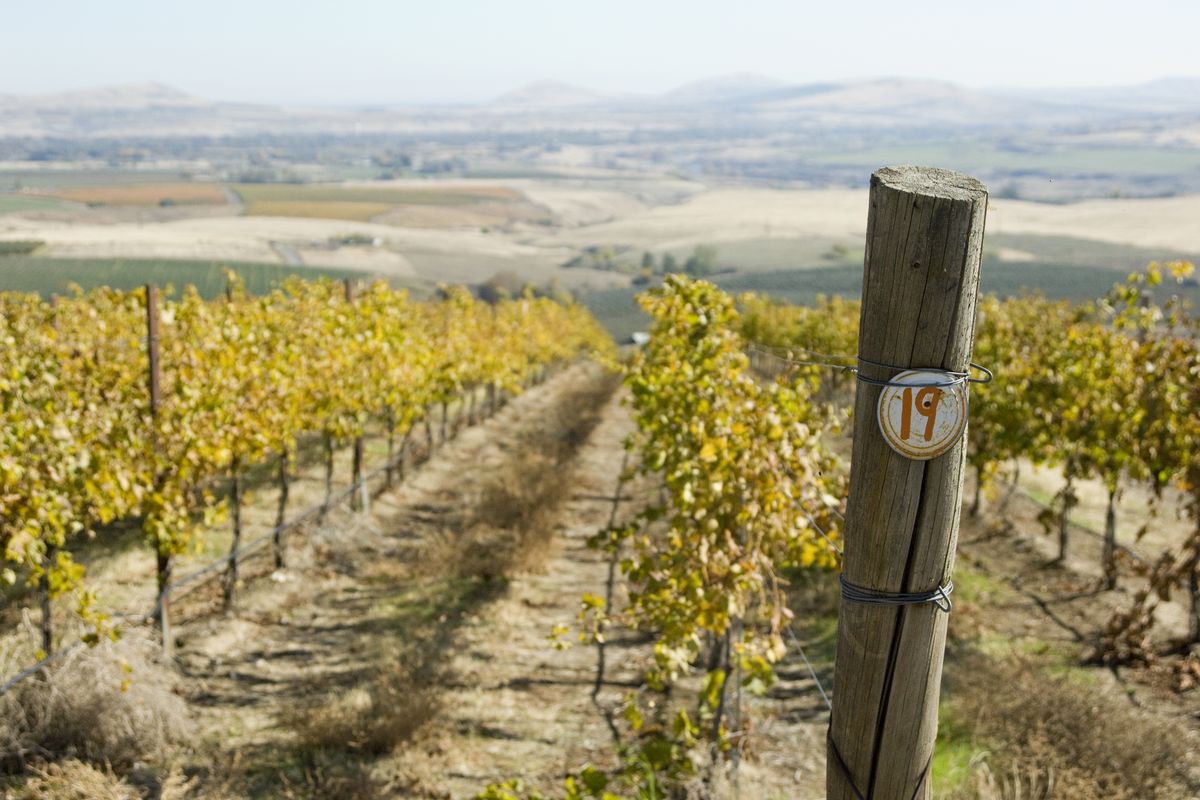 The Prosser area is becoming known as a great place for wine grapes to grow, and consequently, many wineries have sprung up. Some are also within walking distance, allowing for a memorable wine tasting weekend. (Washington Wine Commission)
After viticulturist Wade Wolfe moved to Washington in 1978, he occasionally was asked where he thought the state's wine industry would be in 25 years. "I would say, 'I think we have the potential to be the Napa Valley of the North,'" said Wolfe, who worked for the Seattle area's Chateau Ste. Michelle at the time. Back then, only eight wineries operated in the state and just 2,500 acres of farmland were dedicated to wine grapes, compared with about 25,000 acres of table grapes. Today, more than 600 wineries are licensed in Washington and 30,000 acres of wine grapes grow—about the same amount of land dedicated to wine grapes in Napa. "At some point, we will have 50,000 acres. I think that will happen in my lifetime," said Wolfe, who is celebrated regionally as a grape grower, wine maker and teacher. Washington's wine industry has boomed during the last couple of decades, and the current economic woes don't seem to be slowing it down. Since 2003, roughly one winery has opened per week, or about 50 per year, says Chris Stone, marketing director for the Washington Wine Commission. "One year, we had almost 100 new wineries," he said. The bulk of these are located where the grapes are— on the eastern, drier side of the state. "There are a lot of winery visiting opportunities in Woodinville (near Seattle), where there are about 40 wineries. They have events that draw quite a crowd, and that is fun," Stone says. "But there's such an allure to anyone who loves wine to get out where the grapes are grown, get out among the vineyards, and feel like you're in wine country." That's not to say that no grapes grow in Western Washington. Some cooler-climate grapes used for whites do well around Puget Sound. But more than 95 percent of the wine grapes grow east of the Cascades, and more than four out of five wineries are here, too. "Walla Walla alone has about 100 wineries," Stone says. Wolfe, who now owns Thurston Wolfe winery in Prosser with his wife Becky Yeaman, says wine plays "an important dynamic" in Washington's tourism industry. "There will always be people who visit Seattle or visit the mountains to ski," he says. "In recent history, the single biggest thing driving tourism in Washington is wine." Still, a lot of development is needed—more hotels, better restaurants, and secondary activities like golf—before the region can really take off, he says. "We're still lagging somewhat behind, but it will come," Wolfe says, adding that again the region reminds him of Napa Valley in the 1960s and 1970s. "When I was going to school in California, Napa had to be a day trip. There was no place to stay … you had to pack a lunch," he said. Two major challenges in eastern Washington are its harsh winters and the 3-hour drive between major metropolitan areas and the wine areas. Wolfe's advice? Plan a wine tour that lasts at least three days rather than one or two, and don't try to cram too many visits into each day. In the Prosser area, nine wineries have created a 15-acre "Vintners Village," where tourists can park in one spot and then walk along paths from winery to winery. This might be a smarter strategy than trying to hit an entire wine region in a weekend, such as the entire Yakima Valley, that now has more than 50 wineries, or Benton County, which has about 30. It's not just the wine tourists who are enjoying the locale. Wine experts and aficionados from around the world have made note of the good growing conditions and the relatively inexpensive cost for land. "Celebrities in the wine world are partnering on wineries here," Stone says. "It shows that Washington is a very exciting place to make wine right now." Actor Kyle MacLachlan, of "Sex and the City" and "Twin Peaks" fame, co-owns a Walla Walla winery called Pursued by Bear. Stone says former NFL quarterback Drew Bledsoe plans to open a winery in Walla Walla called Doubleback. Both men grew up in the region. And should Kyle, Drew, or other newcomers run into a hitch along the way, there's no shortage of wine makers or grape growers available to help. Washington's wine workers have a reputation as a tight-knit and supportive group, with competitors willing to help and more experienced industry members offering advice and mentorship. "There seems to be a complete understanding of what's good for one is good for all," Stone says. After all, no Washington wine maker wants someone unfamiliar with the region sampling a bad batch and then dismissing all wines from the state. Winemaker and viticulturist Michael Haig, at age 32, is young but has worked in his family's vineyard and winery since age 16. "I've seen it grow from just a tiny industry to events like Taste Washington!, where there were 226 wineries pouring and I didn't even recognize half of them," he said, referring to the big wine-tasting event held in Seattle in April. Taste Washington! Spokane will be June 21 at the Davenport Hotel. "It's exciting. I don't know how many people in Washington know how blessed we are that we have such incredible wine." Haig was impressed by the growing number of young adults who attended Taste Washington. "I would have to card half the people if they came into the winery," he says. Haig's winery—Whitestone—is located west of Spokane in Wilbur, Wash., and the vineyard sits on the shores of Lake Roosevelt. The company has a tasting room in Wilbur and also opened a tasting room in Carnegie Square on downtown Spokane's west end in mid-April. One of the biggest trends Haig sees lately is the increasing number of grape growers delving into wine making. "I'm running into growers I knew as a kid—good ol' farmers with pickups and overalls—who are swirling glasses of wine now," says Haig, as he spoke on a mobile phone sitting on the tailgate of his truck parked in the vineyard. "It's dirty, back-breaking farm labor, but I love it," he said. "I'm so happy that I don't have to wake up and wear a suit, and I get to take my dog to work with me." Despite the sour economy, Haig and other members of the industry say business is good—as long as a winery offers some products for $20 or less. Stone, of the wine commission, says Washington is at an advantage right now because it has a reputation for making top-quality wine that's affordable. "(Customers) haven't cut their consumption, but they're looking for more for their money," he says.
Washington is the No. 2 producer of wine in the U.S., behind California and ahead of New York and Oregon. Most Washington wineries are small, enabling visitors to have a more intimate experience—often with an opportunity to meet the winemakers on a wine tour. 56% of the state's wineries produce less than 1,000 gallons of wine per year. 41% percent produce 1,000 to 100,000 gallons. 11% percent make between 100,000 and 1 million gallons. 5% Washington wineries report making more than 1 million gallons per year.
Local journalism is essential.
Give directly to The Spokesman-Review's Northwest Passages community forums series -- which helps to offset the costs of several reporter and editor positions at the newspaper -- by using the easy options below. Gifts processed in this system are not tax deductible, but are predominately used to help meet the local financial requirements needed to receive national matching-grant funds.
Subscribe now to get breaking news alerts in your email inbox
Get breaking news delivered to your inbox as it happens.
---