Sports
Yuda, Chepkurui take Bloomsday crowns
T-shirts this year are light blue
Sun., May 3, 2009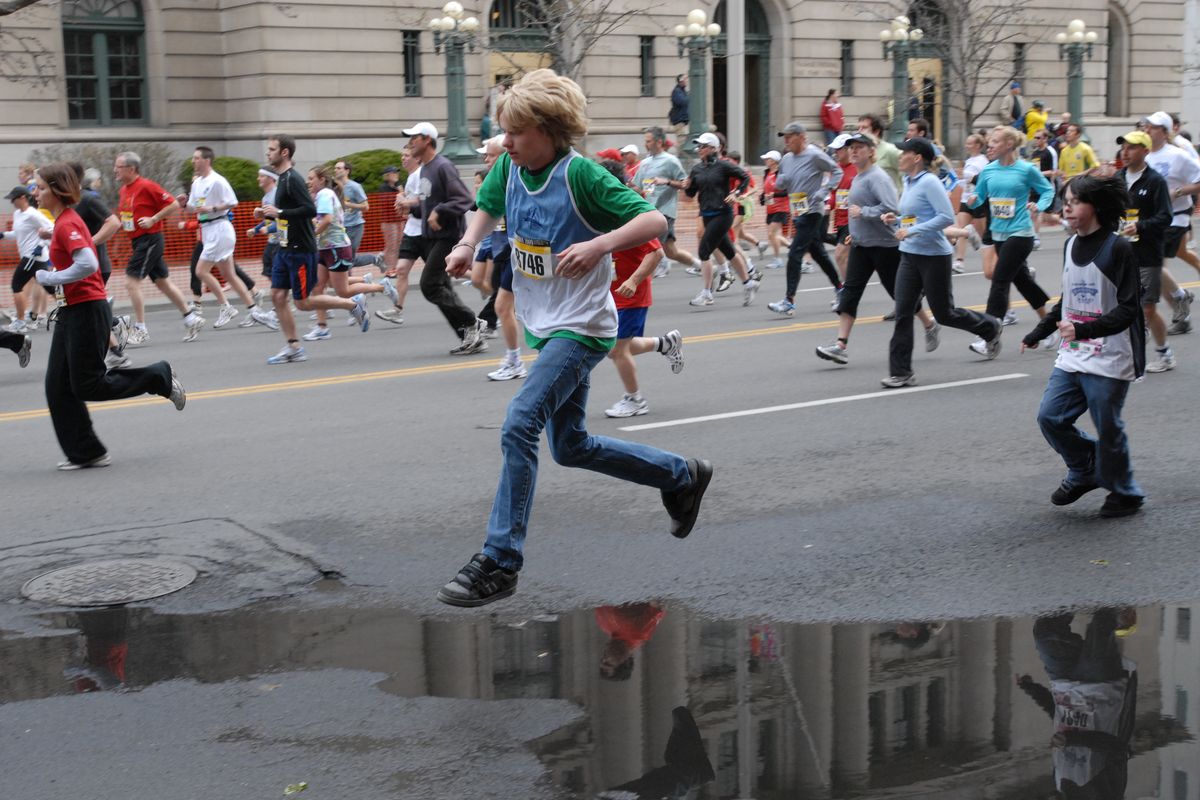 A runner jumps a water puddle on Riverside Avenue shortly after the start of the 2009 Bloomsday Run. (Larry Reisnouer / The Spokesman-Review)
John Yuda, who finished 6th in Bloomsday 2008, has won this year's elite men's division of the popular spring road race. The 29-year-old from Tanzania took second in 2007, when he claimed the 14th best time in Bloomsday history with a finish in 34:19. His unofficial time this year stands at 34:36. Yuda's win marks the first time in 15 years that a Kenyan hasn't won Bloomsday, although the African nation was represented by second-place winner Robert Letting, and women's elite division winner Lineth Chepkurui. The 22-year-old Chepkurui won her second-straight Bloomsday, finishing the course in an unofficial time of 38:35. If that time stands, it would be a course record in the women's division. Krige Schabort, a 45-year-old wheelchair racer from South Africa, was the first racer across the Bloomsday finish line this morning, claiming the championship in the elite men's open wheelchair division. Schabort, who now lives in Georgia, said he hoped to pull away from the pack on Doomsday Hill. Instead, his chance to take the lead came sooner. "It was really perfect because I could get away a little early," he said at the finish line. "It feels good." Amanda McGrory, 22, won her third Bloomsday. She took the women's elite wheelchair championships in 2005 and 2006, and took second the following two years. "I think there's a little bit more pressure every year," McGrory, of Champagne, Ill., said. "Once you win one, you have to come back next year." She added that competing in Bloomsday 2010 is a definite.
Staff members Jim Camden Steve Bergum and Jim Meehan contributed to this report.
Local journalism is essential.
Give directly to The Spokesman-Review's Northwest Passages community forums series -- which helps to offset the costs of several reporter and editor positions at the newspaper -- by using the easy options below. Gifts processed in this system are not tax deductible, but are predominately used to help meet the local financial requirements needed to receive national matching-grant funds.
Subscribe to the sports newsletter
Get the day's top sports headlines and breaking news delivered to your inbox by subscribing here.
---