News > Idaho Voices
Working to help you find a job
Sun., May 3, 2009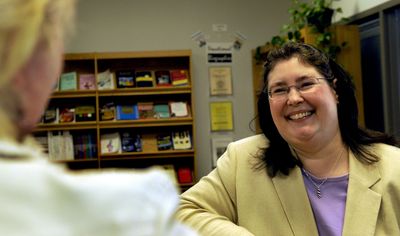 When it comes to job hunting, a little prep work and proper attire can make the difference between landing a trophy position and missing the mark entirely.
No one knows that better than Gail Laferriere, who as the director of Career Services at North Idaho College helps point thousands of job-seekers, from fresh-faced students to old-hand community members, along their individual professional path each year through the college's employment-finding services.
Laferriere and the rest of the staff at the NIC office represent just one of several job-hunting service centers available in North Idaho, offering everything from résumé recommendations to mock interviews to – more pointedly – individual opinion.
"In this economy, it's really tough," Laferriere said about the current employment market, while sitting in her corner office on the second floor of the Edminster Student Union Building. "But there still are some job openings out there, and we want to help people find them. One of the key things we do here is job search skills education for a nominal fee, usually just to cover materials."
As the unemployment rate continues to climb across the country, with the number of unemployed persons increasing by 694,000 in March to 13.2 million amidst a national unemployment rate that rose to 8.5 percent and a county-wide rate that hit 7.4 percent, according to statistics from the Department of Labor, the for-hire category has crossed almost all social boundaries. Recent high school graduates are competing against people their parents' age for seasonal work, while college students are left wondering which profession is best to pursue in the current economic climate.
In Kootenai County, job openings are at their lowest level since the mid-1980s, wrote Kathryn Tacke, a regional economist with the Idaho Department of Labor, in an e-mail. Average openings listed per week by local employers plummeted from a high of more than 600 in 2005 to just 115 in the first three weeks of April.
"Last time that Kootenai County's unemployment rate was as high or higher than it has been in 2009 was in March 1999, when it was 8.9 percent," she wrote.
At NIC, a mix of undergraduates, community members and even former professionals are using the Career Services variety of employment information resources, such as an extensive career library and a Discover computer program that narrows preferred job characteristics, as lucrative – or at least easy-to-find – positions dry up. Those include North Idaho's once-staple industries: construction, mining, real estate and lumber mills.
However, even those in more reliable industries such as the medical field aren't immune, Laferriere offered. "I would say all walks are coming in," she said, adding that she used to see mostly students stop by for help, but now estimates that roughly 40 percent of their clients come from outside the campus.
That's a good thing, though, she said. "We're a community college, so we're here for the community. We want to help those people."
That's why preparing for an interview is more important than ever.
An estimated 1,880 teenagers will enter the labor market in Kootenai County for the first time this year, Tacke said. For those on the hunt, whether recent high school grads or newly unretired, there are a few key points to consider before setting foot in a potential place of employment.
"Don't think this is something you have to do on your own," said Coeur d'Alene High School public speaking teacher Melody Melton, who implemented a two-week job skills unit in her class as a primer for career preparation. The available employment services, including her class, all have "real world applications," she said. "It's not always about a job, it's also about preparing for professional appearances, and it reinforces life lessons."
As for a job interview, don't be afraid to do a little reconnaissance before it takes place. For example, scout out what the rest of the employees wear to work. "You always want to dress one level above the position you are applying for," NIC's Laferriere said.
And in this high-tech, interconnected world, take advantage of the Internet. A quick Google search can make the difference between an unprepared job seeker and an informed standout, Melton offered.
But there is a downside to being so connected.
For example, be wary what you post to Facebook or MySpace accounts, she added. Employers are more than ever turning to online profiles as a way to check out candidates. "You should not be posting things you wouldn't want grandma to see," she said. "People are so plugged in that they really don't know how to communicate face-to-face anymore."
Also, it might be a good idea to change an e-mail address that might embarrass you to something more appropriate, and remember to have an appropriate voice-mail message ready for when employers call back. "If you want a job, don't make it sound like all you do is drink all day," said Tacke.
While not knowing what you want to do for the rest of your life is fine, have a specific opening in mind when applying for a job, Laferriere said. Things like job shadowing and informational interviews, where job hunters simply pick the brains of willing professionals in a certain field, are also great ways to narrow down the job search. "It's almost the opposite of what most people think. If you know precisely what you want, that helps more. Don't be a jack-of-all-trades," she offered.
As for the résumé, make sure it contains relevant work experience and eliminate extraneous information. It's an advertisement with one purpose: to make you stand out from the rest of the pile. "That document is your life on paper long after you're gone," said Melton.
Above all, those interviewed agreed, apply often, broadcast yourself and don't be afraid to go out on a limb. "The more exposure you have to the interviewing process is a good thing," Laferriere said. "Whenever you are under pressure, whatever you practice is going to come naturally."
Local journalism is essential.
Give directly to The Spokesman-Review's Northwest Passages community forums series -- which helps to offset the costs of several reporter and editor positions at the newspaper -- by using the easy options below. Gifts processed in this system are not tax deductible, but are predominately used to help meet the local financial requirements needed to receive national matching-grant funds.
Subscribe to the Coronavirus newsletter
Get the day's latest Coronavirus news delivered to your inbox by subscribing to our newsletter.
---
Subscribe and log in to the Spokesman-Review to read and comment on this story