News > Features
Referral service helps ease the process of finding child care
Mon., May 4, 2009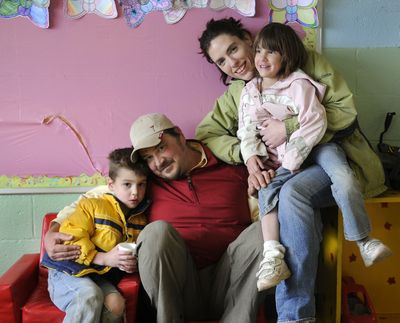 Finding a job can be hard enough during these tough economic times. But even before they could look for work, Rollie and Nicole Stankowitz had to overcome another hurdle: Finding child care for their two young children.
The couple – who recently moved their family into a motel after losing their home – did what other parents do: They asked around. They tried the phone book. They visited a few day cares.
But they still couldn't find child care – at least not the kind they could afford or would take both 6-year-old Jaden and 4-year-old Taia.
After driving all over town with kids in tow, Rollie Stankowitz remembered seeing a flier with a picture of a child inside the packet he received from the Department of Social and Health Services.
He found it and called the number for Child Care Resource & Referral, a nonprofit agency that advocates for children by helping families find child care and by working to improve the quality of care in the region.
Within hours, the Stankowitz family had a list of licensed child care centers that were close to home and also to Spokane Community College, where Nicole attends school part time.
The next day, Jaden and Taia were enrolled and playing with other children at Planet Kids Daycare, just a block away from SCC.
"It was like a godsend," said Rollie, 42. "They narrowed it down for me and gave me alternatives instead of just going down the list in the phone book."
Since 1987, the National Association of Child Care Resource & Referral has been working with more than 700 state and local agencies in order to ensure that families have access to high-quality and affordable child care.
In Eastern Washington, the local agency is part of Family Resources and partners with Community-Minded Enterprises to serve families in nine counties, including Spokane.
In 2007, the local agency responded to 9,664 calls from parents, providers and others in Eastern Washington who needed help navigating the system, according to its 2008 child care data report.
In Spokane County, a total of 1,054 families received referrals. A majority of these families were headed by single parents and nearly three-quarters also were low-income.
Finding care for children can be stressful for many families, especially for people who can't afford day care but at the same time also don't have the option of staying home with their kids. It's also an issue for parents who work nights and swing shifts as well as those whose hours change every week at their place of employment.
"Choosing child care is a complex process," said Kathy Thamm, Family Resources' initiative director.
Many parents don't have the time to search for good care, she said. They might be moving into a new job or facing other obstacles. So they don't call references or read policies. They might not even know what to look for when they're trying to place their child, Thamm said.
Some families, relying solely on the advice of friends and relatives, may end up in unlicensed care or at a facility that's under investigation. When making referrals, the staff at Child Care Resource & Referral makes sure that all the child care centers or home day cares on their list are places that are not only affordable and convenient for families, but also have a current license and meet the standards of the state Department of Early Learning.
About 85 percent of the calls received are from parents who are part of WorkFirst, a temporary cash-assistance program that helps low-income families get the support they need to find a job.
As a result, these parents "are in a big hurry to get child care," Thamm said. "Some people realize that it often takes more than a day."
Besides helping parents find care, the mission of the agency's five-person staff includes facilitating training for child care providers, working and collaborating with community partners, and "reaching out to families across income levels, geographic barriers, and ethnic identities to provide them with vital child care consumer education."
At Walla Walla Community College, the nonprofit has a bilingual staff person who has offered training to Spanish-speaking child care providers. Another person based out of Washington State University's Pullman campus works with members of the Palouse community to improve the quality of care in the region.
In addition to fliers that are distributed throughout the community, Child Care Resource & Referral plans to have a MySpace page and a presence on Facebook so that families who need care can easily find them.
Later this spring, Thamm plans to include an electronic child care directory on the agency's Web site. She also hopes to produce a DVD for parents and others that will help them learn how to evaluate quality care and what to look for when they visit potential day cares and child care centers.
During this economic downturn, many parents are losing their jobs and pulling their kids out of child care. Some are trying to save money by turning to friends and relatives for help.
As a result, some of the licensed home day cares can't afford to stay in business, explained JoMarie Francis, the project coordinator for Family Resources. That means fewer options for the families who continue to seek care, she said.
Stankowitz said he's grateful to be able to place his children at Planet Kids. The arrangement has enabled his wife to work part-time and go to school in the afternoons. It also has given him the time and flexibility to fill out job applications and look for work.
Their current emergency shelter at a Spokane Valley motel is funded by Spokane Neighborhood Action Programs. Their goal, Stankowitz said, is to move into an apartment and continue sending their kids to day care so the family will attain some stability.
Camille Little of Nine Mile Falls also turned to Child Care Resource & Referral for assistance this year. A single mother of two boys, Little moved to the area from Gainesville, Fla., in November and wants to finish her nursing degree.
"It's so hard to balance family and work and school," said Little, 26. "Finding good care can make a difference."
Local journalism is essential.
Give directly to The Spokesman-Review's Northwest Passages community forums series -- which helps to offset the costs of several reporter and editor positions at the newspaper -- by using the easy options below. Gifts processed in this system are not tax deductible, but are predominately used to help meet the local financial requirements needed to receive national matching-grant funds.
Subscribe to the Coronavirus newsletter
Get the day's latest Coronavirus news delivered to your inbox by subscribing to our newsletter.
---
Subscribe and log in to the Spokesman-Review to read and comment on this story