News > Nation/World
D.C. Council OK's gay marriage bill
Wed., May 6, 2009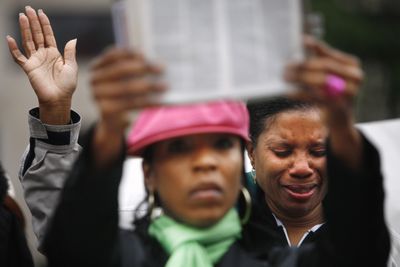 After an emotional debate, the D.C. Council gave final approval Tuesday to legislation that recognizes same-sex marriages performed elsewhere.
The vote is considered the first step toward eventually allowing gay marriages to be performed in Washington. Congress, which has final say over the city's laws, will get 30 days to review the bill assuming Democratic Mayor Adrian Fenty, a supporter, signs it.
If Congress takes no action, the bill will become law automatically. President Barack Obama and congressional leaders have not signaled where they stand on the D.C. bill.
London
U.S. talk host among 16 banned
The British government on Tuesday named 16 people who have been banned from entering Britain for "fostering extremism or hatred," including a U.S. radio talk show host and a Kansas preacher.
The list includes six Americans. Perhaps the most prominent is Michael Savage, a nationally syndicated conservative radio host who has made controversial remarks about immigrants and Muslims, such as urging Americans to "burn the Mexican flag on your street corner."
The Rev. Fred W. Phelps Sr. and his daughter Shirley Phelps-Roper of the Kansas-based Westboro Baptist Church also are unwelcome in the United Kingdom. The pair, who have picketed at funerals carrying placards with antigay slogans, are banned for "fostering hatred," the Home Office said.
From wire reports
Local journalism is essential.
Give directly to The Spokesman-Review's Northwest Passages community forums series -- which helps to offset the costs of several reporter and editor positions at the newspaper -- by using the easy options below. Gifts processed in this system are not tax deductible, but are predominately used to help meet the local financial requirements needed to receive national matching-grant funds.
Subscribe to the Coronavirus newsletter
Get the day's latest Coronavirus news delivered to your inbox by subscribing to our newsletter.
---