Sports
MVP James leads Cavaliers past Hawks in opener
Wed., May 6, 2009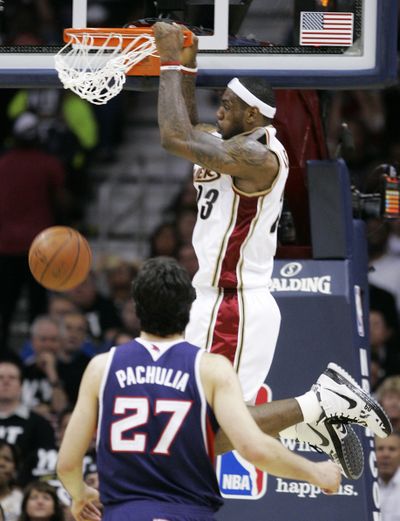 The Cleveland Cavaliers shook off some rust, and then the Atlanta Hawks.
Newly crowned MVP LeBron James scored 34 points and the well-rested Cavs, who waited nine days between playoff games after a first-round sweep, pulled away in the second half for a 99-72 win over the Atlanta Hawks in their Eastern Conference semifinal opener on Tuesday in Cleveland.
Showing why he was voted the league's best player in a landslide, James added 10 rebounds, three assists and four steals as the top-seeded Cavs won their fifth straight lopsided game in a postseason that has so far mirrored the best regular season in franchise history.
Mo Williams added 21 points for Cleveland, which has won each of its five playoff games by double figures.
•Nuggets grab 2-0 lead: Carmelo Anthony led another fourth-quarter blitz by the Denver Nuggets, who overcame Dirk Nowitzki's 35 points and more hustle and muscle from the Dallas Mavericks for a 117-105 victory in Denver.
The Nuggets are up 2-0 in their best-of-7 series.
Anthony scored 15 of his 25 points in the fourth quarter, Nene scored 25, J.R. Smith had 21 and Chauncey Billups 18 for Denver.
•Game breaks record: Game 7 of the Chicago Bulls-Boston Celtics series has supplanted Game 6 as the most-watched first-round NBA playoff game on cable.
TNT says Boston's 109-99 win Saturday to end the series was seen by 6.99 million people. That was the most viewers for a first-round game on broadcast or cable since the 2004 Lakers-Rockets Game 4.
The Bulls' 128-127 triple-overtime victory in Game 6 on Thursday was seen by 5.35 million people.
•Robber sentenced: A 30-year-old man has been sentenced to 21 years in prison for robbing NBA star Antoine Walker at gunpoint at his Chicago home.
Antoine Larkins pleaded guilty to home invasion charges. He and three others were initially charged with armed robbery, aggravated kidnapping and home invasion.
NFL
Browns sign Furrey
The Cleveland Browns signed free-agent wide receiver Mike Furrey, who spent the past three years with the Detroit Lions.
•Colts re-sign Johnson: The Indianapolis Colts have re-signed defensive tackle Ed Johnson after they waived him last season following an arrest on a drug possession charge.
•Vikings ink pair: The Minnesota Vikings have signed two rookie free agents, Winona State guard Nick Urban and Washington Huskies center Juan Garcia.
Tennis
Williams loses opener
A day after insisting she was still the best player in the world despite falling from the top spot in the rankings, Serena Williams lost to Patty Schnyder 6-2, 2-6, 6-1 in her first match at the Italian Open in Rome.
•Nalbandian eyes surgery: David Nalbandian may need surgery on a hip injury, which would keep him out of the French Open, Wimbledon and Argentina's Davis Cup quarterfinal against the Czech Republic in July.
NHL
Canucks take lead
Roberto Luongo made an early lead stand up and the Vancouver Canucks regained home-ice advantage by beating the host Chicago Blackhawks 3-1 for a 2-1 lead in the Western Conference semifinals.
Burned by the Blackhawks' speed in the first two games, the Canucks were able to offset it with better puck control and an aggressive physical defense, despite the absence of versatile defenseman Sami Salo, who missed the game with an injury.
Game 4 is Thursday night before the series returns to Vancouver for Game 5 on Saturday.
•Ducks nip Red Wings: Teemu Selanne scored in the first period, Scott Niedermayer added a goal in the second, and Jonas Hiller made 18 saves in the third for the Anaheim Ducks, who held on for a win over the Detroit Red Wings at Anaheim, Calif.
Anaheim grabbed a 2-1 lead in Western Conference semifinal series.
•League upset at owner: Angered by the Phoenix Coyotes' bankruptcy filing, the NHL stripped owner Jerry Moyes of the authority to run the club.
A few hours after Moyes announced that the team had filed for Chapter 11 bankruptcy protection – a move that could allow the cash-strapped franchise to be sold and moved to Ontario – the NHL said it would represent the team in bankruptcy court.
Earlier, BlackBerry boss Jim Balsillie announced a plan to buy the Coyotes and move them to Ontario.
Miscellany
Preakness in plans
Musket Man, the third-place finisher in the Kentucky Derby, will likely run in the Preakness.
Trainer Derek Ryan said he expects to decide by today, adding his colt will not run in the Belmont Stakes.
•Doornbos fastest rookie: Led by 27-year-old Dutchman Robert Doornbos at a top speed of more than 221 mph, four of six Indianapolis 500 rookies have completed their mandatory driving test and have been cleared to begin full practice for the May 24 race.
Doornbos, Raphael Matos, Alex Tagliani and Mike Conway completed 10 consecutive laps in each of four speed brackets during the opening rookie session.
•Fans still banned: All pro soccer games in Mexico this weekend will again be played without fans because of the swine flu outbreak.
•Former USF player dies: Hal Perry, who teamed with Bill Russell and K.C. Jones on San Francisco's back-to-back NCAA champions in the 1950s, has died in San Francisco. He was 75.
Local journalism is essential.
Give directly to The Spokesman-Review's Northwest Passages community forums series -- which helps to offset the costs of several reporter and editor positions at the newspaper -- by using the easy options below. Gifts processed in this system are not tax deductible, but are predominately used to help meet the local financial requirements needed to receive national matching-grant funds.
Subscribe to the sports newsletter
Get the day's top sports headlines and breaking news delivered to your inbox by subscribing here.
---