Sports
Shock chase QBs, protect their own
Wed., May 6, 2009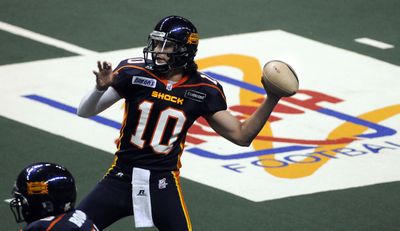 Spokane Shock head coach Adam Shackleford believes arenafootball2 is a quarterback-driven league.
"But the quarterback can only be successful when he's protected well," Shackleford quickly adds.
To that end, No. 1-ranked Spokane has allowed just three sacks in five games. Only Arkansas, which has allowed three in six games, has been more impressive. Conversely, Spokane's defense has racked up 12 sacks, which ranks tied for fourth.
"What gets lost in this game is the big men up front that protect," Shackleford said, "and the big men (on defense) chasing the quarterback."
Shock quarterback Nick Davila was sacked once while completing 28 of 35 passes in Saturday's win over Iowa. He's had a couple of games where he's scarcely been touched.
"Giving up no sacks would be an average day, you're just doing your job," offensive lineman Kyle Young said. "Not giving up any hits, you're really having a good day. And if you're throwing your guy on the ground, then you're having a great game.
"My goal is not to give up a sack all season. … We kind of have a little competition within ourselves and if a guy gives one up, we're definitely going to ride him."
First-year Shock lineman John Booker gave up one sack Saturday, which means he'll hear about it this week, despite scoring for the second consecutive game on a screen pass.
"We'll trash-talk, but it's also constructive and we're going to talk about it and try to fix the mistake," Young said.
The line has motivation for protecting the quarterback.
"Nick's wife can really cook and I'm lucky enough to live just across the hall," Young said. "She gets all riled up, especially if he gets hit once or twice, but she says if he doesn't get touched we'll definitely have dinner over there. We've had a couple of dinners."
Coach Keefe
Former Shock and Philadelphia Soul player Rob Keefe is enjoying his transition to coaching. He coaches Shock defensive backs and the kickoff coverage unit.
"You can have all the talent in the world, but if you don't know how to play this game you're not going to do well in arena football," Keefe said.
Keefe's extensive film study has paid off. He noticed a flaw in Stockton's coverage and it resulted in the Shock recovering a pooch kick two weeks ago. He also had a good handle on the Lightning's offense.
"Stockton's coach actually turned around and cussed at me and threw his play sheet up in the air and said, 'Keefe, you know every play I'm going to call,' " Keefe said. "There were only 2,000 people (at Stockton's arena) so I could scream out their plays."
Keefe's goal is to become an af2 head coach.
"Playing experience doesn't necessarily make you a great coach, but he has the other intangibles that make him a very good coach," Shackleford said.
Sick bay
Shackleford said he expects offensive lineman Ryan Belcher, who has missed the past two games with mono, to be cleared today to return to practice. Defensive back Damon Jenkins (hamstring) is the only question mark on the injury list.
Local journalism is essential.
Give directly to The Spokesman-Review's Northwest Passages community forums series -- which helps to offset the costs of several reporter and editor positions at the newspaper -- by using the easy options below. Gifts processed in this system are not tax deductible, but are predominately used to help meet the local financial requirements needed to receive national matching-grant funds.
Subscribe to the sports newsletter
Get the day's top sports headlines and breaking news delivered to your inbox by subscribing here.
---