News > Nation/World
Trek into Middle East delicate for Benedict XVI
Pope incited anger calling Islam violent in a 2006 speech
Fri., May 8, 2009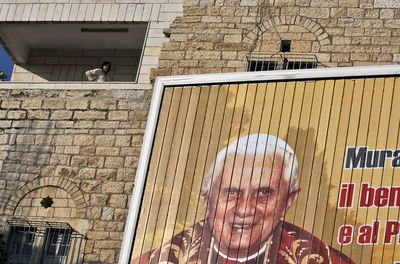 AMMAN, Jordan – Pope Benedict XVI arrives in Jordan today on a three-day pilgrimage to bless a tiny Catholic population and to improve the Vatican's relations with the Muslim world greeting him with aloofness, anger and a slight hope that he may advance peace in the Palestinian-Israeli conflict.
In his first visit to an Arab country, the 82-year-old pontiff is receiving little fanfare. The pope outraged Muslims in 2006 when he quoted a medieval emperor's condemnation of Islam as a violent religion. Benedict later said he regretted the pain his comments evoked and has since stressed interfaith dialogue and reconciliation between Catholics and Muslims.
The pope departs Monday on the next leg of his Holy Land visit to Israel and the Palestinian territories.
Jordan is a moderate Islamic country with a British-educated monarch and a fashion-plated queen. The pope's intent is to build religious detente here that will bring Muslims and Christians together to help counter the world's moral and social ills. But the pope is uneasy over a lack of religious freedom in Arab countries, and many Muslims view the church as another Western institution insensitive to how Islam has been stereotyped and vilified since Sept. 11, 2001.
"When you are responsible for 1 billion Catholics and you're speaking to 1 billion Muslims you should be mature and discreet," Yasser Abu-Hilaleh, an Islamic writer and commentator, said of the pontiff's 2006 speech. "This is a time of chaos and terrorism, and such comments provoke hostility. They take us backwards. They give credence to extremism. Al-Qaida celebrated the pope's statements."
By balancing Jordan, Israel and the Palestinian territories in his pilgrimage, the pope is venturing onto incendiary religious and political terrain. Each side will parse and scrutinize what he does and says at each stop. He's expected to visit the Al-Hussein bin-Talal Mosque in Amman and the Wailing Wall in Jerusalem. Will he sympathize with Palestinians in Gaza? Will he counter accusations that the Vatican was complicit in the Holocaust? Will he mention the two-state solution for a Palestinian homeland when he speaks in the West Bank?
It is a careful dance of adjectives, inflection and nuance. And it rests on the shoulders of a religiously conservative pope with a professorial demeanor who lacks the charisma and outward humility of his predecessor, John Paul II. Benedict has been praised for his intellect, but his ideology and occasional acerbic statements mixed with cool detachment have infuriated many Jews, Muslims and Christians.
Local journalism is essential.
Give directly to The Spokesman-Review's Northwest Passages community forums series -- which helps to offset the costs of several reporter and editor positions at the newspaper -- by using the easy options below. Gifts processed in this system are not tax deductible, but are predominately used to help meet the local financial requirements needed to receive national matching-grant funds.
Subscribe to the Coronavirus newsletter
Get the day's latest Coronavirus news delivered to your inbox by subscribing to our newsletter.
---
Subscribe and log in to the Spokesman-Review to read and comment on this story