News > Features
Alzheimer's? Shriver won't let you forget it
Sun., May 10, 2009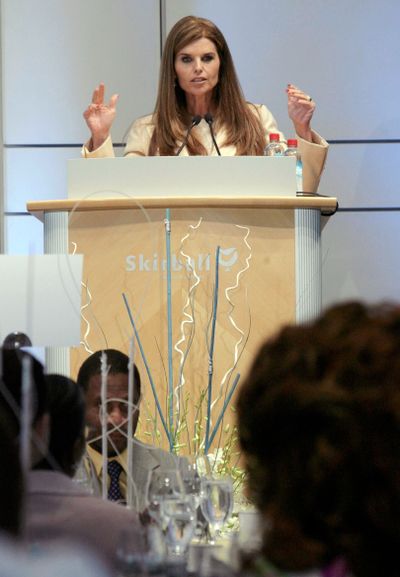 Maria Shriver would like to "remarket" Alzheimer's – to her own generation.
"This is an epidemic that baby boomers have to realize is their epidemic," the former NBC News anchor said in a conference call about HBO's "The Alzheimer's Project," a documentary series she helped produce that will begin airing tonight.
Not only are many of Shriver's contemporaries caring for parents with the most common form of dementia – Shriver's own father, former Peace Corps director Sargent Shriver, 93, suffers from Alzheimer's – but if a cure isn't found, "it's going to ravage the baby boomer generation," she said.
"Five or six years ago … people just looked at Alzheimer's, I think, and said, 'That's an old person's disease, it's not about me, it's not going to happen to me,' " said Shriver, 53.
"Now, I think baby boomers have got to look at that and say, 'Oh, my God, if we don't do something about that, that's going to be me.' "
In 2004, Shriver, who has four children with her husband, California Gov. Arnold Schwarzenegger, published a children's book, "What's Happening to Grandpa?"
"Grandpa, Do You Know Who I Am?" (7:30 p.m. Monday), the one piece in the HBO series in which Shriver appears onscreen, focuses both on talking to children and learning from them.
First, though, there's tonight's "The Memory Loss Tapes" (9 p.m.), a moving look at what that loss means to seven different patients, some in the early stages of Alzheimer's, some more advanced.
Following Shriver's piece on Monday, at 8 p.m., is the first installment of "Momentum in Science."
The two-part film is probably the one must-see piece of "The Alzheimer's Project," focusing as it does on both the search for more effective treatments and on the research that suggests what's good for our hearts is probably good for our brains, too.
On Tuesday at 7 p.m., the project will look at "Caregivers," followed by the second half of "Momentum" at 8.
In addition to a companion book, "The Alzheimer's Project: Momentum in Science," there's a Web site (hbo.com/alzheimers) where users can stream any part of the series, including 15 supplemental films.
The project will also be offered for free to non-HBO customers through some providers, including Comcast's HBO On Demand.
Shriver said she hopes viewers will "recognize the connection between their cardiovascular health, their heart health, and their brain health, one. And they'd get involved in trying to get this government, this president, this Congress, to allocate the funds to find a cure."
This isn't like cancer, "where we're constantly surrounded by stories of survivor and remission and people working and doing well," she said.
"With Alzheimer's, there's no remission, there are no survivors, there is nobody doing well."
The birthday bunch
Sports announcer Pat Summerall is 79. Announcer Gary Owens ("Laugh-In") is 70. Singer Donovan is 63. Singer Dave Mason is 63. Singer Bono (U2) is 49. Model Linda Evangelista is 44. Rapper Young MC is 42. Actor Erik Palladino ("ER") is 41. Actor Kenan Thompson ("Saturday Night Live," "Kenan and Kel") is 31.
Local journalism is essential.
Give directly to The Spokesman-Review's Northwest Passages community forums series -- which helps to offset the costs of several reporter and editor positions at the newspaper -- by using the easy options below. Gifts processed in this system are not tax deductible, but are predominately used to help meet the local financial requirements needed to receive national matching-grant funds.
Subscribe to the Coronavirus newsletter
Get the day's latest Coronavirus news delivered to your inbox by subscribing to our newsletter.
---