News > Nation/World
Costa Rica reports first flu death
Officials are unable to determine how man became infected
Sun., May 10, 2009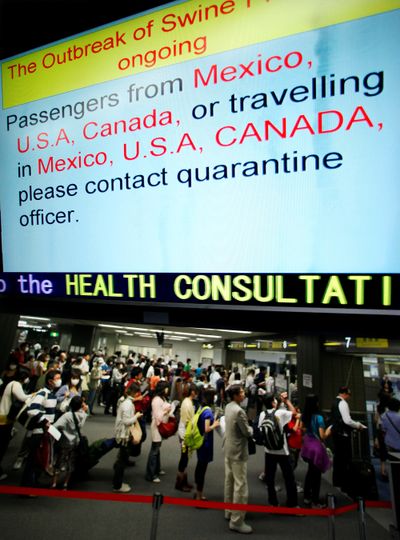 SAN JOSE, Costa Rica – Costa Rica reported the first swine flu death outside North America on Saturday and the U.S. announced its third death from the virus, while Mexico delayed the reopening of primary schools in some states.
Japanese authorities, meanwhile, scrambled to limit contact with their country's first cases, and Australia and Norway joined the list of nations with confirmed cases of swine flu.
The Health Ministry in Costa Rica confirmed the swine flu death of a 53-year-old man, bringing the global death toll to 53, including 48 in Mexico, three in the United States and one in Canada.
Like other deaths outside Mexico, the Costa Rican man suffered from complicating illnesses, including diabetes and chronic lung disease.
In Mexico, where 48 people with swine flu have died, most of the victims have been adults aged 20 to 49, and many had no reported complicating factors.
The Costa Rican fatality was one of eight swine flu cases in the country confirmed by the U.S. Centers for Disease Control and Prevention, said Health Minister Maria Luisa Avila.
Avila said officials had been unable to determine how the Costa Rican patients became infected, but she said he had not recently traveled abroad. Many flu sufferers in other nations have been linked to recent trips to the United States or Mexico.
Mexico, which raised its count of confirmed cases to 1,626, continued to gradually lift a nationwide shutdown of schools, businesses, churches and soccer stadiums.
But an upswing in suspected – though not confirmed – cases in parts of Mexico prompted authorities in at least six of the country's 31 states to delay plans to let primary school students return to class on Monday after a two-week break.
Local journalism is essential.
Give directly to The Spokesman-Review's Northwest Passages community forums series -- which helps to offset the costs of several reporter and editor positions at the newspaper -- by using the easy options below. Gifts processed in this system are not tax deductible, but are predominately used to help meet the local financial requirements needed to receive national matching-grant funds.
Subscribe to the Coronavirus newsletter
Get the day's latest Coronavirus news delivered to your inbox by subscribing to our newsletter.
---