News > Spokane
The ripple effect: A downturn hits home
A North Idaho couple felt the economy's slump firsthand, and are doing what they can to help others feeling it, too
Sun., May 10, 2009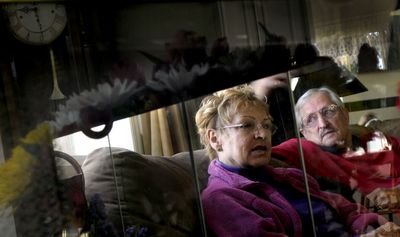 Robert and Louise Brown had their eye on the Leisure Park retirement community for several years. Three years ago, they decided they'd sell their Post Falls home and make the move. Both retired and in their 70s, they wanted a place with fewer stairs, less room and less maintenance. "We tried to sell it ourselves first, and that didn't work," Robert Brown said. "About the time we started doing that, the economy went into the tank." Kootenai County's housing market – following several years of booming sales and rising prices – had developed a sharp chill. Home sales dropped by 18 percent in 2007, and then by 22 percent last year. Average sales prices sank, too. The Browns eventually decided to hire a real estate agent. And their original asking price of $205,000 "went down in steps," Robert Brown said.
They finally sold the home in March, for about $160,000. Fortunately, prices in Leisure Park had come down, too, and they could still make the move into the community with small homes and condos, a common clubhouse area and a neighborhood feel.
"It ended up being a wash," Robert Brown said, sitting with his wife in the living room of their new home. "The money from that house paid for this one."
The recession is taking a heavy toll on a lot of people, with the jobless rate in the region climbing and the effects of that flowing throughout the economy. But it's also affecting others who, though they're doing relatively well, find themselves with declining home values, roughed-up investments or other economic fallout.
The effects of such changes are not simple and direct – for the Browns, it meant more time with the house on the market, and a deferral of their plans. On the other side of the sale, though, there was a bright side: Spokane painter Marco Romero and his family found themselves able to afford their first home, and now they see themselves establishing roots in the area.
On the market
Robert Brown had a long and satisfying career as a ranger and law enforcement officer in the U.S. Forest Service, working in Orofino and Avery, Idaho; Libby, Mont.; Brunswick, Ga.; and Coeur d'Alene before retiring in 1992.
"I never did have what you'd really call an office job," he said.
A widower with six adult children, he met Louise Talent when they both worked in the soup kitchen at the Dalton Gardens Church of Christ in 2002. Louise, an Idaho native with one adult child, lived in the Southwest for years before moving to North Idaho in 1996 to be near family.
They shared an interest in the outdoors, bird-watching, and sports of all kind. They married in 2004 and moved into the Post Falls split-level.
But Louise had long pictured herself in a different place.
"I have wanted to live in Leisure Park since 1996 when I first moved up here," she said.
So the Browns put the Post Falls home on the market in 2006, For Sale By Owner. Listed at $205,000 – which Robert considers the going price at the time – the home attracted interest, but potential buyers ran into a wall when they went for financing.
"Nobody could get any money," he said. "Families couldn't get loans."
The Browns hired a real estate agent and lowered their asking price over the next couple of years. They took the home off the market in the winters, because they didn't want to move in the cold and snow. In March of this year, they closed the sale and began moving to Leisure Park.
Now the Browns are finishing unpacking and settling into their home, north of Coeur d'Alene off Ramsey Road. The housing market slump did delay their move, but they're not suffering as much as some. Robert has a pension from his Forest Service career, as well as savings and investments. Like everyone, his investments have taken a big hit, but his overall retirement funds remain secure.
The Browns have seen the effect of the recession on others, though, and they're trying to help. They donate a lot of household goods to Family Promise, a church-based organization that helps homeless families get back on their feet. They got involved with the group through the Dalton Gardens Church of Christ, where they see the congregation changing as people leave to find work elsewhere.
"One thing we have noticed with the recession is a number of families have had to move to get work," said Louise Brown. "They had to leave for jobs."
A new start
Robert Brown is a volunteer van driver for Family Promise, and when the group's North Idaho director, Cindy Wood, heard he was moving to a smaller home, she approached him. Wood said many of the people helped by Family Promise need basic household items to get set up – tables, dressers, microwaves, even houseplants.
"When I heard he was moving, I said, 'Hey, if you've got any extra stuff, we find homes for stuff,' " Wood said.
Ultimately, the Browns were happy they were able to sell their house to the Romeros – it's got lots of room and a big backyard for their four kids.
"It's a family house," Robert said. "It really is."
"And they're a lovely family," Louise said.
Local journalism is essential.
Give directly to The Spokesman-Review's Northwest Passages community forums series -- which helps to offset the costs of several reporter and editor positions at the newspaper -- by using the easy options below. Gifts processed in this system are not tax deductible, but are predominately used to help meet the local financial requirements needed to receive national matching-grant funds.
Subscribe to the Coronavirus newsletter
Get the day's latest Coronavirus news delivered to your inbox by subscribing to our newsletter.
---